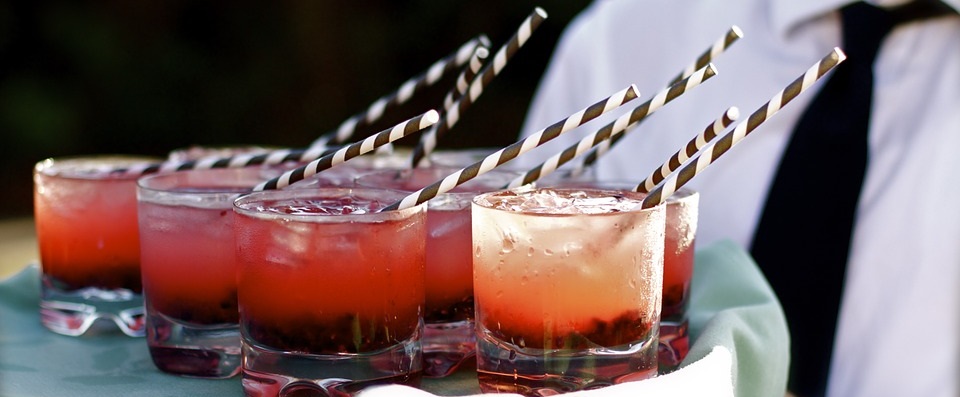 If you're looking for things to do in St. Augustine, you'll find the Old City's nightlife will keep you busy with little damage to your wallet. Although it is a quaint ancient town, there are dozens of bars and pubs along the old cobblestone roads that host a happy hour. Some have specials lasting all day and a few make craft beer and liquor.
This is our list of Happy Hours in St. Augustine. As we explore more Happy Hours in the city, we'll add respective bars and pubs to this blog. Enjoy!
Happy Hour that'll Steal a Pizza your Heart
Mellow Mushroom
Happy Hour: 3:00 pm to 6:30 pm (prime pizza-eating times), Every Day
About: Mellow Mushroom is a pizza-loving foodie's dream. Especially if that foodie is vegan (they've got delicious dairy-free cheese, vegan, and gluten-free options). But enough about their mouthwatering, perfectly-crisped, always-fresh, savory white pies, and chunky red sauce pizzas. Their happy hour is also pretty great! They give back to the community that adores them with $1.oo off drafts, buy one get one liquor and half-off their most-delicious appetizers. If you want to mellow out with good tunes, GREAT pizza, and BETTER happy hour deals – Mellow Mushroom is where it's at.
Tip: Your happy hour date won't notice that the pizza you ordered has dairy-free cheese – so, veg on.
Beertopia in Bavaria for Happy Hour: Hoptinger Bier Garden & Sausage House
Happy Hour: 4:00 pm to 7:00 pm, Monday – Friday
About: Beer lovers, welcome to the land of beer. With over 60 beers on draft, its very possible that Hoptinger has the most extensive selection of beer in St. Augustine, and perhaps even Florida. Additionally, their menu is full of creative sausages like smoked beef sausage, beer-poached bratwurst, and other delicious gastropub food that is Bavarian-inspired. Download their happy hour menu here.
Why Limit Happy to an Hour
Scarlet O' Hara's
Happy Hour: 11:00 am to Close, Every Day
About: O' Hara's is the watering hole for locals and is frequented by bikers, college students, and couples alike! Their secret? This mom and pop bar keep their customers hydrated with happy hour prices all day long: whether you're stopping by for an afternoon Bud Light, midday Belgium, or a post-pub crawl whiskey, you'll find that although some of their drinks are costly, most items on their beverage menu range from $3.00 to $7.00!
Tip: Scarlett O' Hara's is registered on the list of the National Directory of Haunted Places – said to be haunted by the man who built the bar in 1879. Be sure to check out the "Ghost Bar" upstairs, where he occasionally appears.
Named "Best Bar", by Folio Magazine, for the last eight consecutive years.
A Pet-Friendly Happy Hour: Cafe Eleven
Cafe Eleven
Happy Hour: 3:00 pm to 7:00 pm, Every Day
About: Yes, you read that correctly – Fur-friends are encouraged to join you on Cafe Eleven's outside patio where you can spend the afternoon basking in the Florida sun. This means, you never have to drink alone! After a long day playing on the beach with your pup, enjoy pints of beer for $2.38, craft beer for $2.38, and wine from $2.75 to $4.25. Dogs aren't allowed to order off the menu – but upon request, your pup can enjoy a big bowl of water with ice cubes.
Tip: Be sure to try their Georgia craft beers – especially the Sweetwater IPA.
Happy Hour for Beer Lovers
Ancient City Brewing, the Taproom
Happy Hour: 3:00 pm to 7:00 pm, Monday – Friday
About: Ancient City Brewing is best-known for their refreshing locally inspired and locally crafted beers. With names like Galleon's Golden Ale, Augustine's Orange Amber Ale, and Castillo Coconut Porter, their beers are a tasteful representation of St. Augustine's history. Furthermore, their taproom is in the heart of Historic Downtown with a row of window seats great for people-watching and is a locals haven before the hustle and bustle of nightlife starts (before 5:00 pm). Happy hour deals: 20% off all taps and wines.
Tip: I highly recommend asking the bartenders for suggestions! They are informative and craft beer gurus. Check out their Fan-Favorites Page, where they break down the aromas, flavors, and best pairings for each brew!
Happy Hour for the Entire Family
Barley Republic
Happy Hour: 4:00 pm to 7:00 pm, Monday – Friday
About: Barley Republic Public House's happy hour is suitable for the entire family. Combining class and a sophisticated drink menu, Barley scores an A+ in our book for their selection of $4.00 draft beers, cocktails, house-wine, made-in-house sangria and half-off premium cocktail pitchers during happy hour. In addition to a family-friendly environment, Barley also has a few weekly events; Taco and Tully Tuesday: $3.00 tacos, Tullamore DEW cocktails, and $3.00 DEW shots; Whiskey and Wings Wednesday: $.50 wings; Irish Seisun Thursday: $4.00 Guinness, Harp, and Jameson starting at 8:00 pm; Sunday Brunch Specials: $2.00 Mimosas and Bloody Mary's, $4.00 sangria.
Ice that Doesn't Dilute Drinks
Ice Plant Bar
Happy Hour: 2:00 pm to 5:00 pm, Monday – Friday
About: If you're in search of exotic mixed-drinks, the Jazz-Age, and history, head over to the Lincolnville District for a charming combination of all three during the Ice Plant Bar's happy hour. Great prices aren't the only reason locals swarm the bar each eve – the Ice Plant Bar has an extensive list of creative cocktails like the Dangerous Liaisons, Wodka Flocka Flame, and a personal favorite, the Bell Jar: a delightful mix of gin, strawberry rhubarb, lemon, and cucumber. The Ice Plant Bar also carries top-shelf liquor made by their partnering company, the St. Augustine Distillery. The distillery is well-known for capturing the taste of Florida with locally sourced ingredients to create a variety of bourbons, vodkas, and gins.
Tip: Naturally, the Ice Plant Bar makes its own ice. But, this isn't your average Joe's ice – they use slow-frozen filtered water which accumulates into large blocks that the staff then saws into small chunks to create a colder than cold ice that doesn't dilute drinks. Read More
PERMANENTLY CLOSED: A Floridian Happy Hour
The Giggling Gator
Happy Hour: 12:00 pm to 7:00 pm, Every day
About: Alligator-covered bar stools, hysterical signage covering the walls, rockin' bartenders with upbeat vibes, dart boards, pool tables, and strong drinks. For travelers and locals seeking a truly authentic Florida experience, look no further than St. Augustine's local pub and grub joint: the Gigglin' Gator. Happy hour includes $.50 off all each menu item. In addition to great bar eats like wings, Philly cheese sandwiches, and fries, the Gigglin' Gator also has outdoor seating that is great for people watching and live music.
Tip: The Gigglin' Gator is a locals pub – off the beaten path – it's well suited for a friends-outing where you can engage with residents and play a few competitive rounds of pool.
More Happy Hours
Milltop Tavern and Listening Room
Happy Hour: Enjoy happy hour at the Milltop Tavern Monday through Thursday from 5 pm to 7:30 pm. Well drinks, 20 oz pilsners, and wines are $1.00 off.