See all St. Augustine, Florida, has to offer. Visit the Nation's Oldest City.
St. Augustine, the nation's oldest city, also holds the distinction of being one of the nation's most charming. Whether you're a longtime resident or visiting the area for the first time, we've gathered all the resources you need to find where to stay, what to do and other community information about our unique little village.
Visit St. Augustine, Florida: The Nation's Oldest City
St. Augustine, known as The Ancient City, is located between Northeast and East Central Florida and is convenient to Jacksonville, Orlando, and Daytona airports. North Florida boasts a year-round mild climate perfect for strolling St. Augustine's delightful historic district, with its cobblestone streets, quaint cafes, bars, unique shops, and bed and breakfast inns. Experience the beauty of an early morning that slowly comes alive with locals and tourists setting out on foot to explore significant landmarks including the Castillo de San Marcos, Lightner Museum, Flagler College, and Fort Matanzas.
Whether you're interested in exploring the city's rich history or the tranquil natural settings of the beautiful North Florida coastal area, Oldcity.com offers all the resources you need to plan your trip. In fact, you may find so much here, that you'll be planning your next visit before the first one ends!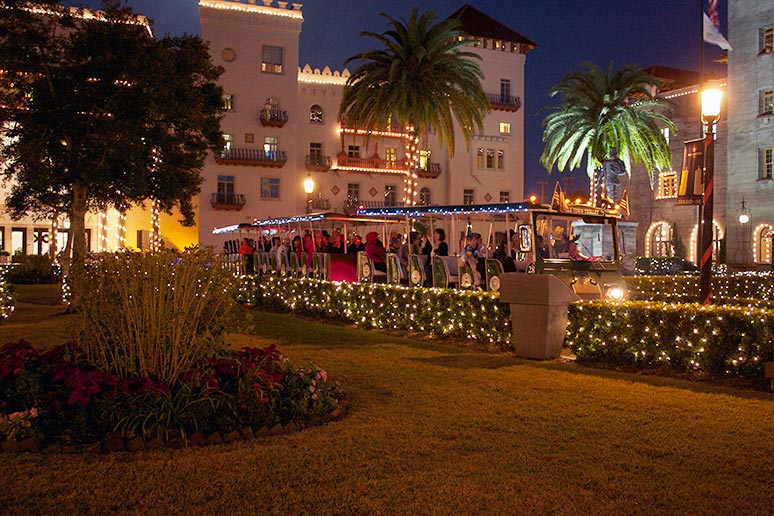 Nights of Lights begins on Light Up! Night on November 23, 2019, when the holiday lights are turned on for the season. The holiday light display runs nightly through February 2, 2020.
Centuries ago, our Spanish ancestors marked the Christmas holiday by placing a single white candle in the window of their homes, fast forward to modern-day and you'll find that this tradition has grown into a city-wide celebration, better known as Nights of Lights.
Join families and friends of the Old City for the most extraordinary North Florida holiday light display, St. Augustine's Nights of Lights.
This 75-day event is commemorated as one of the top 10 Best Holiday Displays in The World by National Geographic! Millions of tiny white bulbs dress the buildings and palm trees of St. Augustine's Historic Downtown.
Local businesses host Christmas events, Santa visits the Plaza de la Constitucion, and a variety of tours are designated to showcase the City of Lights. From the Holly Jolly Trolley train to the Christmas Horse and Carriage rides – the lights aren't the only reason St. Augustine resembles a Winter Wonderland! Bring your Santa hat, mittens, and your holiday spirit and meet us on November 23rd, for the lighting of the Christmas Tree and the kick-off of Nights of Lights!
Near the sea, beneath the stars, or close to attractions and historic sites, St. Augustine has a variety of lodging options for your next vacation. Depending on how long you plan to visit and what you want to do when you get here, St. Augustine offers accommodations sure to suit your needs. Check out our Where to Stay section to find listings for all the accommodation options in St. Augustine including hotels, bed and breakfasts, condominiums, resorts, campgrounds, marinas, and vacation rentals.
Sun, fun, history, and mystery — St. Augustine has it all! From the Castillo de San Marcos National Monument to the Ripley's Believe It Or Not! Museum and everything in between, St. Augustine is an ideal locale for family fun and adventure. Check out our listings under Things to Do for details on St. Augustine's most popular attractions.
OldCity.com has the inside track on what's happening in the St. Augustine community. We've got all the details on local happenings including community events, listings for local places of worship, real estate listings and links to other businesses around town. Browse through the Calendar and other features in our Community section to get the latest scoop on what's happening in St. Augustine.
St. Augustine's beautiful beaches and historic buildings have served as the setting for weddings for centuries. We have all the local resources you need to plan your special day in St. Augustine, whether you grew up here or you're bringing the whole family in from afar for a destination wedding. Our St. Augustine weddings section will put you in touch with local caterers, venues, florists, photographers, and vendors who can provide everything you need to complete your perfect day.
If you love to golf or play tennis, St. Augustine is the place for you! There are many golf courses and tennis resorts located in the area. Ponte Vedra, home of The Players Association (PGA) and Association of Tennis Professionals (ATP), is a 20-minute drive from the downtown historic district. The many marinas dotted around the area make boating access convenient by sea, river, or Intracoastal Waterway. Fishing, diving, surfing, parasailing, and other water sports are abundantly accommodated. Visit our sports and recreation section for more information.
Our beautiful little town also boasts 43 pristine miles of beaches. There's the right type of beach for everyone. Some permit vehicles and dogs while others allow only pedestrians. Some of the area beaches produce abundant shelling opportunities, while others are covered only in luxurious fine, golden sand. From single vantage points in town, you can experience both the joy of the sun rising over the Atlantic Ocean horizon and the peacefulness of the sun setting beyond the salt marsh along the Intracoastal Waterway.