Sightseeing in St. Augustine
Tours of the Nation's Oldest City are available in all forms of transportation from guided walking tours to romantic carriage rides and everything in between.
Sightseeing in St. Augustine is fun and easy if you know where to look. Follow the links below to find some unique ways to get around town while taking in all of the hottest attractions and most fascinating historic sites. St. Augustine sightseeing through our recommended links will provide some of your best photo opportunities and most cherished vacation memories. Let someone else lead you through the oldest city to ensure that you won't miss a thing!
Explore St. Augustine as the settlers did via horse-drawn carriage.
Something that many repeat tourists to St. Augustine will tell you is that you must go on a carriage ride at least once. A narrated tour in a horse drawn carriage can be an idyllic romantic activity or a memorable family event. Many of the carriages are able to accommodate up to twelve comfortably.
All aboard! Cruise through the Nation's Oldest City on a trolley train.
The sightseeing train tours are not only the best way to learn the history of the town in relation to all of the historic sites in less than two hours, but are also a practical way to get around town if you are staying in the historic downtown area. While wearing the sticker, you can get on and off the train all day, making sure to see all the sights before hopping back on to take the train to the stop nearest your hotel or charming bed and breakfast.
Sail away on a special St. Augustine cruise.
Visit the city marina for group and private water tours via sailboats, kayaks, speed boats, pirate ships or multi-deck ferries. See the sights of St. Augustine in the glow of an afternoon sunset or watch dolphins race the ship's bow into the St. Augustine inlet.
Take to the skies and see all of the Oldest City from the air!
Breathtaking helicopter tours feature events such as the Nights of Lights, but are also just as gorgeous on a clear day. Get a bird's eye view of downtown St. Augustine and the 24 miles of beaches stretching from the Castillo de San Marcos to Fort Matanzas. The clear air of Northeast Florida is always a welcoming atmosphere for aviators, and there are definitely plenty of sights to see below, both natural and historic.
Get up and close and personal with a guided walking tour of St. Augustine.
Creeping through the dark, narrow alleys of St. Augustine on a guided ghost tour is an experience that can't be missed. The history of St. Augustine is better learned through interaction with a knowledgeable guide than through gleaning it from the signs around town. Walking tours allow you to get the closest view of St. Augustine's detailed architecture, but watch out for ghosts lurking around the corners!
---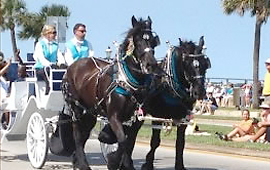 The clip clop of horse hooves, red brick streets, and tree covered streets will relax you so you can absorb the history of St. Augustine from the 1565 Spanish founding to modern time. Our guide will narrate the rich history of St. Augustine in a 45 minute to hour tour. You haven't experienced St. Augustine until you've been on a carriage tour! Horseback rides on the beach also available.
Visit Our Site
904-826-1982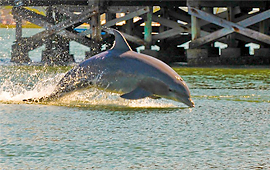 DOLPHINS, BIRDING, & EXPLORING with Northeast Florida's premier outdoor adventure company. A professional Naturalist will guide your group on a boating, kayaking, or sailing excursion to explore the beautiful waters surrounding historic St. Augustine. Small groups ensure an unforgettable experience. SERIOUS NATURE - SERIOUS FUN - LET'S GET ON THE WATER! For reservations, please call today.
Visit Our Site
904-377-7245
Savor the flavor and eat like a Local! Whether you're visiting for the first time, a return guest or even a resident…our tours are the BEST way to TASTE the local culinary scene! Locations are hand selected to ensure the ultimate tour experience. Indulge in some of the best cuisine perfectly paired with delicious wine! A true "foodie" adventure!
Visit Our Site
904-325-3911