St. Augustine Campgrounds, Fish Camps
By RV, motorcoach, boat or yacht, however you make your way to St. Augustine, we have a campground or fish camp to set up your home away from home.
Set up camp
Set up camp at one of the campgrounds near the Nation's Oldest City and enjoy the outdoors from dawn to way past dusk. Though St. Augustine was built to serve as a mild retreat from the harsh northern winters, even in the peak of summer you can find a light ocean breeze dancing through the city, ensuring a respite from the heat of the day.
Docking your boat in one of St. Augustine's marinas on the Intracoastal or along the downtown bayfront can make an unforgettable vacation. Many of the Old City's marinas offer a wide range of amenities while still being in close proximity to shopping and attractions around town.
In addition to the campgrounds and marinas in the area, St. Augustine boasts some incredible fish camp resorts. Many have direct access to the Intracoastal, which is the perfect escape for relaxing with buddies and fishing the days away.
Don't limit yourself to hotels and bed and breakfasts when staying here in St. Augustine. Campgrounds and marinas offer alternatives for those who love to be outdoors and know that our water and weather are as appealing as our history, attractions, and dining. Take a moment to browse through our available listings for places where you can drop your anchor or put up your awning!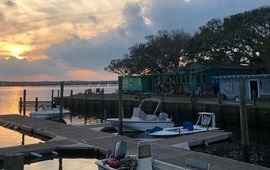 Located on the Intracoastal just south of the 206 bridge in Crescent Beach, Genung's is an 'Old Florida' style fish camp. Not only do they have a bait and tackle shop, this 'one stop' spot includes a small marina, kayak and paddle sport rentals, guided kayak fishing charters, and a special event venue perfect for small-sized gatherings.
Visit Our Site
904-907-5742
Beach Area (South)
Ocean Grove RV Camp Resort
4225 A1A S
St. Augustine, FL 32080
904-471-3414
Bryn Mawr Ocean Resort
4850 A1A South
St. Augustine, FL 32080
904-471-3533
Anastasia State Park
1340 A1A S
St. Augustine, FL 32080
904-461-2033
St. Augustine Beach KOA
525 W Pope Rd
St. Augustine, FL 32080
904-471-3113
Beach Area (North)
North Beach Camp Resort
4125 Coastal Hwy
St. Augustine, FL 32084
904-824-1806
Inland
Stage Coach RV Park (Near I95 & SR16)
2711 CR 208
St. Augustine, FL 32084
904-824-2319
Compass RV Park (formerly Indian Forest Campground) (Near I95 & SR 207)
1505 SR 207
St. Augustine, FL 32084
904-824-3574
St. Johns RV Park (Located right off I95)
2493 State Rd 207
St. Augustine, FL 32084
904-824-9840