St. Augustine Area Attractions
You don't have to go to Orlando to find attractions for the whole family to enjoy; St. Augustine has a long list of great entertainment venues.
From historic destinations like the Oldest School House and Castillo de San Marcos, to museums like Ripley's Believe it Or Not! and the Spanish Quarter, to family favorites like Marineland and Adventure Island, there's plenty to do and see in the Ancient City.
Take a look below at our collection of exciting adventures that await your family in St. Augustine, Florida!
Nightlife and Recreation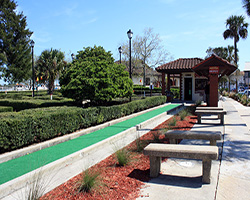 For more information, you might also want to check out our St. Augustine Night Life section for details on the many pubs, bars and other nightly entertainment spots or visit our OldCity.com calendar for details on upcoming events. If you're interested in specific tours—whether it's one of our infamous ghost tours or a ride on one of the city's trolleys, visit the sightseeing page. We've also dedicated an entire section to sports and recreation with details on local golf courses, fishing spots and surf headquarters.
Family Entertainment
In addition to being a lover's paradise, St. Augustine is also an ideal spot for family vacations. Mini-golf, water sports, family-oriented tours and attractions that present the city's interesting history are among the many types of family attractions in the historic district as well as the outlying areas of St. Augustine.
Your family can enjoy everything from incredibly detailed wax figures of celebrities at Potter's Wax Museum to a fully functional re-creation of a Spanish village from the 1600s. In addition to visiting families, thousands of school children around the state come to St. Augustine on field trips every year, which is why the city has crafted many of its attractions to suit young and old alike.
---