St. Augustine Area Attractions
You don't have to go to Orlando to find attractions for the whole family to enjoy; St. Augustine has a long list of great entertainment venues.
From historic destinations like the Oldest School House and Castillo de San Marcos, to museums like Ripley's Believe it Or Not! and the Spanish Quarter, to family favorites like Marineland and Adventure Island, there's plenty to do and see in the Ancient City.
Take a look below at our collection of exciting adventures that await your family in St. Augustine, Florida!
Nightlife and Recreation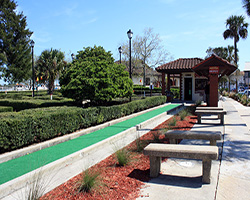 For more information, you might also want to check out our St. Augustine Night Life section for details on the many pubs, bars and other nightly entertainment spots or visit our OldCity.com calendar for details on upcoming events. If you're interested in specific tours—whether it's one of our infamous ghost tours or a ride on one of the city's trolleys, visit the sightseeing page. We've also dedicated an entire section to sports and recreation with details on local golf courses, fishing spots and surf headquarters.
Family Entertainment
In addition to being a lover's paradise, St. Augustine is also an ideal spot for family vacations. Mini-golf, water sports, family-oriented tours and attractions that present the city's interesting history are among the many types of family attractions in the historic district as well as the outlying areas of St. Augustine.
Your family can enjoy everything from incredibly detailed wax figures of celebrities at Potter's Wax Museum to a fully functional re-creation of a Spanish village from the 1600s. In addition to visiting families, thousands of school children around the state come to St. Augustine on field trips every year, which is why the city has crafted many of its attractions to suit young and old alike.
---
Experience the Ultimate Airboat Adventure on our state-of-the-art 6 passenger vessels. Encounter freshwater wildlife and vegetation up close on our St. Johns River Safari. Our Sunset Safari offers incredible sunsets over the St. Johns River as well as an excursion into the wetlands of Six Mile Creek. Located West of St. Augustine. Use OCW20 code for 20% discount.
Visit Our Site
904-495-4200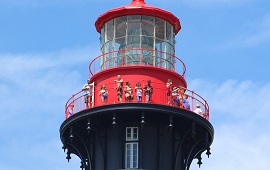 History. Adventure. FUN! Climb to the top of the historic St. Augustine Lighthouse for breathtaking views of St. Augustine! View maritime exhibits in six buildings at this Smithsonian affiliated museum. A shipyard playground and hands-on history is available for children. Purchase online in advance and use code OLDCITY15 to save 15% on general admission.
Visit Our Site
904-829-0745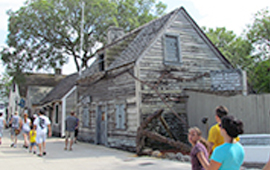 The Old School, a true 'American Landmark', is an original Colonial home. The preserved building dates to early 1700's. The living area transformed into a classroom for the Minorcans. Experience school life with the Class of 1864. View rare artifacts and antiques. Outside, explore the colonial kitchen, drinking well and the 'privy'. The beautiful grounds are a peaceful paradise also available for events. Free diploma upon graduation!
Visit Our Site
904-824-0192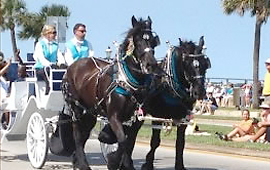 The clip clop of horse hooves, red brick streets, and tree covered streets will relax you so you can absorb the history of St. Augustine from the 1565 Spanish founding to modern time. Our guide will narrate the rich history of St. Augustine in a 45 minute to hour tour. You haven't experienced St. Augustine until you've been on a carriage tour! Horseback rides on the beach also available.
Visit Our Site
904-826-1982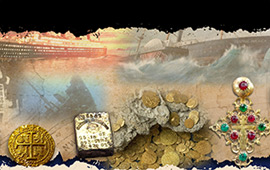 Historic shipwrecks - priceless artifacts from world-famous shipwrecks off Florida's cost and around the world. Authentic replica staircase of the Titanic including the famous clock. Other famous artifacts from The Nuestra Señora de Atocha de Atocha, The S.S. Central America and more. Tours educational and hands-on. Two floors to explore!
Visit Our Site
904-217-0655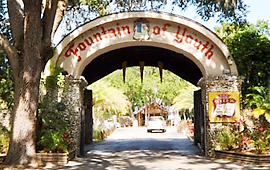 Visit America's First Colony - the actual site of the first 1565 Menendez settlement! Located on 15 waterfront acres, the Fountain of Youth Archaeological Park is Florida's oldest attraction. Feel a cannon roar in the pit of your stomach. Drink from Ponce's Spring of Eternal Hope. Visit a Living History Timucua Village. Experience the reconstructed 1587 Mission Church of Nombre de Dios. Ready to explore?
Visit Our Site
904-829-3168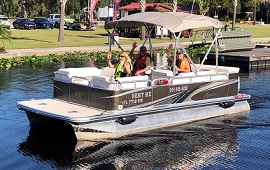 Explore the beautiful and historic waterways of the St Johns River and surrounding tributaries for the day on a luxurious pontoon boat. Choose from our 18', 21', or 24' boats accommodating up to 7, 10, or 16 people.
Visit Our Site
904-495-4200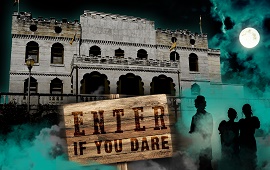 Take part in an authentic paranormal investigation in one of the most haunted sites on the southeastern seaboard! View evidence and use state of the art equipment to participate in a real investigation in the old Castle Warden after the lights go out. Ages 8 and up only. e's Day and more. Fun for the whole family! Book today!
Visit Our Site
904-824-1606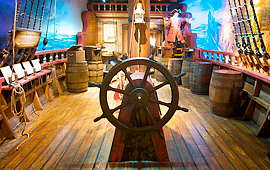 See the world's largest collection of authentic pirate artifacts and interactive exhibits, including the Book of Pirates and the spine-tingling Disney Imagineer-designed Below Deck sound experience of Blackbeard's last battle; the world's only pirate treasure chest; one of only two Jolly Roger flags; and rare shipwreck treasures from the Florida Division of Historical Resources.
Visit Our Site
904-819-1444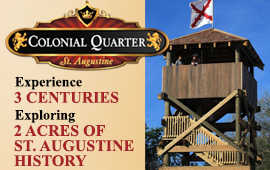 Located in the heart of the Historic District, the city's newest attraction is a Historic Adventure Tour experience providing interactive opportunities throughout two awesome acres of St. Augustine history. Participate in musket drills, blacksmithing, and more. Between tours, climb the 35 foot watchtower, dine at both 18th century-styled eateries, dig in the archaeological boxes, or just relax under the Colonial oak tree.
Visit Our Site
904-342-2857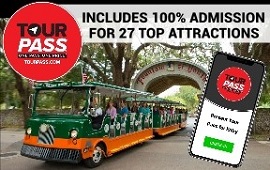 Spend up to 40% less & experience more with TourPass St. Augustine. Includes 100% admission to 27 top attractions such as the Trolley Tours, Fountain of Youth, boat tours, Lightner, house + history museums and more. Simply show your TourPass for entry. Make advance reservations and skip the ticket lines. TourPass is your ticket and works on all smartphones.
Visit Our Site
843-410-2577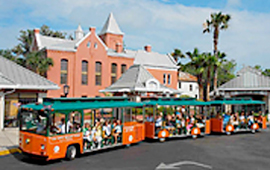 Planning your next vacation to St. Augustine? Alligator Farm, Old Town Trolley Tours, Ghosts & Gravestones, Lightner Museum, Old Jail & More! Buy your tour and attraction tickets here and save up to 10%.
Visit Our Site
800-213-2474