St. Augustine Beaches
More than twenty miles of beaches, St. Augustine is the perfect place relax in the sun.
St. Johns County Beaches Closed to Public Access
In order to protect public health, safety, and welfare and maximize compliance with State of Florida Executive Order 20-68, all public beaches in St. Johns County are closed to public access under the local state of emergency, effective 6:00 a.m. on Sunday, March 29, and will remain closed until further notice.
"We have taken as many measures as possible up to this point to preserve our residents' ability to access their beach. Unfortunately, those visiting the beach continue to ignore CDC guidelines regarding crowd size and personal distancing. In order to maintain public safety and respect the State of Florida's Executive Order, we had no choice but to close the coastline to public access today," said Hunter S. Conrad, St. Johns County Administrator. "We will continue to be methodical in our approach to closings related to COVID-19, and like every decision we have made to this point, we will open the beaches at the appropriate time when it is safe to do so."
The determination to close all public beaches is based upon a recommendation to reduce health risks associated with COVID-19 and beach overcrowding by the St. Johns County Sheriff's Office, the St. Augustine Beach Police Department, the City of St. Augustine, the City of St. Augustine Beach, St. Johns County Emergency Management, and local health officials. All boat ramps, parks, green spaces, and trails remain open for the public to safely enjoy. For more information, please call the St. Johns County Emergency Management hotline at 904.824.5550.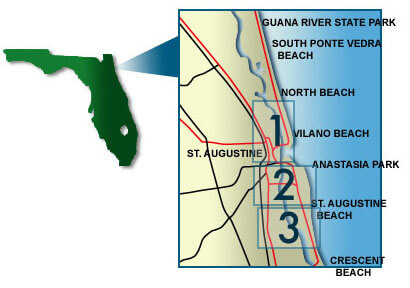 St. Augustine's beaches stretch from Vilano Beach north of the city to Crescent Beach in the south. The Intracoastal Waterway naturally divides the mainland from the barrier islands with their miles of gorgeous coastline with many public areas for beach recreation and relaxation.
Among the things to do in our fair city, visiting St. Augustine's beaches are often at the top of the list. St Augustine's beaches provide a variety of options, from idyllic State Parks to public beaches only a block or two from restaurants. You can choose to spend a day at gorgeous, unspoiled Anastasia State Park, where no cars are allowed on the beach, or drive a bit farther south to St. Augustine Beach where cars are allowed in designated areas. When your day at the beach is done, be sure to check out the great local bars and restaurants that line A1A, "Beachfront Avenue."
Observe beach rules for safety and to preserve the natural habitats. Keep in mind that no alcohol or glass is allowed on the beach itself. Also, pets must be kept on a leash. Personal watercraft vehicles must be launched from area boat ramps and not directly from the beach.
Get your "Reach The Beach" Mobile App
St. Johns County has a Reach the Beach mobile app that provides quick access to beach driving conditions, access and facility locations, lifeguard information, and emergency contacts. Click on the button below to download the app for free or call 904-209-0331 for information.
Handicapped Beach Wheelchairs
St. Johns County has three wheelchairs specially designed to roll on the sand so that everyone in your family can experience the fun of the beach. Rentals are free and the county will even drop the chair off to you on the beach. Just call the St. Johns County Beach Services Department at (904) 209-0752 to request one of the three available chairs for your visit. They are given out on a first come, first serve basis. You can choose delivery (applies to any beach in St. Johns County) or pick one up at 901 Pope Road, St. Augustine, FL 32080.
Beach Driving
Vehicles are permitted on Vilano Beach, St. Augustine Beach, and Crescent Beach within designated areas. However, access may be limited dependent on weather, sand, or tides. This may include the closing of vehicle access ramps or a limit of 4-wheel drive vehicles only. Traffic is regulated and a ten mile per hour speed limit is strictly enforced.
Beach driving and access ramps can be found at the following locations: Vilano, Porpoise Point, A Street, Ocean Trace, Dondanville Rd, Matanzas Ave, Mary St., and Crescent Beach (Cubbedge Rd).
From March 1 through September 30, there is a fee to drive on the beaches. Toll booths are open daily from 9:00am – 5:00pm through the end of August, only on weekends in September. The following fees apply:
Daily Pass:  Residents & Non-Residents – $10.00, Handicapped & Active Military – $5.00.
Annual Pass:  Resident – $50.00, Non-Resident $ 100.00, Handicapped – $40.00, Disabled Military are eligible for a free annual pass by presenting military ID or a letter from Veterans Affairs verifying disabled status.
Crescent Beach
Crescent Beach is located in the southern area of St. Johns County. It is situated on Anastasia Island, a wildlife refuge. This beach offers a serene, natural setting and is a great place for beachcombers. It is one of the most scenic, unspoiled beaches in Florida. Crescent beach offers boating, diving, fishing, and many other attractions. It is convenient to excellent RV and camping facilities.
Location: Just south of the intersection at A1A and State Road 206 about 15 minutes south of historic downtown St. Augustine.
Butler Beach
Butler Beach is just south of St. Augustine and is dedicated to preserving a fragile dune system that is home to the native Anastasia Island Beach Mouse and gopher tortoises. This area of pristine beach offers full services to visitors including parking on and off the beach, seasonal lifeguards, and a pavilion with showers, restrooms, and picnic tables.
Location: South A1A just two miles from St. Augustine Beach. Phone: (904) 209-0752 Hours: Sunrise to sunset daily.
St. Augustine Beach
St. Augustine Beach is located on Anastasia Island where you can enjoy white sand beaches, the St. Johns County Pier, a playground, pavilion, fishing pier, volleyball courts, bait shops, fine restaurants, shopping and more. RV and cabin camping areas are located nearby. Vehicles are permitted on the beach within designated areas.
Location: Old A1A Beach Boulevard south of State Road 312 at the St. Johns County Pier, less than five minutes from downtown St. Augustine.
St. Johns County Ocean & Fishing Pier CLOSED: From January 6 through May 2020, the St Johns County Ocean & Fishing Pier as well as the north access point adjacent to the pier will be closed for repairs; at times, access to the beach near the pier will also be restricted. The gift shop, visitors information center, parking lot, and splash park will remain open for the duration of the repairs. For more information, please call 904-209-0326.
Anastasia State Park and Recreation Area
Anastasia State Recreation Park is a protected bird sanctuary and consists of 1,700-acres and five miles of beautiful, sandy beaches. It features swimming, lifeguards, a bath house, hiking, nature trails, a boat ramp, fishing, a volleyball court, beach equipment rentals such as umbrellas and beach chairs, canoes, nature trails, grills and picnic areas, concessions, a covered pavilion, gift shops, playgrounds, and camping. Vehicles are prohibited from driving on the beach in this area.
Location: 1340 A1A South between the St. Augustine Lighthouse and the Surf Station approximately one mile from the Bridge of Lions on Anastasia Island. Phone: (904) 461-2033. Hours and Admission fees: Hours are generally 8:00 am until sundown, unless camping overnight. Admission is $8.00 per vehicle. Limit 2-8 people per vehicle. $4.00 Single Occupant Vehicle. $2.00 Pedestrians, bicyclists, extra passengers, passengers in a vehicle with holder of Annual Individual Entrance Pass.
Vilano Beach
This serene beach is a local "best-kept secret" offering a wide variety of vacation rentals, lodging, waterfront restaurants, the Vilano Beach Fishing Pier, parasailing and Sea Doo rentals and several parks. Be sure to visit Surfside Park, at 3070 Coastal Highway, and enjoy a picnic shelter, beach access and outside showers. You can charter a deep sea fishing boat or a sailboat from this area. Vehicles are permitted on the beach within designated areas.
Location: North A1A just over the Usina Bridge, less than five minutes from historic downtown St. Augustine.
North (Usina) Beach
North Beach offers a serene oceanside environment and two campsites. Enjoy the ocean and the Intracoastal waterway. North Beach features great seafood restaurants, boat ramps, a picnic area with grills, restrooms and showers.
Location: North A1A just past Vilano Beach, approximately five minutes from downtown St. Augustine.
South Ponte Vedra Beach
South Ponte Vedra Beach is located in northern St. Johns County and just south of Ponte Vedra, which is home base for the PGA Tour, the Players Championship each spring, and the Association of Tennis Professionals Tour. You'll find many resorts, upscale shopping opportunities and parks. However, beach access is limited and no vehicles are permitted on the beaches.
Location: North A1A about 20 minutes from downtown St. Augustine.
GTM Research Reserve
GTM Research Reserve is a roughly 2,400 acre sanctuary for endangered species. Recreational activities are many and varied. It features three public beach access facilities, consisting of parking lots and associated dune crossover boardwalks, along a 4.2 mile stretch of otherwise undeveloped beach on the Atlantic Ocean. Swimming, sunbathing, surfing, fishing, shelling and other traditional beach activities are enjoyed here. Pets are prohibited on the beach, but are allowed in other areas of the park on a six-foot, handheld leash. There are no overnight camping facilities or developed picnic areas. For a calendar of events or more information, visit their web site.
Location: North Beach Access Lot at 1600 S. Ponte Vedra Blvd., Middle Beach Access Lot at 2000 S. Ponte Vedra Blvd., South Beach Access Lot at 2200 S .Ponte Vedra Blvd. Phone: (904) 825-5071. Hours: 8:00am until sundown all year long