Music & Art in St. Augustine
Although St. Augustine is most commonly known for its history and beaches, the Oldest City also has vast community of incredibly talented artists and musicians.
23 Cuna Street
St. Augustine, FL 32084
At The Golden Gypsy, we celebrate #LifeAsArt! Come to our central location on Cuna Street to explore wall-to-wall original artworks from international and local talents. 'This is not mass produced commercial merchandise or fair trade art,' says co-owner and celebrated artist Jason Relph. 'It's produced by individuals and families who create from the heart and sell to those who understand the world art movement with a look and feel that's contemporary with a traditional twist.' SPECIAL OFFER: Mention this listing from 'OldCity.com' and receive a free gift!
Visit Our Site
904-417-0094
By day, visitors can explore a variety of beautiful art galleries both big and small, while night brings the cobblestone streets to life with live music drifting out of bars, restaurants and open air spaces all around town.
Music venues and performers of all shapes and sizes.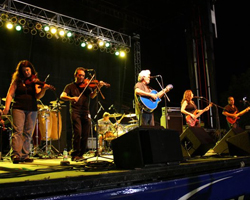 The Amp St. Augustine boasts one of North Florida's most unique, state-of-the-art music venues. High caliber artists from all over the world have performed beneath the white canopy of the amphitheater including Alan Jackson, Aretha Franklin, Widespread Panic, Rebelution, Lady Antebellum, and The Doobie Brothers.  Concert-goers are treated to a soothing sea breeze while enjoying their favorite music icons at this one of a kind location.
St. Augustine also hosts a series of renowned music gatherings each year including the Gamble Rogers Folk Festival and the Sing Out Loud Music Festival.  Both events draw popular local and nationally known performers to the Ancient City for some great entertainment.
For a more intimate experience, visitors can enjoy an exciting evening out by combining delicious outdoor dining with live music. St. Augustine has many live music and food venues to choose from including Full Service Restaurants and quaint little cafes. Any night of the week in St. Augustine, Florida, you will find a selection of excellent live music, both local and from around the nation. Much of the local music scene focuses on folk, Americana, blues, country and jazz but can also include rock, swing and choral music. Renowned bands and performers from around the world perform at venues on the beach and around town. You can also take in some tunes for free in the plaza downtown on Thursday evenings during the summer Concerts in the Plaza or at the St. Johns County Pier on Wednesday evenings for Music by the Sea Concerts.
An eclectic, close-knit art community.
Once a month, St. Augustine's art community comes together for the First Friday Art Walk.  Artists and gallery owners open their doors and invite you in for food, drink, and to view featured artists' work on display. Most galleries are within walking distant in the downtown area.  There is a complimentary Artwalk Shuttle Service that runs every 20-30 minutes on a continuous loop taking you to most of the galleries including those on Anastasia Island.  The First Friday Art Walk offers a very balanced view of the type of art available every day of the year in St. Augustine.
For a more intimate experience, the Art Galleries of St Augustine offers Thursday tours of 4 to 5 selected galleries with an AGOSA artist as your personal tour guide.  The galleries will offer a complimentary glass of wine, cheese sampling and more.
St Augustine features a number of fine art galleries and dealers dabbling in many different mediums. Flagler College's growing Fine Arts department frequently has exhibits and openings that are open to the public.
Festivals
Since the city's founding during the 1565 San Agustin Festival, the art of a great festival has been part of the tradition in St. Augustine.  The Ancient City boasts dozens of annual festivals celebrating a variety of different cultures, music, food and art. Some events stretch over long weekends, others for months on end. Be sure to attend the Festival of ART on Thanksgiving weekend.  This premier outdoor art fair features over 150 top national and regional artists and draws thousands of people.
Theater
In addition to traditional arts and music, St. Augustine boasts a talented community of performance artists. From the Limelight Theatre to the Flagler College Theater Arts Department, there are a number fantastic shows performed for the St. Augustine community every month. Both the Flagler College Auditorium and Limelight Theatre are located in the historic district, giving you the opportunity to take in a show after dinner before returning to your bed and breakfast or inn for the evening.