St. Augustine Beach Oceanfront Rentals
With more than twenty miles of beaches, St. Augustine is the perfect place to rent a piece of oceanfront paradise.
8 B Street
St. Augustine, FL 32080
Choose from a variety of home-away-from-home accommodations....just steps from St. Augustine Beach. 'Our Beach House' is two-level featuring a deck, 'Our Beach Cottage' is single story beach living, and 'Our Beach Bungalow' is the perfect beach hide-away. All of our accommodations are comfortable, homey, and fully furnished. Relax on the beach, dine in one of the many restaurants, explore the shops, or indulge in the many near-by activities. Also enjoy many of the guest amenities of the St. Francis Inn, a historic bed and breakfast, located just 6 miles away in old St. Augustine.
Visit Our Site
800-824-6062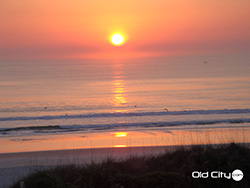 Many of our beachfront rental homes offer a degree of privacy that simply cannot be matched by other resorts.
Bring everyone together under one roof for a wedding, family reunion or corporate retreat in a dazzling vacation rental home with gorgeous ocean views and just a few short steps from the powdery white sand. You could opt for one of the smaller oceanfront rentals to provide a home away from home during a small family vacation or a very private and very romantic getaway for two.
Browse through our listings for properties either on the ocean or just a short walk from the sandy shores.
---