St. Augustine Beach Oceanfront Rentals
With more than twenty miles of beaches, St. Augustine is the perfect place to rent a piece of oceanfront paradise.
6970 A1A South
St. Augustine, FL 32080
Enjoy a million-dollar view from our oceanfront one bedroom balcony suites. Our condo-hotel is unique, as we offer condo amenities and hotel service. Select your own condo on our website. Our equipped suites are perfect for families or couples looking for the conveniences of home, while basking in the enjoyment of staying beachside. Our oceanfront heated pool is the perfect complement to the white sands of Crescent beach. Great restaurants are within walking distance and historic St. Augustine is only minutes away. When you stay at Beachers Lodge, relax, unwind and enjoy all the beach life has to offer.
Visit Our Site
904-471-8849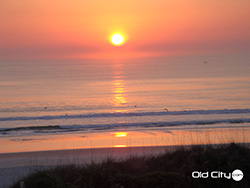 Many of our beachfront rental homes offer a degree of privacy that simply cannot be matched by other resorts.
Bring everyone together under one roof for a wedding, family reunion or corporate retreat in a dazzling vacation rental home with gorgeous ocean views and just a few short steps from the powdery white sand. You could opt for one of the smaller oceanfront rentals to provide a home away from home during a small family vacation or a very private and very romantic getaway for two.
Browse through our listings for properties either on the ocean or just a short walk from the sandy shores.
---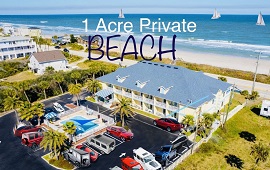 Ranked in Top 10% of hotels Worldwide. Private beach, unobstructed views of sunrise over the Atlantic and sunset views over the inter-coastal waterway. All rooms feature private patio and/or balcony with stylish outdoor seating. Continental breakfast, nightly popcorn & fresh baked cookie social hour. King, double queen rooms. Reunions, Groups, Romantic Getaways. Visit our site, book today!
Visit Our Site
904-824-1112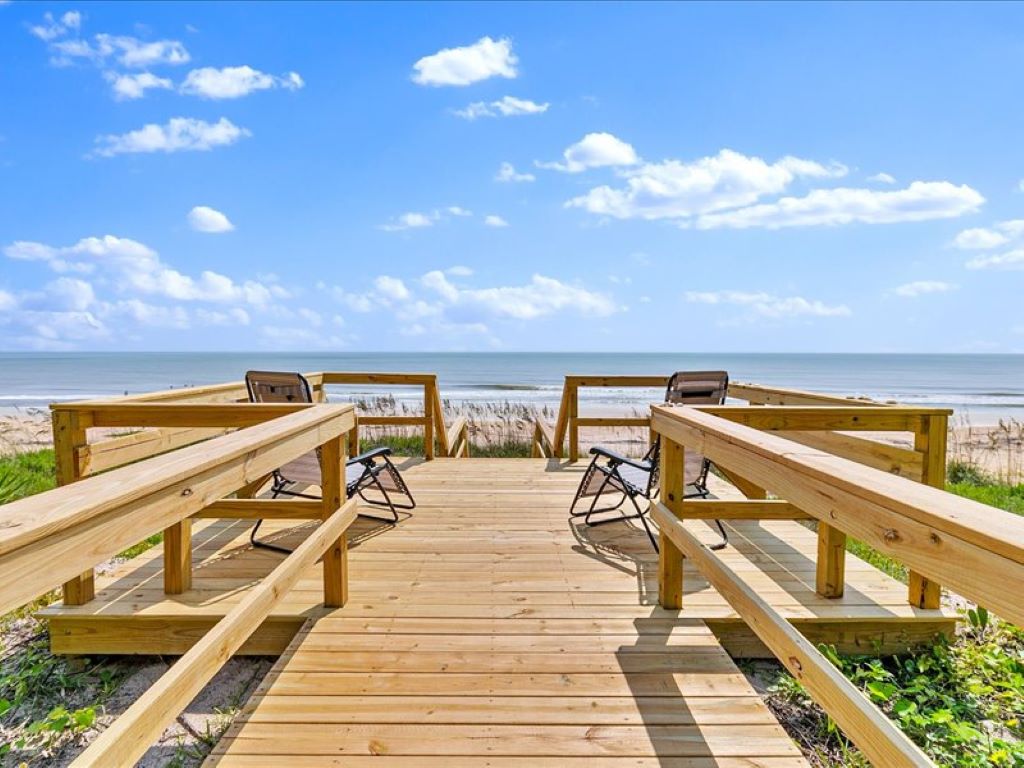 Luxurious Oceanfront Paradise Minutes from St. Augustine and TPC Sawgrass! 4br/3ba with Billiard Room. Every bedroom has beautiful ocean views. Plenty of room for family and friends Beautifully nestled between the Atlantic Ocean and Guana State Park, only minutes from Historic St. Augustine and TPC at Sawgrass, this gorgeous 4,100+ sq ft oceanfront home has everything you need for an unforgettable vacation. With plenty of space for the whole family.
Visit Our Site
904-333-8131
Plenty of room for family and/or friends in this brand new (2022) cottage with its identical twin across the street. Each cottage sleeps 10; 3 bedrooms plus loft, 2 1/2 baths. Private fenced backyard, heated pool, BBQ, outdoor shower. Private onsite parking. A minutes' walk to the beach! Steps to restaurants, the pier, and shops. Pet Friendly. Local owners. Book direct and save.
Visit Our Site
904-814-3249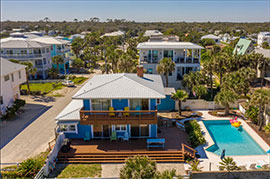 Built in 1936, Blue Dolphin Cottage is a charming oceanfront house, with a private pool, situated on the non-driving section of St. Augustine Beach. The 4-bedroom/3-bathroom dog-friendly rental has plenty of onsite parking. Grill on our wraparound deck with views of the pool and the Atlantic Ocean. The property is managed by the owner. Stay on oceanfront not streets away!
Visit Our Site
904-814-3249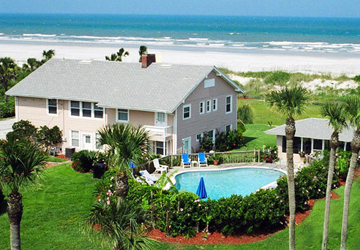 Oceanfront on beautiful St. Augustine Beach and exclusively for grown ups. Beautiful rooms and suites featuring: elegant linens, refrigerator and private bathroom. Delicious morning breakfasts overlooking the ocean. Enjoy our oceanfront pool & Jacuzzi, wide, sandy beach and lush landscaping. AAA 3 diamond rating. Historic area is only 10 minutes.
Visit Our Site
800-370-6036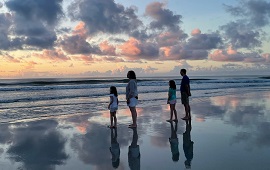 Oceanfront, ocean view or poolside...which sounds like your perfect vacation spot? From romantic honeymoons to corporate retreats, Resort Rentals specializes in a variety of vacation rentals. Visit our website to check on the possibilities, then call us for that personal touch in selecting a condo that is just right for you!
Visit Our Site
800-727-4656
The best of both worlds: This oceanfront cottage is a sister inn to the Bayfront Marin House, located in downtown St. Augustine. Stay on Vilano beach, with a reserved parking spot in the historic district for your trips to town. Enjoy breakfast and happy hour on the bayfront. We look forward to seeing you!
Visit Our Site
904-824-4301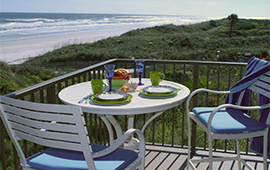 We're All About The Beach! Our oceanfront property provides direct access to our pristine white sandy beach and the ocean from four private walkovers. Enjoy fishing, surfing, sunbathing, or beachcombing. Our secluded beach retreat is just a few miles from Historic St. Augustine and popular attractions. It's all at your fingertips here at Summerhouse. Truly the perfect place to be!
Visit Our Site
904-471-1503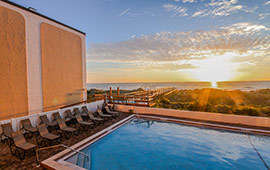 Beacher's Lodge offers amazing views from over 100 ocean front one bedroom suites. Fully equipped kitchenettes, private balconies, an ocean front heated pool and only 10 miles south of historic St. Augustine on beautiful Crescent Beach. Your perfect St. Augustine getaway for the day or the week or the month. Come stay with us at Beacher's Lodge, where the beach life begins.
Visit Our Site
904-471-8849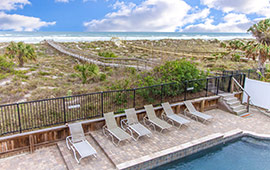 Do you want to spend your vacation at St. Augustine Beach but don't know where to begin? Let us take the hassle out of your search. Whether it's a house, condo, villa, or cottage, we have access throughout St. Augustine Beach, Vilano Beach, Crescent Beach, Butler Beach, and more. Let our Vacation Professionals find the right rental for you!
Visit Our Site
904-429-7373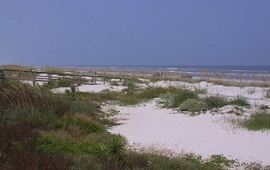 Tranquil Dunes vacation condominium is a 2BR 2BA home located in award winning St Augustine Ocean and Racquet Resort. Just steps from pristine St Augustine Beach, this charming ground floor home is perfect for couples, families, and retirees. Find out more and reserve your special place in St Augustine today.
Visit Our Site
904-417-8333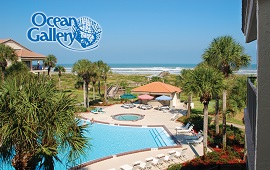 Discover the best condominium resort on the beach! Our forty acre resort is quietly nestled within a secluded, unspoiled refuge, overlooking a legendary beach surrounded by white sand beaches, breathtaking views and a variety of accommodations. Families of all sizes will enjoy the relaxed comforts of an inviting home away from home. Plan your stay today and return home with memories that last a lifetime!
Visit Our Site
877-542-2488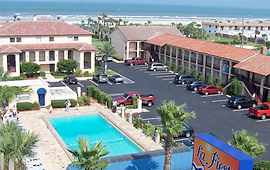 Oceanfront on beautiful St. Augustine Beach. Oceanview rooms, 2-level suites with fireplaces and Jacuzzis and pool rooms all with delivered breakfast. Walk on the beach; enjoy our large heated swimming pool, and our award winning gardens & fountains. Private access to the beach. Historic area is only 10 minutes. AAA diamond rating.
Visit Our Site
800-370-6049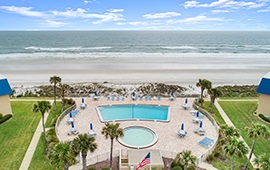 Sunrises from your ocean view unit will awaken you when you stay with us. Our vacation rentals are located directly on the ocean and minutes from historic downtown St. Augustine. Lounge by our large oceanfront pool or walk just four steps and you're on the white sandy beaches to relax and enjoy. Many amenities and priceless memories will keep you coming back!
Visit Our Site
904-481-7855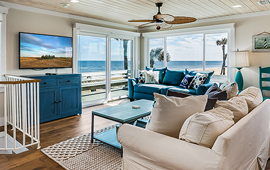 Offering a selection of beach rental properties from Premier Homes with top quality furnishings and decor to Casual Homes with comfortable furnishings (some even pet-friendly), there is sure to be an Oceanfront vacation property for you! These private homes offer the comfort of a 'home away from home' while providing a carefree, relaxing getaway. Make your vacation arrangements today!
Visit Our Site
904-349-0614