Nights of Lights tours in St. Augustine are one of the most popular activities during the holidays among families, friend groups as well as couples.  In fact, exploring the dazzling light display on a tour is a wonderful way to relax and unwind after a busy day of visiting attractions and historical sites. Grab a hot chocolate and a light jacket!  St. Augustine Nights of Lights is a sight you won't want to miss.

… from air, land, and sea.
From hundreds of feet above sea level – with nothing but a starry night to distract you – a Nights of Lights tour from a helicopter certainly gives you a different perspective.
Then again, you can always view the Nights of Lights while remaining at ground level when you choose from a variety of land tours.   There are horse and carriage rides, or the Old Town Trolley or Ripley's Red Train among others.   Or, what about a walking tour on your own exploring the twinkling display.
However, St. Augustine is a city unlike any other with an exceptional bay to match it!  So, if you'd like a truly different vantage point from the water, there are plenty of options to select from.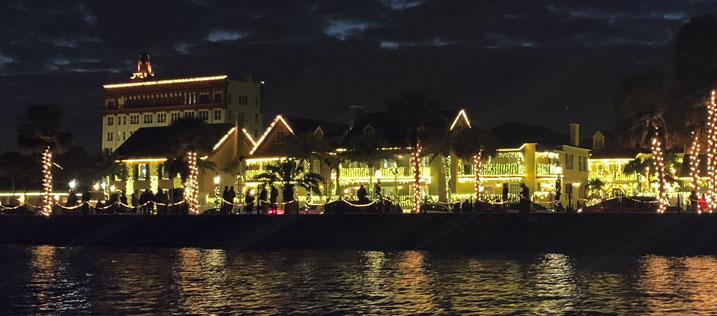 Nights of Lights tours in St. Augustine are so wonderful that even Santa's sleigh is jealous.
No matter which option you chose, let a Nights of Lights tour and the city's outstanding light display get you in the Christmas mood and brighten your holidays.
---
Disclaimer: Every effort is made to ensure the accuracy of the information in this article. Please credit OldCity.com when sharing and re-posting.