Nights of Lights tours in St. Augustine are one of the most popular winter activities during the holidays among families, friend groups as well as couples. In fact, exploring the winter wonderland on a tour is a wonderful way to relax and unwind after a busy day of visiting attractions and historical sites. Grab a hot chocolate and a light jacket! The St. Augustine Nights of Lights is a sight for sore eyes that you don't want to miss.

… from air, land, and sea.
From hundreds of feet above sea level – with nothing but a starry night to distract you – a Nights of Lights tour from a helicopter or biplane allows for unique quality time with your loved ones. Then again, you can always explore the Nights of Lights while remaining at ground level when you partake on a Nights of Lights land tour. You may choose to tour on a horse and carriage ride, on the Old Town Trolley or Red Train, on a simple walking tour, or one of the many other Nights of Lights land tours. However, St. Augustine is a city unlike any other with an exceptional bay to match it! So, if you'd like a truly unique vessel to explore on than hop aboard a Nights of Lights boat tour. From the bay, there are plenty of opportunities to feast your eyes on the bayfront of the city which appears much like that of a quaint town in a snow globe.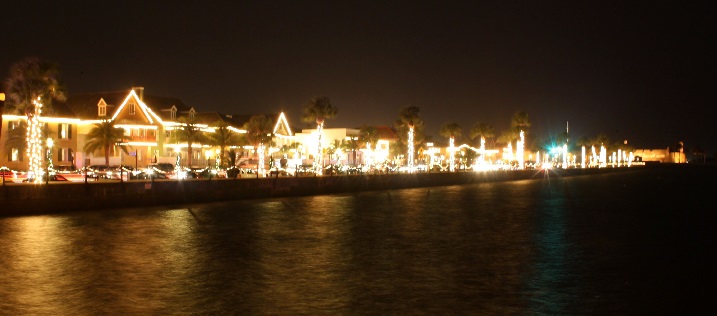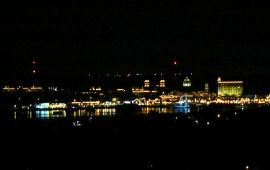 Looking for a different view of St. Augustine during Nights of Lights? What better way than with a helicopter tour. Enjoy a birds' eye view from the air of St. Augustine lit up with millions of tiny white lights. Gift certificates available.
Visit Our Site
904-824-5506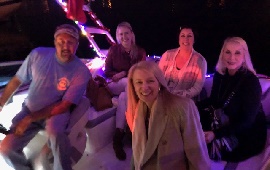 Come enjoy a family-friendly, Nights of Lights tour of St. Augustine from the Matanzas River. Take in the sights and sounds of this magical event while holiday music plays in the background. What better way to view the lights from one of our floating holiday sleds!
Visit Our Site
904-415-3490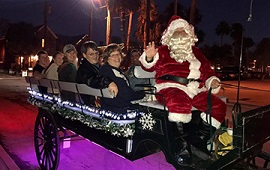 Join us for the SOCIAL event of the holiday season! Group and Private rides available. Rides include: VIP Boarding (no waiting in long lines), complimentary bottle of boutique wine, etched-souvenir wine glasses, millions of dazzling lights and numerous holiday displays. 'Family style' fun can be had on the Roadster Rides with the Grinch! No wine, but plenty of 'Grinchmas' antics!
Visit Our Site
904-325-3911
Nights of Lights tours in St. Augustine are so wonderful that even Santa's sleigh is jealous.
Take solace in the company of your family and rejoice in sharing holiday traditions during a boat tour; snuggle up with your sweetie as you fly over the Nights of Lights in a helicopter; share laughs and wine with your group of friends while riding in a carriage led by a horse. Let a Nights of Lights tour and the city's outstanding light display get you in the Christmas mood and brighten your holidays.
---
Disclaimer: Every effort is made to ensure the accuracy of the information in this article. Please credit OldCity.com when sharing and re-posting.