St. Augustine Nights of Lights
Nights of Lights runs nightly from November 23, 2019, through January 31, 2020.
Nights of Lights in St. Augustine holds a distinct honor as one of the 10 Best Holiday Displays in The World by National Geographic. In 2019-2020, the holiday light festival is celebrating 26 years of bringing joy to it's community and visitors. However, the Nights of Lights in St. Augustine  is so much more than millions of adorning lights filling the Historic District, it is a community tradition. It is only made possible by individual participating parties. Thanks to the businesses and the City of St. Augustine, thousands of people can gather downtown and enjoy the free holiday light display with their families.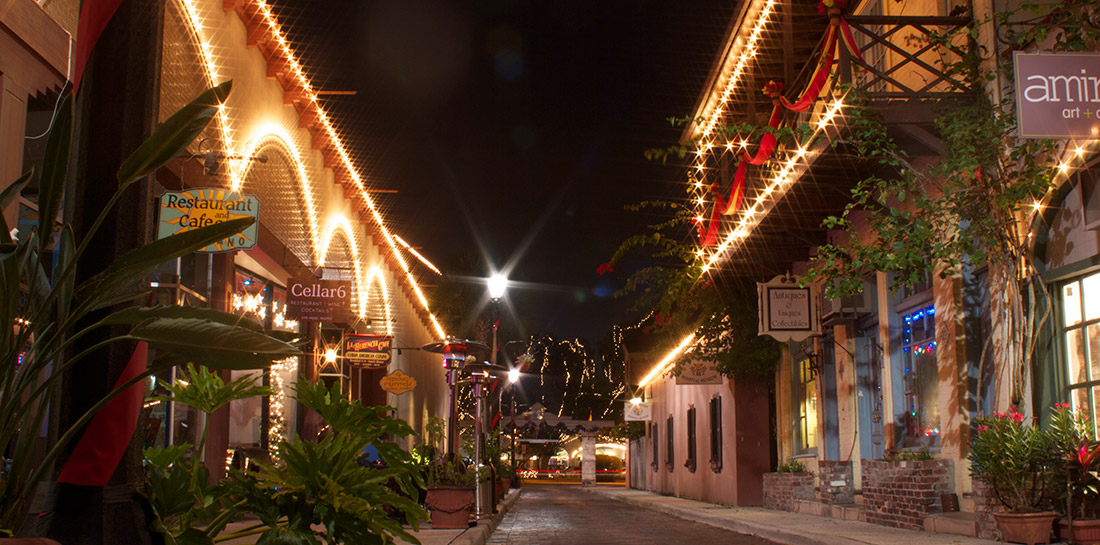 Light! Up Night
About: Light Up! Night marks the first night that the adorning lights of Nights of Lights are switched on.
Date: November 23, 2019
Location: Although the lights are strung throughout the Historic District, the majority of Light Up! Night takes place in the Plaza de la Constitucion.
Light Up! Night Schedule:
4:00 pm – Gather in front of the Lightner Museum for a grand performance by Showtime USA, a local hip-hop dance team that sings and performs.
5:30 pm – Make your way to the gazebo in the Plaza de la Constitucion for a performance by the All-Star Orchestra, singing in grand holiday style.
6:30 pm – At approximately 6:30 pm, the lights of the Christmas Tree in the Plaza de la Constitucion are switched on. This is followed by a ten-second group countdown that ends in the flick of a switch that turns on the Nights of Lights display.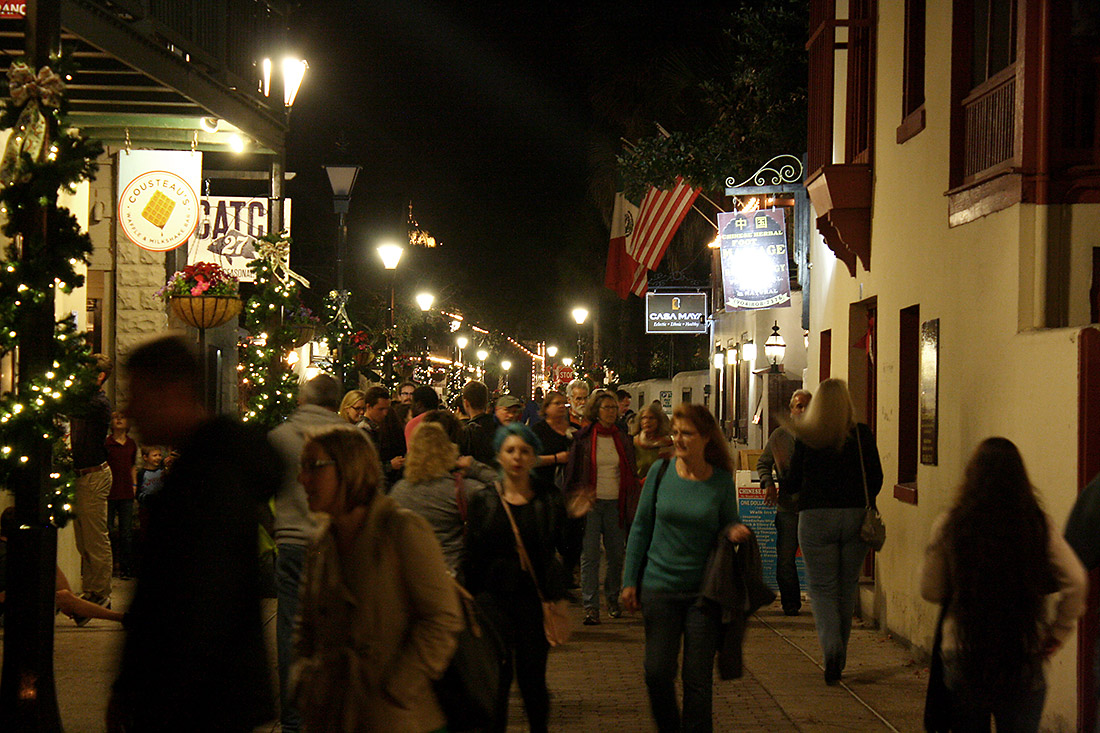 Light Up! Night Free Shuttle Service
This information is from the Nights of Lights season in 2018-2019. The free shuttle service schedule for the 2019-2020 season has not yet been announced.
On Light Up! Night, skip the traffic and hassle of parking by riding one of two free shuttles.
Anastasia Island Shuttle (4:00 pm to 11:00 pm)
Historic Downtown Shuttle (1:00 pm to 11:00 pm)
Nights of Lights Free Shuttle Service
The information below is from the shuttle service in the 2018-2019 Nights of Lights. The 2019-2020 shuttle schedule has not yet been announced.
The Nights of Lights shuttle runs from 1:00 pm to 11:00 pm, every 15 to 20 minutes. It will pick riders up from two locations in town and drop them off at the Visitor Information Center.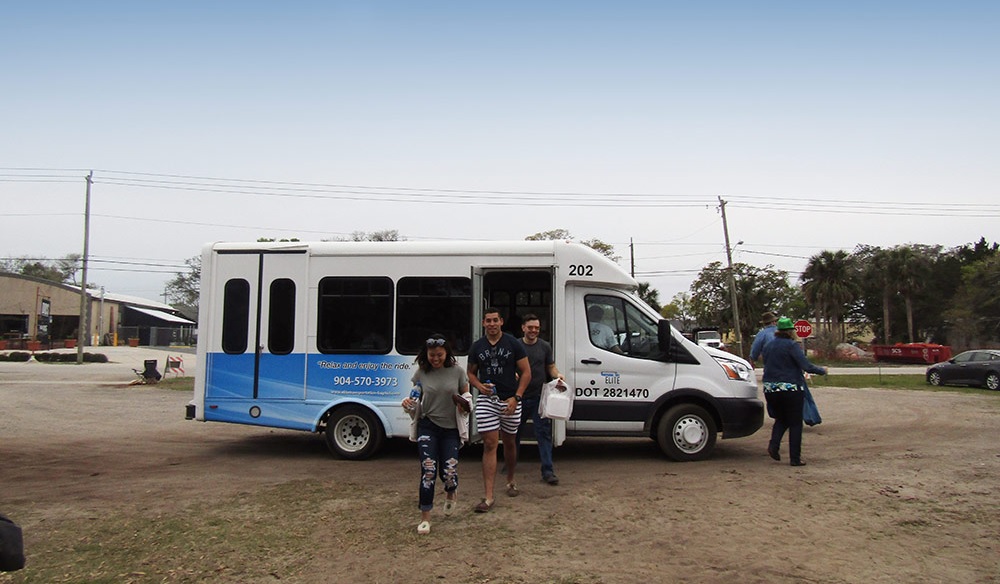 Parking in St. Augustine
Parking spaces are far and few in between. Here are a few tips:
Commute via the Old Town Trolley, or Ripley's Believe it or Not Red Train. One vehicle downtown costs close to $20.00 to park – about the same as one adult ticket for a train/trolley ride.
Pay attention to parking spaces monitored by parking meters and NEVER park by a curb marked in yellow.
Historic Downtown Parking Facility, near the Visitors Information Center, costs $15 for entry or $3 with a ParkNow card and can accommodate 1,200 vehicles
Time limit: on-street: 3 hours/parking lots: 4 hours
Explore the Nights of Lights
There are many ways to partake in the Nights of Lights fun, the most popular way is to walk around with good company, enjoying the display and bayfront location! Hot cocoa, a scarf, and a pair of mittens are all you need for a cozy viewing of the Ancient City in all its glory. However, if you are looking for an offbeat tour, St. Augustine offers fantastic tours by Land, Sea, and Air! Regardless of how you spend your night – be sure to take a ride over the Bridge of Lions, from Anastasia Island. The view of the Bayfront lit with thousands of bulbs flickering in the wind is one of St. Augustine's most memorable images!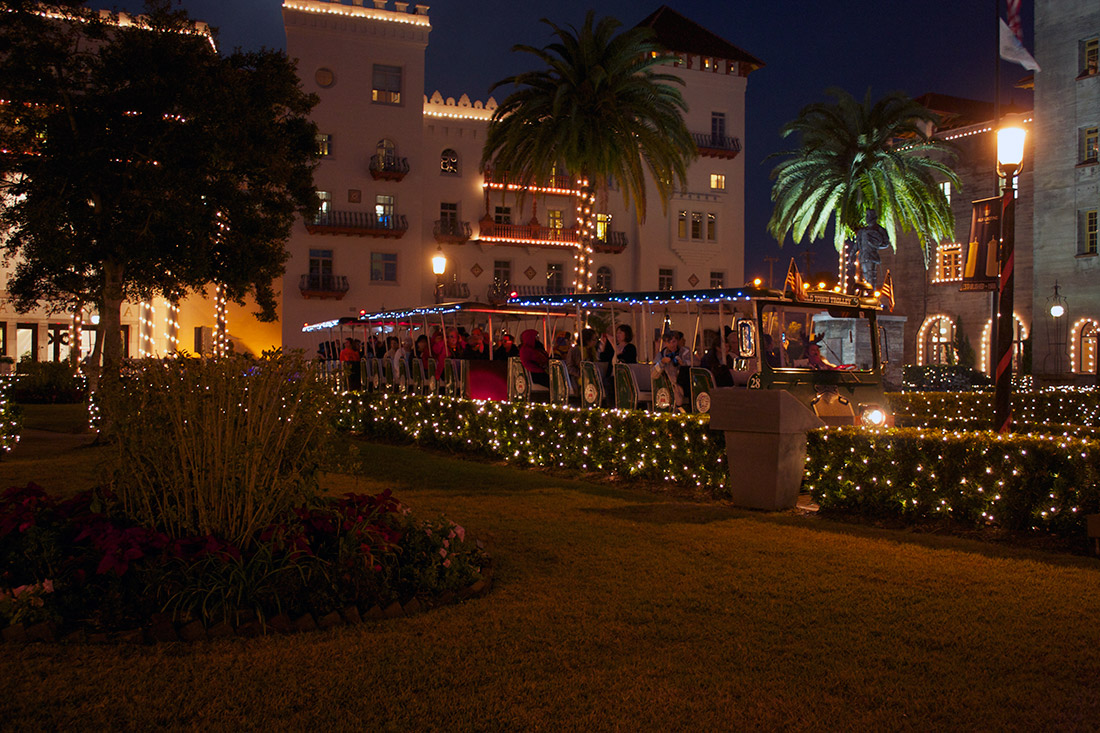 Land Tours
A timeless way to experience Nights of Lights is via Ripley's Red Train, or Old Town Trolley (known as the Holly Jolly Trolley during the holidays). There is something about riding through town while singing along to Christmas carols that is untouchable to any other St. Augustine experience! For a more laidback experience, book a Nights of Lights Carriage Ride with the Tasting Tours of St. Augustine – paired with complimentary wine and souvenir glasses, you're sure to make a few memories!
Sea Tours
Famously romantic, viewing the lights from the Matanzas River has been a long-time favorite of St. Auggies and tourists alike. The gentle winter breeze, calm rocking of the ship, and informative guide is a perfect setting for a Florida holiday experience. Schooner Freedom Charters and Florida Water Tours offer sailing tours on Light Up! Night, and each night following until the end of Nights of Lights on January 31, 2020.
Air Tours
Adventurers, there is even a way for you to experience the city-wide holiday display! Old City Helicopters has been showcasing St. Augustine's skyline of lights since the very first Nights of Lights. A flight over St. Augustine is exactly the kind of thing you would see on a Bucket List and is sure to be a memory you'll never forget! Be sure to make your reservation ahead of time.