St. Augustine Shuttle Service
Check back for the latest updates on the St. Augustine Shuttle Service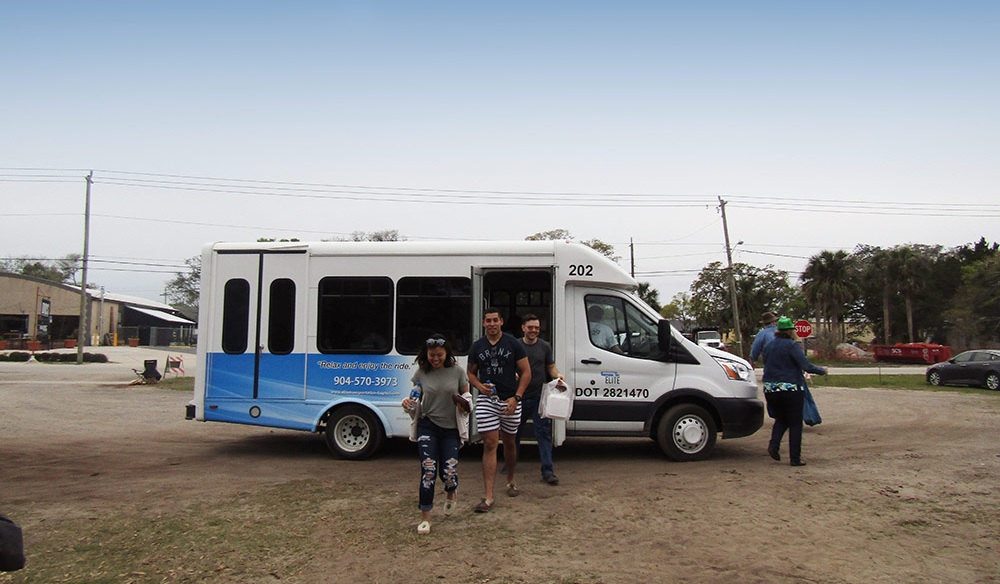 Updated December 6, 2022
Shuttle Service
During the busiest times of the year, locals and travelers can access free parking and free shuttle service on a first-come-first-serve basis provided by the City of St. Augustine and/or St. Johns County. These busy weekends are usually during holidays like the 4th of July or major events like the Nights of Lights.
However, you'll also find information on this page about year-round free shuttles, like that at the Beach Shuttle, Amphitheatre or the First Friday Art Walk, as well as shuttles you can catch a ride with for a small fee.
Yearly Shuttles in St. Augustine
Spring Season Shuttle Service
Starting March 11, 2023 and continuing each Saturday until April 8, 2023, The City of St. Augustine will be providing free parking and shuttle service to the down town area.
There are three parking locations outside the downtown area you may park for free to catch the shuttle. Shuttle times vary from Saturday to Saturday, but times are listed below.
Locations
The drop-off/pick-up location is the Visitor Information Center (VIC), that is located at 10 S. Castillo Dr.  There are full visitor amenities the VIC offers and is short distance from Francis Field, the city's primary festival location.
Check out the City's interactive shuttle map HERE  (OptionsPark & Ride)
Complete times for the park and ride shuttle service are as follows:
March 11 (Saturday):  8:00am to 10:00pm, Celtic Festival/Parade
March 18 (Saturday):  11:00am to 10:00pm
March 25 (Saturday):  11:00am to 10:00pm, Lions Spring Festival
April 1 (Saturday):  11:00am to 10:00pm
April 8 (Saturday):  8:00am to 10:00pm, Easter Parade
Ongoing Shuttles in St. Augustine
Amphitheatre Parking Shuttle for Events
Although the St. Augustine Amphitheatre boasts nearly 300 parking spots on-site, the parking lot often fills quickly. However, they also provide a free park and ride shuttle where patrons can park their vehicle for free, board a shuttle, and ride to Amphitheatre events. The free parking lots are within one mile of the venue and are periodically patrolled by security. The parking shuttles begin running one hour before events and continue running until one hour after events.
Amphitheatre Shuttle Pick-Up
Amphitheatre Shuttle Drop-Off
First Friday Artwalk Shuttle
The First Friday Artwalk takes place on the first Friday of each month. The event is a collaboration by the St. Augustine art galleries, which are located throughout Historic Downtown. During the event, Ripley's Red Sightseeing Trains and Old Town Trolleys provide shuttles free of charge to attendees.
About the Artwalk Shuttle
The Artwalk Shuttle is a shuttle-only service, meaning you still have to pay to park in St. Augustine. After you've parked your vehicle, the Artwalk Shuttle will pick you up at one of various pick-up and drop-off locations. The shuttles pick-up and drop-off attendees every thirty minutes. Check out the Artwalk Shuttle Map to find which location is most convenient for you.
Shuttle Transportation You Can Pay For
In addition to St. Augustine's free shuttles, there are also multiple transportation shuttles that riders can use to get around. These shuttles range in price and are subject to change seasonally. For more information on prices, check out the website for each shuttle.
Explore Tours & Pickups
Explore Tours & Pickups provides transportation to riders as well as other services. The golf-cart-like shuttles will pick you up and drop you off at your desired location downtown. Shuttle fare is $4 one way with a minimum of $6 per person.
Pedicabs of St. Augustine
The pedicab shuttles of St. Augustine are pedal-operated bicycle rickshaws. Riders can call Pedicabs of St. Augustine and the driver will pick-up and drop-off riders at their desired location downtown. Each pedicab shuttle can transport two passengers. For pricing and more information, call them at (904) 501-4848.
Trolley Shuttles
The trolleys in St. Augustine are run by Red Train Tours and Old Town Trolley Tours. This train-like shuttle is a great vessel for those who want to see the sights but also be able to get around the city without worry about parking or walking far distances. Check out each trolley's website for pricing and for a map of pick-up and drop-off locations.