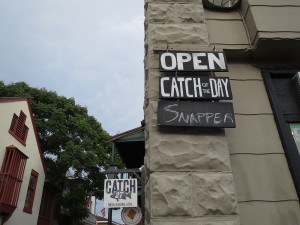 Great meals begin with fresh ingredients. When fish is involved, there's no middle ground. It's either fresh or it's not. Fish that's right off the boat doesn't need to be battered, fried or camouflaged with sauce to compensate for excessively strong or bland flavors.
Having grown up in Florida, I'm a bit of a seafood snob. My bias was rewarded recently at Catch 27 in downtown St. Augustine. The intimate eatery has the right idea: Buy local off the Riberia Street docks and serve within 24 hours. To showcase the naturally delicate flavors of Florida seafood, Executive Chef Mallory Byrne, a St. Augustine native, seasons lightly and cooks just right. The approach is working. Catch 27 landed on USA Today's "10 Best Eats in Historic St. Augustine" list.
On my outing, I chose the Rustic Fish. Since it was summer, the dish featured a luscious vermilion snapper filet caressed with lemon garlic compound butter. Cooked to perfection and complemented with al dente vegetables and rice, the dish was healthy and satisfying.
"Our name defines the restaurant. We focus on fresh seafood from Florida, the nation's 27th state," said Stephen Hutson, who runs Catch 27 with his wife Lindsey. Hutson, a native Floridian who helped pay for his Flagler College education by working at Pizzalley's, was just 25 when he opened the restaurant in 2013. His youthful enthusiasm is essential to running Catch 27. "Day to day, I don't know what fish I'm getting. It depends on what's running and that changes seasonally," Hutson said. As for shrimp, "We chase it up and down Florida's East and West Coasts, depending on the season." If this sounds exciting, imagine what your taste buds will experience when they encounter fresh shrimp accompanied by cheddar and bacon grit cakes.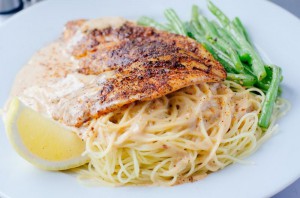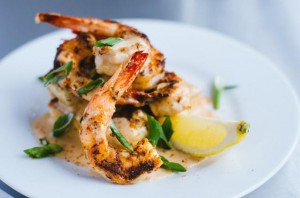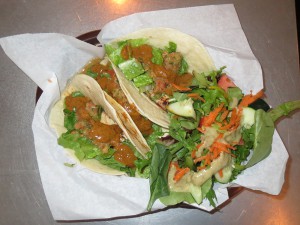 The menu changes to reflect the seasons, so diners might get Mahi Mahi one month and trigger fish the next. Catch 27's concept echoes the farm-to-table movement which promotes local, seasonal food. People accustomed to instant gratification (watermelon in winter, anyone?) may find this inconvenient. Those who appreciate flavor at its peak are willing to wait.
Catch 27's focus on local, seasonal ingredients makes for a smaller menu, but diners benefit from the quality vs. quantity approach. There's no filler in the crab cakes, for example, and many ingredients – from the datil peppers and seafood in the gumbo to the bread – are locally sourced.
Mallory Byrne draws on St. Augustine's colorful culinary heritage to season her cooking. Her Minorcan chowder is subtler than the fiery concoctions served in some local establishments. It also serves as a base for Catch 27's gumbo, a staff favorite. To create the savory stew, Hutson said, "We asked ourselves, 'If St. Augustine had a gumbo, what would it be?'" Starting with the Minorcan chowder, they added sausage, okra and roux simmered in Hutson's heirloom cast iron skillet.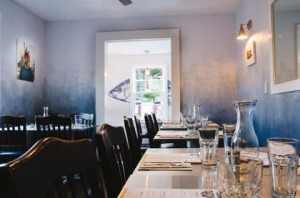 Wine lovers will appreciate the restaurant's BYO policy. Bring your own wine and there's no corkage fee for the first bottle. The second bottle corkage fee is $5. It's Hutson's way of encouraging locals to dine downtown. "It helps offset the cost of parking," he said. Buy your wine at The Gifted Cork or Vino del Grotto and receive a 10% discount when you say you're dining at Catch 27.
Meat lovers are not forgotten here. There's bacon-wrapped meatloaf, Mojo pork sandwiches and chicken dishes. Vegans can choose from hummus, salads and a rice bowl with black beans. Sixteen menu options are gluten-free. Every dish is made-from-scratch tasty, but as Hutson says, at Catch 27, "The fish is the star."
Insider's Tip: Catch 27's intimate ambience makes for limited seating. Call ahead for reservations: 904-217–8190.
Catch 27 is located at 17 Hypolita Street in downtown St. Augustine.
Hours:
Monday–Thursday, 11:30 am – 8:30 pm
Friday and Saturday, 11:30 am – 9:30 pm
Sunday, 11:30 am – 8:30 pm
To preview the menu, visit http://www.catchtwentyseven.com/.