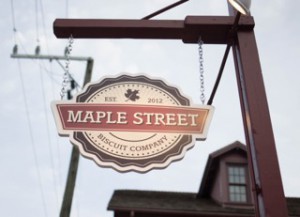 By Jillian Villemaire
Comfort Food with a Modern Twist – Maple Street Biscuit Company
Are you looking for a new place with good food and a casual atmosphere in the St. Augustine? Maple Street Biscuit Company is worth a visit downtown.
Maple Street Biscuit Company was created by Scott Moore and Gus Evans in Jacksonville, Florida. It's first location opened in 2012. Since then, Maple Street has expanded to include locations in Jacksonville's San Marco, Jacksonville Beach, Murray Hill, and Julington Creek, as well as in Tallahassee, Florida and Chattanooga, Tennessee. The 7th location opened in December 2015 at 39 Cordova Street in St. Augustine.
Where it all began
I had the pleasure of speaking with Scott Moore about Maple Street Biscuit Company. Scott and Gus were friends with no culinary experience who wanted to create something different. Scott laughed reminiscing about being told they were crazy for trying to get into the restaurant business. Scott and Gus believed they had a great idea and the drive to be successful. To perfect their concept, they spent 5 months having friends over on Thursday nights to try different recipes. The result is "comfort food with a modern twist".
Community
When the first Maple Street Biscuit Company opened, the community rallied around it. The owners spent time in their location, talking to customers, getting to know them, and getting feedback. Their version of market research was asking visitors where they were from. Noticing groups of people from the same location, they decided that was the next location. Simple idea, and it's worked.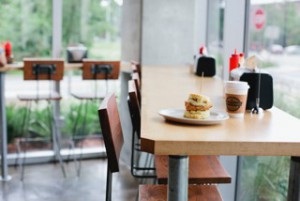 It doesn't take long to notice the community at Maple Street Biscuit Company. From the jovial staff taking orders to the "question" asked to identify your order, Maple Street offers customers something special. On my first visit, the question was "What did you want to be when you grew up?". Not only did this get people talking about their childhood dreams to those in their party, it also got patrons to listen to other guests' answers and discuss. I heard answers ranging from Dancer and Pediatrician to Chemist and Mommy. Scott said the question changes each month and is a way to prompt conversation and build a sense of community while fulfilling the restaurant need of identifying orders.
The mission of Maple Street Biscuit Company is "help people, serve others, be part of the community". As any good company does, this mission statement guides how they conduct business. Maple Street sets out to make a difference and be part of the community. Check out the website's Join The Team tab and read the description. It reinforces what Maple Street Biscuit Company is looking for and the importance of building a community.
Good food
Maple Street prides itself on the all natural ingredients used to create its dishes. Scott discussed the importance of paying more for quality. From the all natural chicken and house-made jellies and jams including the Maple Street special B2 Jam made from blackberries and blueberries, you can taste the quality ingredients. They ship in real maple syrup from the Bissell Family farm in Ohio. Scott talked about the owner of the farm and the importance of using a family owned farm. It's no question that real maple syrup just tastes better.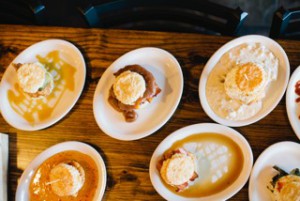 On my visit, we enjoyed the Ralphie Deluxe (described as a biscuit, sausage gravy with a kick topped with a fried egg), the Sticky Maple (described as a biscuit, all natural fried chicken breast, pecan wood smoked bacon topped with Bissell Family Farm real maple syrup), grits, and Iced Cinnamon Pecan biscuits. Everything was fantastic. As a northern, biscuits and sausage gravy aren't something I crave. I was amazed at how much I enjoyed them. During our visit, we were planning our next trip back. Check out the full menu to plan your meal. Each location uses the same menu so the food you get at one location is consistent across all locations.
On a Saturday morning, there was a line out the door. The good news is: the line moves fast and it wasn't as difficult to find a table as it appeared it would be. Don't be afraid when you see all the people waiting for a table, the number of tables was sufficient for a busy weekend morning.
Hours
Monday- Saturday 7am- 2pm
*Notice Maple Street Biscuits is closed on Sundays.
Prices
Food prices range from $6-8. It's a middle ground for breakfast. Not totally inexpensive, but the food quality more than makes up for the money spent. Maple Street Biscuit Company uses what they call flat pricing for their menu items. Each item is an even dollar amount instead of adding .25 to each item for example.
Address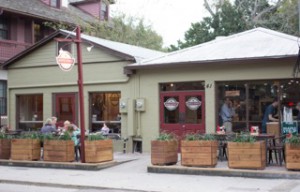 39 Cordova St
St. Augustine, FL 32084
Once you've visited St. Augustine, you'll want to check out if there is a Maple Street Biscuit Company near you when you travel. Next location set to open in Gainesville, Florida in April 2016.
Comments? Email j.villemaire@oldcity.com
Disclaimer: Every effort is made to ensure the accuracy of information on City Blog, but please verify hours, prices and important information before embarking on your Old City adventure.
Sharing and re-posting this blog is encouraged. Please credit OldCity.com when sharing.
Photo credit: Maple Street Biscuits Old City location.