Tasting
Tours a Favorite with Foodies
Savoring
St. Augustine history, one bite at a time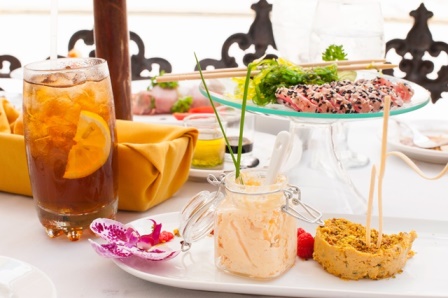 A
city can't survive nearly 450 years without developing some cooking skills
along the way. St. Augustine's food scene is a literal melting pot of
multicultural tastes and traditions. For a community of its size, St. Augustine has a
remarkably diverse selection of restaurants. A fun way to discover places you might not
find on your own is by taking a food tour. There are several tours in town, including The Tasting Tours and St. Augustine Historic Walking Tours that combine food, libations and learning. This month, we're featuring the Savory Faire Food Tour a 2.5 hour walking tour of four Old City eateries, with some
history on the side.

Living
Lessons
It's one thing to experience the past
through mind-numbing textbooks. It's entirely different to stand in the spot
where history happened. Even if you slept through American History class
in high school, you'll enjoy this tour. Affable guide Alan
Hudson presents a narrative of historical high points – from the Menendez landing to Flagler's Gilded Age. Strolling
through downtown, Hudson's bite-sized history lessons are more like listening
to a well-informed friend than a guide who has memorized all the spark out of
his spiel. Hudson encourages questions and strives to present an accurate
picture of St. Augustine's complex history while reminding tour-goers that, "History
is a living, breathing thing," with multiple perspectives.
Casual
and Convivial
Fortunately, you won't be quizzed on
dates and battles at tour's end. Your biggest challenge is pacing yourself as
you taste and sip your way through four restaurants and a couple "bonus stops" at food specialty
shops. Routes change throughout the year to keep the tour fresh for repeat
customers and to suit the season (summertime gelato stops are popular). And
although you're dining next to people you've never met before, the atmosphere is
casual and convivial.

Sipping
and Sampling

On my tour, the first stop was Old City House Inn and Restaurant, a 19th century horse stable turned B&B
and restaurant.
Under new ownership, the establishment has retained its intimate ambiance
and attention to detail in each dish.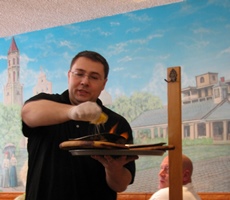 Next, our group headed to Athena Greek Restaurant, overlooking Plaza de la Constitucion. Of the four tour stops,
Athena's fare seemed most closely connected to St. Augustine's culinary
history. The city's multicultural flair was represented in the staff, including
Greek cooks and a Czechoslovakian waiter who urged tour-takers to shout "OPA!"
as he set Saganaki (Greek cheese) aflame. Saganaki is actually much better than it sounds, particularly if you like tangy, tart Mediterranean flavors.

Moving along to Meehan's Irish Pub,
we sampled a noteworthy chowder, Guinness beef sliders and a Reuben disguised
as a spring roll. We also learned that the Irish had a presence in St.
Augustine from the start. "The Irish came to St. Augustine in 1565 with the
Spanish and five of our colonial mayors were Irishmen," Hudson said.
Tour-goers were pleasantly satiated
at this point, but the eating wasn't over. Thankfully, our last stop, Gourmet
Hut, served lighter fare – a small salad and bruschetta, followed by a tasty
dessert morsel. Selections reflected Hut's preference for farm-to-table
food. Seated in the eatery's eclectically-furnished garden overlooking Cuna
Street, this spot was an appealing end to an appetizing afternoon.
The Savory
Faire Food Tour departs daily from Tour Saint Augustine at 4 Granada Street.
Price: $49/person; wine pairing (3-4 glasses) additional $15. (Sharing is
permitted on wine pairings.)
Insider Tips:


The Villa Zorayda lot at 83 King Street is the closest parking to the tour departure
point. A bit farther down Granada, you'll find cheaper parking.
Wear
comfortable walking shoes and dress for the weather.
Food tours
are recommended for ages 12-up. Bringing a baby? Call ahead so tour guides can
accommodate you.
Disclaimer: Every effort is made to
ensure the accuracy of information on City Blog. Change is inevitable, so
please verify hours, prices and important information before embarking on your
Old City adventure.
Sharing
and re-posting this blog is encouraged. Please credit OldCity.com when sharing.
Photos: Old City House appetizers: Stacey Sather/St. Augustine Visitors & Convention Bureau; Preparing Saganaki: Nancy Moreland.