Historically Delicious Dining at St. Augustine's Raintree Restaurant
Before you reach the front door, you're already enchanted.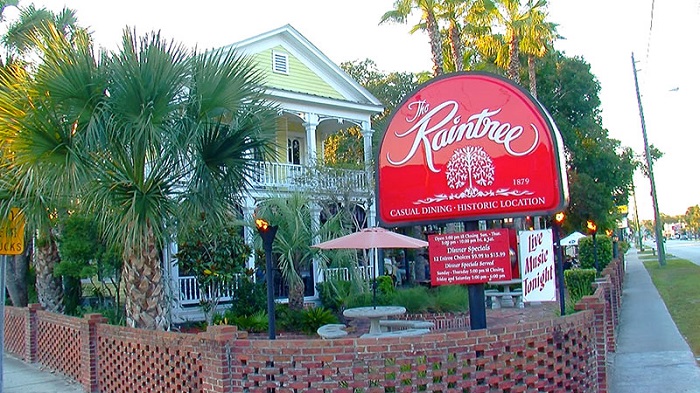 You've passed through the cast iron gates, and perhaps it's evening. Tall lanterns flicker. Under your feet, deep red brick. Perhaps a local musician is playing in the raised outdoor gazebo. Lively diners talk animatedly (or whisper quietly) to one another while enjoying a glass of fine wine. A woman nods her head in assent to someone's comment, all the while savoring a particularly melt-in-your-mouth and fresh-from-the-Atlantic slice of blackened flounder.
Smiling servers expertly weave through the packed patio, carrying trays of food that, "look too good to eat," but then again, are so out-of-this-world amazing that some Floridians would call it a sin to miss the intoxicating layers of savory flavors that "taste too good not to eat."
Truer words have never been spoken, for once you do get a chance to taste what's on the plates at Raintree, you'll agree.
Raintree Restaurant's Casual Fine Dining: Stunning Surroundings and Even Better Food
Sitting in what one of the fanciest Florida sunrooms I've ever seen, my dining companion and I take in our beautiful view. It was like we had the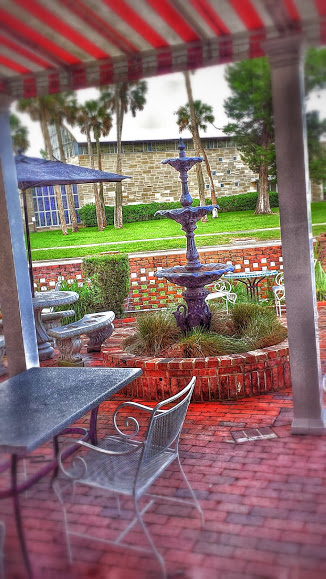 restaurant equivalent of VIP tickets to our team's winning game. White linen table clothes and napkins, sterling silverware, crystal wine glasses beaded with ice water, and a glorious view of the restaurant's brick patio and across San Marco Avenue to one of St. Augustine's most famous attractions–Nombre de Dios and Our Lady of La Leche, best known for its beautiful, peaceful grounds and its Great Cross, approximately four stories tall and a stunning structure that you can see clearly day and night.
We sit in the beautiful sunshine, surrounded by glorious glass windows, and our server appears immediately with a glowing smile and a warm hello. As he pours ice-cold water into our glistening glasses, he fills us in on the specials so well that we can practically taste the food.
Raintree Serves Up St. Augustine's Locally Sourced Food
When you order from the Fresh Catch portion of the Raintree dinner menu, you can be guaranteed it's truly a fresh catch, from the ocean to the filet to your plate. If for some reason it's not, your server will let you know. Disclaimer: this writer has been a hardcore vegetarian since she was 15 and was never a fan of fish.
However, having recently felt brave enough to try fish just a few weeks or so before this visit, I felt brave enough to get out of my food comfort zone to order another serving of fish. I filled our fine server in on this fact, and he filled us in on the flounder. And as a native Floridian fisherman himself, we could rest assured his word was golden.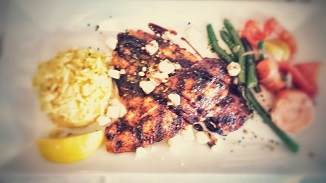 "Our fresh flounder tonight is one of the mildest saltwater fish that I've ever had," he says.
"It's very light and a good recommendation for someone who has never had fish or doesn't really like a really fishy fish. It's very light, very mild, and of course, the preparation of blackening, the goat cheese, and the balsamic vinegar is amazing." And he was right! It was AMAZING. In addition to their Fresh Catch of the Day offering, Raintree also serves up seasonal dinner specials and pastas highlighting the best foods of the season, using local ingredients whenever possible.
Fine International Dining in St. Augustine: Menu Blends
Steak, Seafood, Mediterranean, American, and Pasta Perfectly
Reviewing the dinner menu, you find fantastic favorites for every taste, and they graciously offer up vegetarian options, including a black bean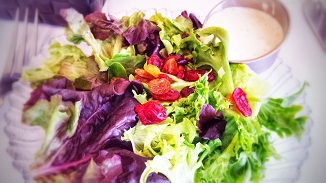 burger, Mediterranean pizza, and classic pasta dishes. My dining companion asked about the Steak Capresse.
"The serving is between four and six ounces of blackened filet tips. It's got a lot of flavors there, too," he said. "The cheese, the balsamic, the tomatoes…it's very nice."
In the dappling light, we eat our Brushchetta Caa pressee starter–roasted tomatoes, fresh basil, garlic, olive oil, and mozzarella cheese atop fresh French bread–so  quickly that it was gone before we even knew it.
The same went for our dishes. We are both very quiet during dinner, enjoying our dishes with utter in-the-moment enjoyment and concentration.
Raintree's Signature Dish: Beef Wellington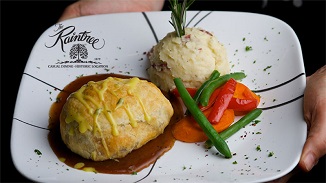 Once we finish our meal, our fearless tour guide of deliciousness points out a his suggestions for our next visit. First of all, he let us know all about the dish that makes them famous: Beef Wellington.
"It's inside a puff pastry. The chef sears beef filet tips on all sides and puts them in the oven so that when you put them in the puff pastry the meat doesn't soften the pastry," he says.
"So you have a nice, crisp puff pastry and a nice, tender medium rare filet inside there. It's delicious," he adds. I always recommend it."
Our charming guide's favorite dish? The Rack of Lamb. "It's phenomenal," he says.
The Raintree Dessert Bar: A Sweet St. Augustine Legend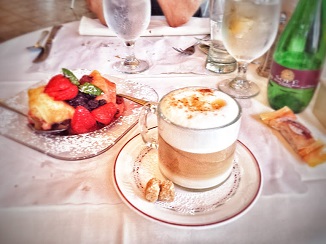 Everyone in St. Augustine knows about the desserts at Raintree. In the evenings, many theater-goers, having enjoyed a wonderful performance at the  Limelight Theatre, just a few steps away from Raintree. Catch Addams Family Musical, now running through October 19, or any other featured performance, then stroll down to Raintree to finish off your a lovely evening on a sweet note. Another note: if you eat before your visit to the theatre, Raintree offers a special menu just for you.
Famed for their eclectic selection of out-of-this-world dessert crepes, Southern-style favorites like Key Lime Pie, and the sinfully delicious Warm Dome Cake with Vanilla Ice Cream and Macadamia Nut Brittle. Plus, the best Cappucino in town, in my humble opinion.

Oh, and The Raintree Has a Fan Club
One particular guest, Mrs. Mullen, even wrote a limerick in the Raintree's honor, titled A RESTAURANT IS:

Where we eat–where we meet
Sooooooooooo–what's the difference in restaurants, you ask?
I shall NOW begin with my task of setting them apart, 'cause Raintree has:Gardens and gardens, whether dining in or out
Gazebos for six–so romantic I want to shout!
Oh my, oh dear, can this eatery be true?
Such a heavenly place…and great food, too?Great food, you say? Why, of course! It's the BEST!
Raintree's set apart from ALL the rest!We have European atmosphere,
Waiters in uniform–red, black, and white,We serve your desires, and it ALL turns out right,
'Cause we are the third generation and take pride in what we do,
Please give us a chance to share our cuisine with you.
Three Decades and Counting: There's a Reason 
Raintree  Restaurant is Still a St. Augustine Favorite
A Romantic History
All kinds of incidents conspired fatefully to create a restaurant as special as the Raintree: a grand centuries-old Victorian building and a history as romantic as the restaurant itself–that of the MacDonalds–a bright young family of four, traveling across the pond from England, landing in St. Augustine in 1979. Just two years later, the Raintree was born and has remained in the family ever since, while maintaining its popularity and respectability for more than three decades.
A Family Affair
Passed down from parents to siblings to Lorna MacDonald and her husband, Chris Cantanbene, Executive Chef and General Contractor, Lorna attributes the restaurant's staying power to their attention to every little detail.
From an evolving menu to meticulous attention to the 1879 Victorian building, she says that they both love what they do, and this passion and love for the place and its offerings shines through in the restaurant's ambiance and menu.
"The menu is ever evolving and we endeavor to change with the times, both in pricing and variety to cater to our customers, Lorna said. 
"We have evolved from a formal restaurant when we opened to what we now refer to as 'Uptown Dining' and the courtyard area outside has been a huge success as al fresco dining is what people are looking for."
The Reward is in the Details
When asked why the Raintree has remained so
popular over so many years, Lorna says, "My husband and myself spend a lot of time on details. The building takes much upkeep, but we enjoy that kind of work." The two pay equally detailed attention to the menu, ambiance, and service. And the love definitely shows, so much so that one of the most famed publications in the world–The New York Times, whose particular author had this to say about Raintree:
"There should be special awards for restaurants that manage to combine quality food with historic surroundings, buildings that proudly proclaim their heritage and encourage diners in their own remembrance of things past."
The special award? Just the Raintree itself, a truly special place of memory and joy and great times with loved ones. A place that makes you feel like all is right with the world, for a little while at least.
Insider Tip: If you're attending a performance at Limelight Theatre, when you make your reservation, let the restaurant know and you'll enjoy a special menu just for Limelight Theatre-goers.
Disclaimer: Every effort is made to ensure the accuracy of information on City Blog, but please verify hours, prices and important information before embarking on your Old City adventure. Sharing and re-posting this blog is encouraged.  Please credit OldCity.com when sharing. Photo Credits: Ama Reynolds and Raintree Restaurant