Light Up Your Holiday with the Nights of Lights Celebration in St. Augustine

Once upon a time, festooned in lovely white lights, bannered across the beautiful Bridge of Lions, visitors and locals on the downtown side of town were greeted with Feliz Navidad, streetlights and lampposts swirled with lights and green garland. Wreaths with red ribbons lined the streets. And tiny white lights glittered hither and yon, lighting up the bayfront downtown, upon anchored boats in the bay, across some of the city skyline's main buildings facing the bay. Modest. But beautiful nonetheless.
My how times have changed. Today, come holiday time, the whole city glows with millions of beautiful white lights. From across the bay, St. Augustine looks like a fairyland and Nights of Lights, especially opening night, has become a worldwide attraction and is listed by National Geographic as one of the 10 Best Holiday Displays in the World. In the WORLD.

The City's World-Famous Holiday Display
The Nights of Lights Festival begins every year on the first Saturday before Thanksgiving. This year the date is November 22, 2018, and the celebration runs through January 30, 2019. So there's plenty of time to plan a trip to the Old City and enjoy the holiday season in milder climes.

The Nights of Lights in St. Augustine, Ponte Vedra and the Beaches–even for the most immune and hardened locals, gets to the hearts of everyone who sees the city, the whole city, lit up with those tiny white sparkling lights in trees and bushes, bed and breakfasts, restaurants, businesses, EVERYWHERE. It's magical. And with the lights lit up for almost three months, you have plenty of time to make a trip to the Old City and enjoy them.

In the Plaza de la Constitucion, in the city's historic center, a huge Christmas tree will even light up–and all of it–millions of lights will appear all at once all over St. Augustine, when the switch is flipped to on, saying, "the most wonderful time of the year," is here.

This is the place to be to celebrate the holiday, so bring your beloved or your family for a weekend or a week-long holiday getaway. We have the perfect guide of tours, attractions, restaurants, nightlife and accommodations all designed to help you make the most of this magical season.
NIGHTS OF LIGHTS HOLIDAY TOURS TO REMEMBER
Take in the magic of the city in your own style, with a fun guide to light your way. Decked out in holiday finery, each tour offers a one-of-a-kind look at the city and the wonder of it when it's all lit up.
St. Augustine Tasting Tours
VIP Vittles & Vino Carriage Tour
First, before your VIP Vittles and Vino Carriage Tour begins, visit the home base, let the charming Andrea explain the delicious boutique wines. Select your favorite, uncork, and enjoy while your tour guide–in this case, ours was the delightful Jennifer–gives you a friendly warm-up and run-down of all the fun to come. Relax in the warm comfort of the living room, get to know your fellow travelers, and pleasurably anticipate the fun to come.

Your carriage will arrive with a friendly driver and horse to greet you. Now it's time to board the beautiful carriage with your fellow travelers, armed with a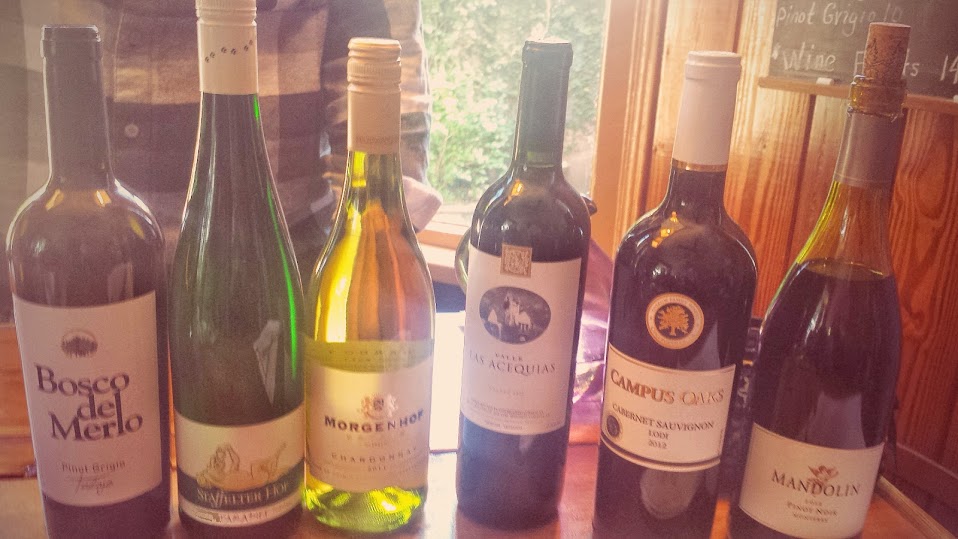 delightful bottle of wine to split with your date as you travel in decadent style through the historic streets of St. Augustine, on your way to get a taste of the best beers, wines, and appetizers at some of St. Augustine's best restaurants, including Mojo's, an amazing barbecue place–and ahem, Bill Murray's favorite St. Augustine dining spot. Such fun, not-on-the-usual-tours tidbits pour like a smooth Pinot Noir or a crisp Chardonnay from her sweet mouth as we make our way in grand, VIP style through the city.

The modern, expansive atmosphere of Mojo's complements the finest barbecue and its attendant accoutrements–an overflowing basket of well-spiced, HOT, beer-battered, four-bite-minimum MONSTER onion rings to share with your choice of incredible homemade sauces–paired with a great selection of the wine-lover's favored red or white or even a fine, rare stout. Mojo's offers the perfect blend of down-home barbecue cooking with a modern bent everyone will love.
This three-hour-tour is one of the best this local has ever enjoyed.  It's designed for friendship and celebration, and locals-only tips from Jennifer and other guides on where to go to dinner, what attractions to visit, where to head out for shopping and nightlife–all based on YOU and what you're into.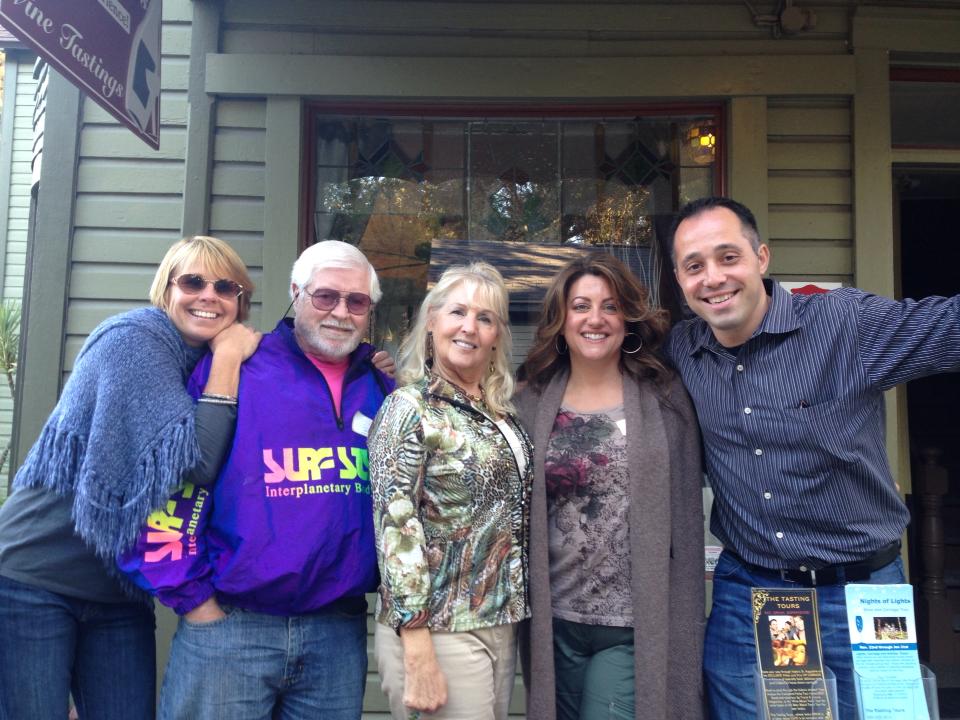 This intimate tour allows revelers to learn about the city, appreciate very fine wines and beers of their choosing, savor the most delicious appetizers at restaurants adored by locals, too.
I share my time with a newlywed couple, first-generation Greek, both of them, who live in the United States but met on that gorgeous Mediterranean isle–our other friends? A delightful couple based in Chicago who spend nine months out of the year traveling. They even have an 18-years-long-and-running diary of all of their adventures.
Our carriage driver, Maureen, shares fascinating St. Augustine history about Flagler College, Lightner 
Museum, Flagler Presbyterian Memorial Church, Ancient City Baptist Church and more–and the star of the day, the gorgeous and brilliant and courteous horse aptly named Prince, provided everyone great joy and a smooth ride through all the St. Augustine Streets.
Jennifer kept us up and up on St. Augustine history, too, of course, and filled us in with every perfect detail you WANT to know about the city you're visiting–back stories about the restaurants and decor, the buildings–and ideal recommendations for wine, beer, food, desserts, and nightlife at the spots we visited as well as wonderful spots she knows and loves herself. And places her guests would love. She's a great people-reader, and seems easily to determine just what her troupe would best enjoy while in town.
Jennifer not only shared history and guided us through our dining stops; she asked questions and incited lively conversation all the way. She's the kind of person you want to be your best friend, the one you want at every dinner party and even the one you might want to call in the middle of the night for pressing advice.
Yes! After three hours, that's the impression she emanated–that and she goes above and beyond to ensure the perfect experience. 
The Floridian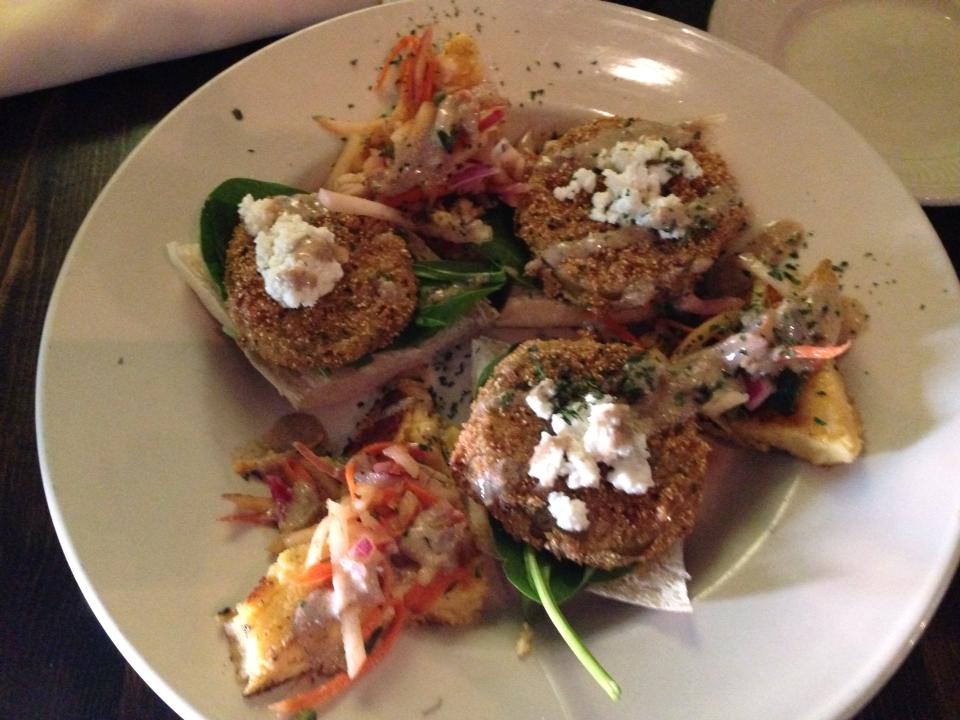 Next-stop, local favorite The Floridian, where Southern favorites meet hip, brilliant, and even healthful twists. A variety of local brews and carefully selected red and white wines were offered up for our enjoyment, along with the very popular and decidedly Southern fried-green tomato bruschetta topped with local goat cheese as well as grit cakes topped with seasonal salsa. This is the restaurant where I've celebrated two birthdays and where I bring every one of my many St. Augustine guests. I am biased. But most people here and all over the country feel the same way I do. No one else besides me and Jennifer had tasted fried green tomatoes–not too sure if they'd had grit cakes, either–butour companions loved them–because they were done RIGHT (P.S. They're done right every time).

After a lovely time spent with Maureen and Prince, we step off the carriage at Lightner Museum's Alcazar Cafe, located in the famous–now drained–pool. Where presidents and still-famous magnates once swam above Spanish tile, diners enjoy delightful fare at this famous spot. We swiftly consumed a to-die-for hummus platter even the Greeks enjoyed, our choice of wine, of course, and another herbal wine specialty called Absentroux, "blended with wormwood and other distinct botanicals to bring your palate the essence of absinthe with the softness of wine," so reads the lovely art nouveau-styled
informational postcard, anyway. Following our illuminating visit of both history, wine, and the cool and
spacious atmosphere with three-story-high ceilings, cool cement beneath the feet, and sunlight dappling through the upper-story windows, we stepped outside to meet our carriage.
Chocolate Turtle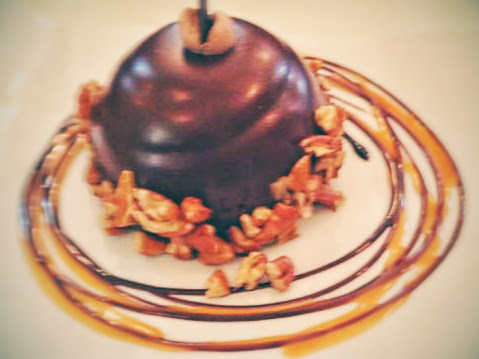 Our final stop, oh my, was the brand-new and divinely decadent Chocolate Turtle, locally owned and blowing up on the local's radar, which serves up hand-crafted desserts, coffee and espresso beverages, and selections of red or white wine. Two of us ordered the signature dish–The Chocolate Turtle–and emitted two unbidden and simultaneous shouts of OH MY GOD! A layer of caramel, a layer of chocolate cake and a chocolate mousse filling encased in an elegant chocolate shell (the shape of a turtle's–okay, a little rounder), encircled by walnuts and presented modestly upon a swirl of caramel and chocolate.  Best with the red. The wide selection of espresso beverages looked positively buzz-worthy, too.

Fully sated and slaked, we climb upon the carriage back to the "home" of Tasting Tours. No one wanted it to end. When it comes to anything, really, you can't get much better than that–something so good you don't want it to end.
That's why so many guests always come back. There's hardly a better afternoon one can have than drinking wine while riding a horse-drawn carriage in one of the most beautiful cities in the country, enjoying fascinating history from a friendly guide, and savoring appetizers and boutique wines you won't find anywhere else. Who in the world would want such a heaven to end? Nobody. That's who.
Holly Jolly Holiday Trolley
Step into the cozy trolley and travel through the historic streets of St. Augustine for carols, spectacular views of more than three million tiny white lights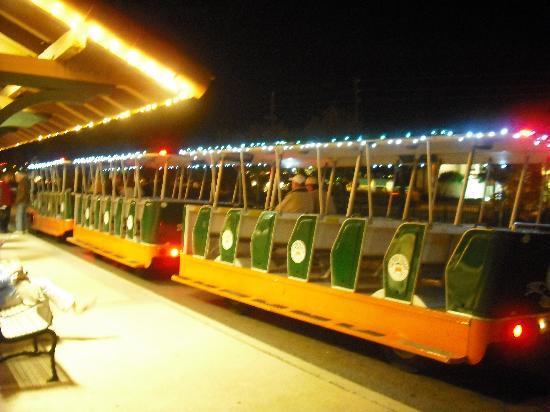 dressing up the city with magic, and trip the lights even more fantastic with magic viewing glasses. Of course, there's more, including complimentary hot cider and cookies and live performances on select nights. Book online and get even more information at the Holly Jolly Holiday Trolley site.


Santa's Big Red Christmas Train
Ride Santa's Big Red Christmas Train, enjoy carols and take in the millions of lights with your Santa's Magic Viewing Glasses. Lots of holiday extras, like holiday movies, free balloons, a chocolate fountain and more await you at Ripley's Believe It or Not! Odditorium . Visit the Red Train Nights of Lights site for all the details.


Nights of Lights & Holiday Traditions Plaza Stroll
Take in the glimmering views and discover the history behind these white lights when you walk through town on the Nights of Lights & Holiday Traditions Plaza Stroll. What began as a Colonial-era
tradition has turned modern-day spectacle famous all over the world. Stroll through the Plaza de La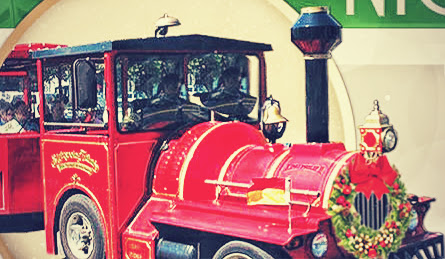 Constitucion and learn all about it.

Nights of Lights Cruise
See the lights sparkle upon the water as you cozy up for a wonderful Nights of Lights Cruise from the Vilano Beach Pier.


Holiday Shopping & Wine Experience
Follow a St. Augustine Shopping expert through the historic streets of St. Augustine and enjoy a fine glass of much-deserved wine at the end of your spree. The Holiday Shopping & Wine Experience Tour begins and ends at the Gifted Cork.


R
ECOMMENDED ST. AUGUSTINE DINING & NIGHTLIFE
RECOMMENDED ST. AUGUSTINE ACCOMMODATIONS

WARM UP YOUR WINTER WITH ST. AUGUSTINE'S NIGHTS OF LIGHTS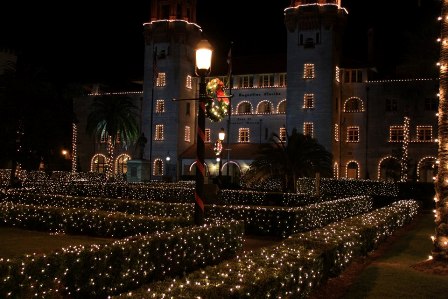 You might find it implausible that such a small, subtropical town in the Sunshine State of Florida offers one of the busiest, most beautiful, and widespread
holiday celebrations in the country, but you'd be wrong. The Ancient City's holiday season lasts from the opening Nights of Lights extravaganza on the first Saturday before Thanksgiving–this year that's November 22, 2014 and lasts long through January, when the holiday lights go down on February 1, 2015, letting the cheer linger while many of us face colder climes and grayer skies after all the festivities have passed.

Come join us! There's plenty of time to get in on the fun.
Insider Tip: Park at in the HisToric Parking Facility Located off Castillo Drive and take in the sights in all kinds of ways–on foot, by bicycle or pedicab, on the Old Town Trolley or the Ripley's Red Train, or by horse and carriage. ARRIVE THE NIGHT BEFORE and park early in the day and hang around town to ensure a parking space.
Disclaimer: Every effort is made to ensure the accuracy of information on City Blog, but please verify hours, prices and important information before embarking on your Old City adventure. Sharing and re-posting this blog is encouraged. Please credit OldCity.com when sharing. Photo Credits: St. Augustine, Ponte Vedra and the Beaches Visitor's Convention Bureau, OldCity.com, Old Town Trolleys, Ripley's Red Trains, Tini Martini, Tasting Tours, LLC and Ama Reynolds