A Sailor's View of the Nights of Lights
Hit the holiday pause button on Schooner Freedom's Sunset Sail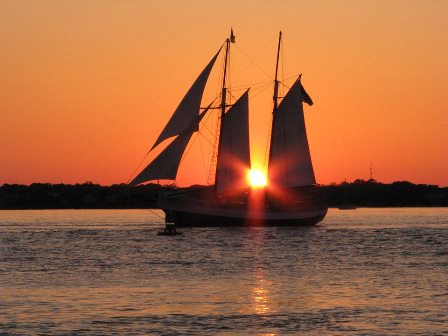 Need relief from the holiday rush? Just add water.
If you've ever glimpsed Schooner Freedom gliding through Matanzas Bay and yearned to be aboard, wait no longer. There are few sights more breathtaking than St. Augustine's skyline, illuminated by more than three million lights, especially when viewed from the water.
The experience ought to be on everyone's bucket list.
Serenity Under Sail
Step aboard Schooner Freedom and within minutes of drifting away from the St. Augustine Municipal Marina, all land-locked concerns subside. You never lose sight of land on the two-hour sail, yet you're gracefully beyond the grasp of your busy life back home. Sea breezes beckon and dolphins dip playfully among the waves. You sit back, relax and leave the work of piloting the 76′ topsail schooner to Captain John Zaruba III or his wife, Admiral Sarah Zaruba and their capable crew of Kim Desmond and Jimmy Fox. Not that you won't have a chance to help out. Sailing is a group effort; everyone on board gets to hoist a sail if they're so inclined.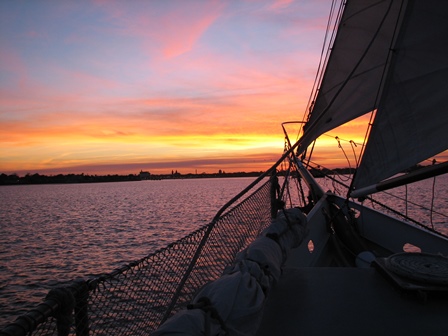 Built in 1982, Schooner Freedom is a steel replica of the American wooden blockade-runners that baffled the British in the War of 1812. Weather permitting, she sails twice daily from the Marina. Sailing is an activity attuned to nature; the wind, weather and currents determine your course. On most trips, the Schooner cruises under the Bridge of Lions, through Matanzas Bay and far enough into St. Augustine Inlet to experience a tantalizing hint of open water. The wide, stable craft sets landlubbers at ease, as does the crew, who cheerfully dispense complimentary beer, wine, water, blankets and jokes along the way.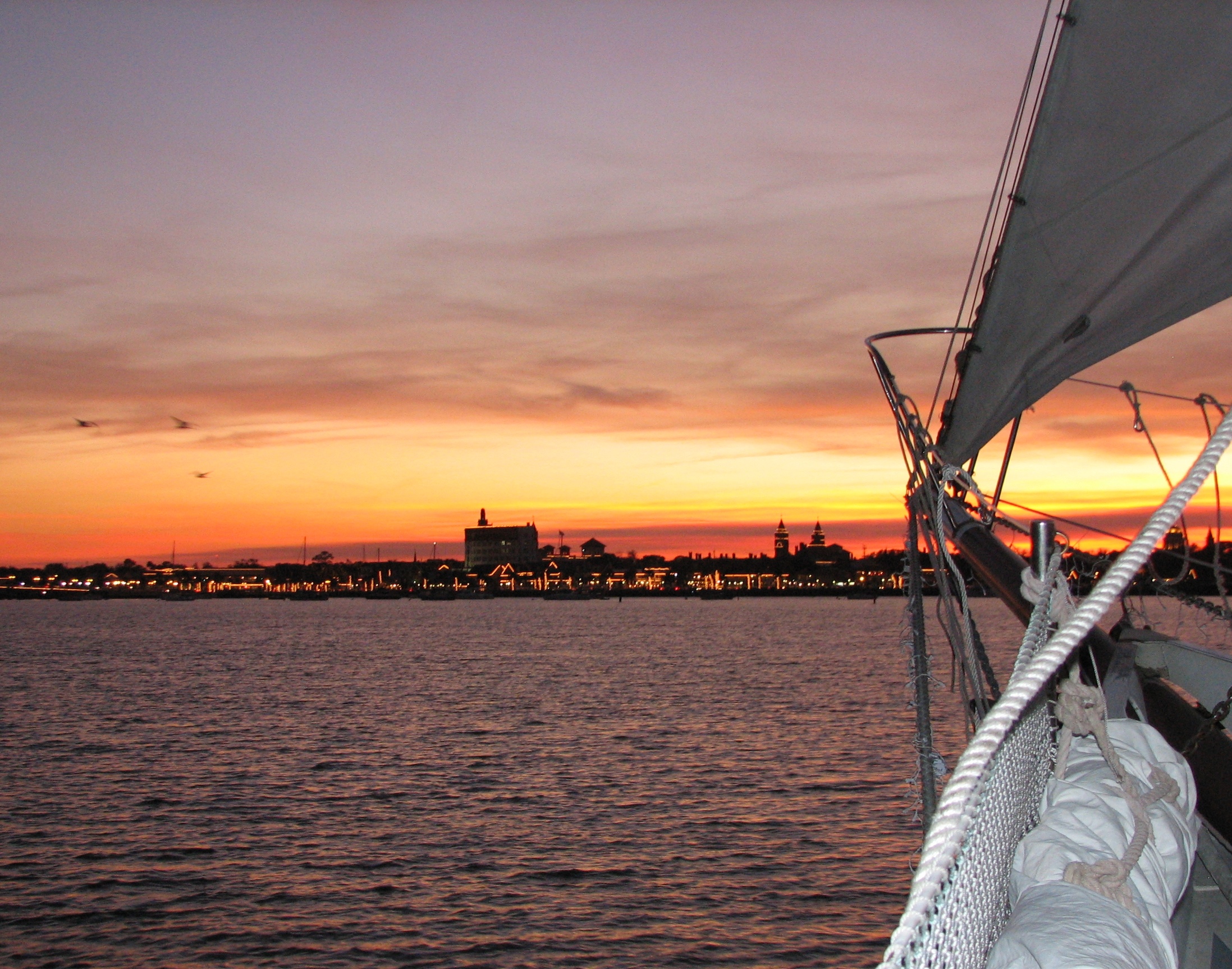 The Pursuit of Happiness
As true owner/operators, the Zarubas have run thousands of sails since launching Schooner Freedom Charters in 2001. "Most passengers are surprised to see owners actually on board, sailing," says Captain John. A fifth-generation Floridian, John Zaruba has the easy-going attitude often found in people who spend a lot of time outdoors. In winter 2015, he plans to begin offering private, week-long charters down the Florida coast on his new baby: a 90′ packet schooner named "Pursuit."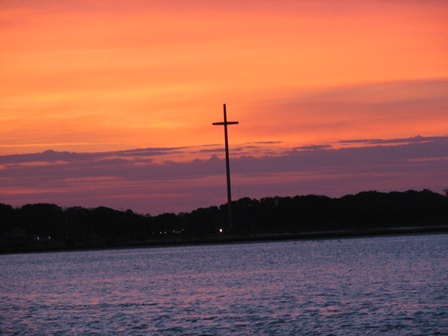 As Christopher Cross once crooned, sailing does takes you away. An antidote to holiday stress, Schooner Freedom surrounds you with peaceful moments . . . sails whispering in the wind, flocks of birds winging through the sunset, the sea buoys' breath-on-a-Coke-bottle murmurs. It's a gentle journey that reminds you of the gift of St. Augustine's beauty.
Nights of Lights Sunset Sails depart daily at 4:15, now through January 31st, from St. Augustine Municipal Marina, 111 Avenida Menendez. Price: $45/person. Sunset, Full Moon, Afternoon and Private Sails run year-round; departure times vary, depending on the season. To book a sail or for more information, call 904-810-1010 or email schoonerfreedom@aol.com.

Insider Tip: It gets breezy on board, so bring a jacket. Don't forget the binoculars: you may spot dolphins, manatees, sea turtles and waterfowl along the way. There's no parking at the Marina and parking along the Bayfront is limited. The Visitors Center parking garage is a better bet.
Comments?
Thoughts? Email nmoreland@oldcity.com
Disclaimer: Every effort is made to ensure the accuracy of
information on City Blog. Change is inevitable, so please verify hours, prices
and important information before embarking on your Old City adventure.
Sharing
and re-posting this blog is encouraged. Please credit OldCity.com
when sharing.
Photo credits: Top: Sara LeClaire; All others: Nancy Moreland