St Augustine Nights of Lights
Experience St Augustine's Nights of Lights display, rated one of the best Holiday displays in the world. Join us as we celebrate the 24th season with the nation's oldest city's beautiful light display. There are so many special events taking place during the Holiday season and Nights of Lights in St. Augustine, you'll want to make a list to be sure not to miss any. Navigate our page for tips on what to do and where to park in St. Augustine during the Nights of Lights celebration.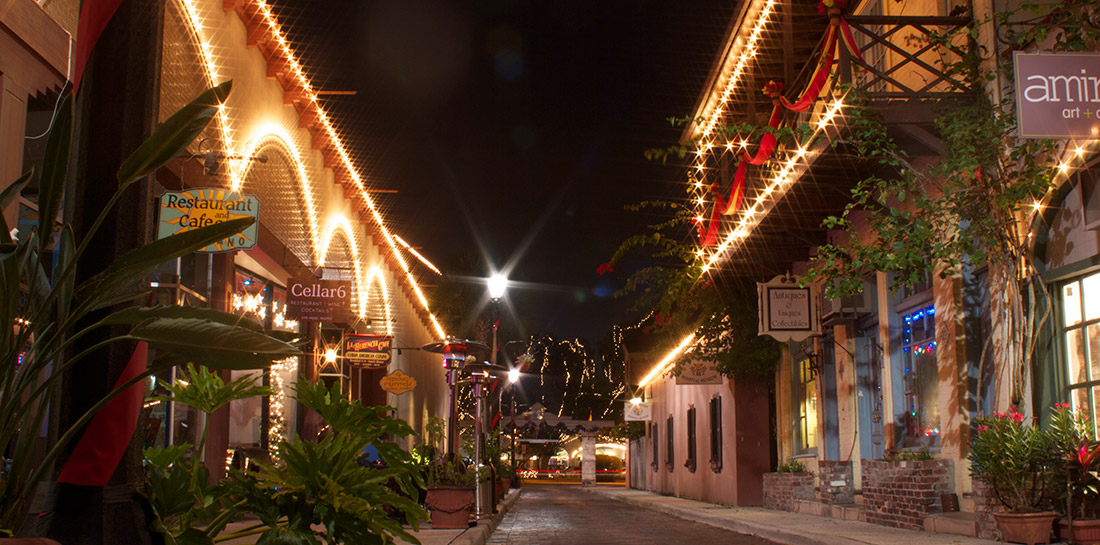 Light-Up! Night in St. Augustine
Light-Up! Night is the most anticipated Christmas event in North Florida. Thousands of people gather in the century-old streets of the historic district, hot cocoa and ear muffs in tow.  As the clock strikes 6:30 pm, the townspeople watch while the Christmas Tree, located in the Plaza de la Constitucion, comes to life with holiday sparkle. Following the lighting of the tree, is the ten second countdown that turns St. Augustine into a real-life Winter Wonderland – better known as Nights of Lights. The illuminated town instantaneously spreads holiday spirit throughout the Ancient City. They say the cheers can be heard all the way to the St. Augustine Lighthouse!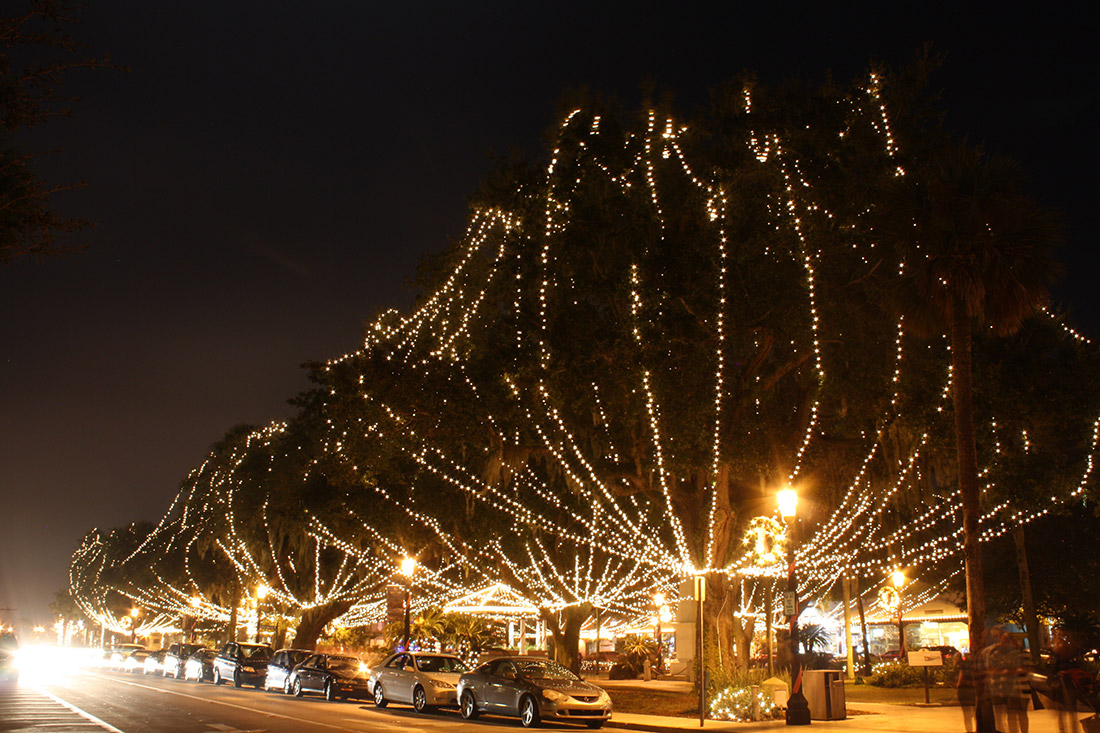 Parking in St. Augustine
Parking spaces are far and few in between. Here are a few tips:
The event starts at 4:00 pm, but people start to arrive in the morning.   So the earlier you arrive – the better chance you have at a convenient spot to park your ride.
Commute via the Old Towne Trolley, or Ripley's Believe it or Not Red Train. One vehicle downtown costs close to $20.00 to park – about the same as one adult ticket for a train/trolley ride.
Pay attention to parking spaces monitored by parking meters and NEVER park by a curb marked in yellow.
Historic Downtown Parking Facility, near the Visitors Information Center, costs $15 for entry or $3 with a ParkNow card and can accommodate 1,200 vehicles
Time limit: on-street: 3 hours/parking lots: 4 hours
Free Park & Ride Shuttle Information
The City of St. Augustine is offering Free Park & Ride Shuttle service again this year. There will be two pick-up location; the St. Johns County Health Department at 200 Sebastian View Way and the North San Marco lot at 301 San Marco Ave. Shuttles from these areas will drop off passengers at the Visitor Information Center.
Shuttles will run from 1:00pm to 11:00pm, approximately every 15-20 minutes on the following days:
Saturday, November 18, 2017
Friday, November 24, 2017
Saturday, November 25, 2017
Saturdays in December; 2nd, 9th, 16th, 23rd, and 30th.
Light-Up! Night service along Anastasia Blvd.
The shuttle service will include several park and ride locations along Anastasia Blvd. on Light-Up! Night only. Shuttle service will be available from 4:00pm-11:00pm from these parking locations to the east end of the Bridge of Lions:
• Anastasia Baptist Church, 1650 A1A South
• St. Augustine Amphitheatre, 1340- C A1A South
• R.B. Hunt Elementary, 125 Magnolia Dr
North Florida's Winter Wonderland
Nights of Lights holds the distinct honor as one of the 10 Best Holiday Displays in The World by National Geographic – but it is so much more than millions of adorning lights filling the Ancient City. It is a community-strengthening event that is only possible because each business in the historic district participates. Thanks to those businesses, our residents, and beloved visitors, it has become the most harmonic, romantic, and joyful time in St. Augustine – as well as a sacred tradition of North Florida.
There are many ways to partake in the Nights of Lights fun, the most popular tour is self-guided, on your own two feet! Hot cocoa, a scarf, and a pair of mittens is all you need for a cozy viewing of the Ancient City in all its glory. However, if you are looking for an "off the beaten path" tour, St. Augustine offers viewing by Land, Sea, and Air! Regardless of how you spend your night – be sure to take a ride over the Bridge of Lions, from Anastasia Island. The view of the Bayfront lit with thousands of bulbs flickering in the wind is one of St. Augustine's most memorable images!
The Christmas Light Bandit – A St. Augustine Holiday Mystery
The Christmas lights downtown are meant to be white only. However, with a keen eye and dedication – you can spot a few bulbs varying in color. There is no insight as to who is responsible for the colored bulbs – it is a mystery! Chris Fitts, owner of Angels in the Architecture, is to thank for the displaying of lights on businesses downtown, he also has no idea where they come from! From time to time he spots an off colored bulb and takes it down. At first, he thought someone was pulling his leg – but in recent years, he has gotten quite a laugh over the ordeal. So, keep an eye out for a red, blue, or green bulb and the light bulb-bandit!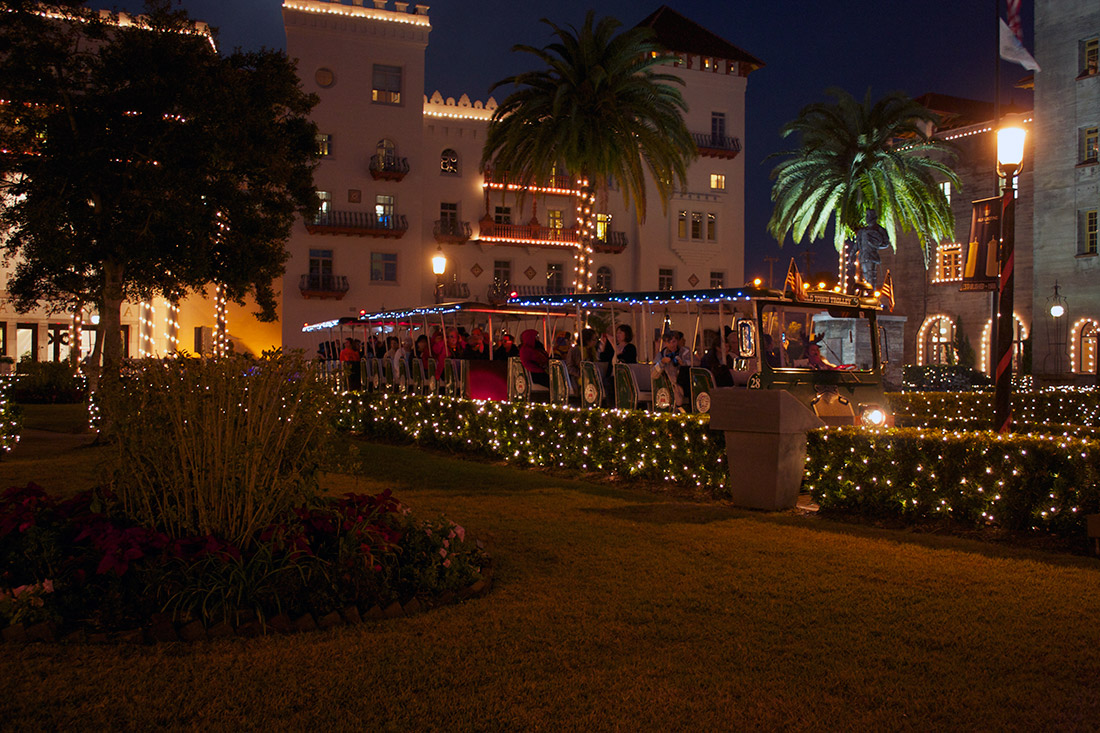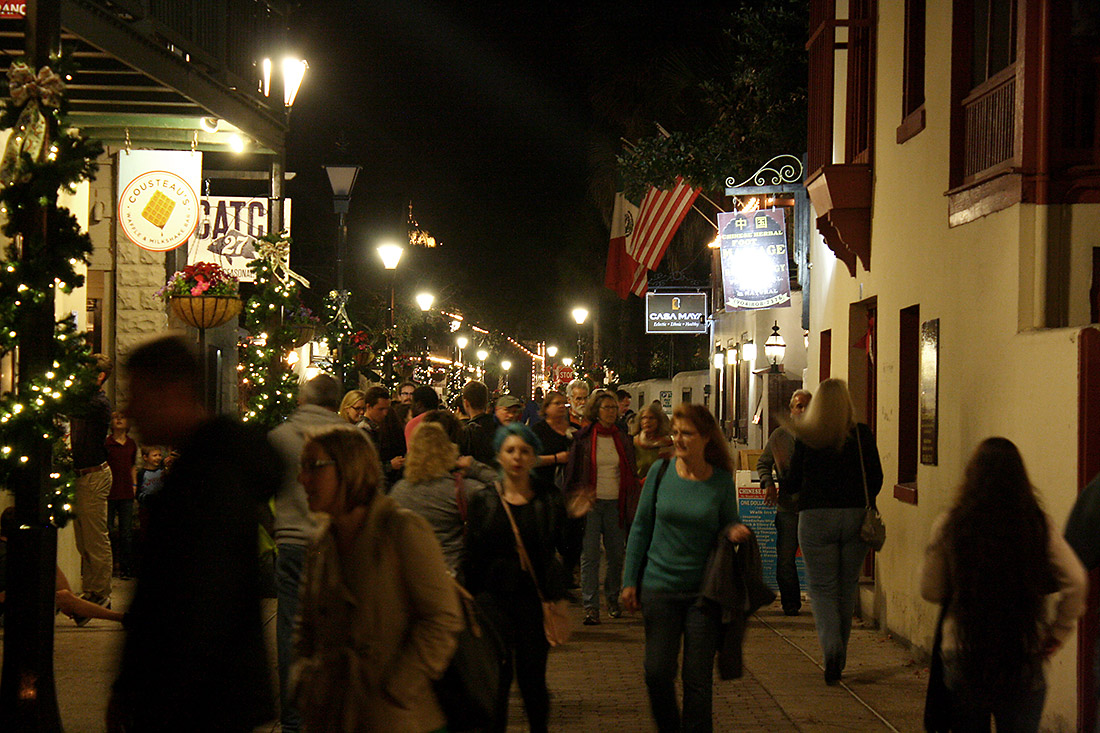 Land
A timeless way to experience Nights of Lights is via the Ripley's Red Train, or Old Towne Trolley (a.k.a. Holly Jolly Trolley). There is something about riding through town while chanting Christmas Carols with your family and strangers, that is untouchable to any other St. Augustine experience. One thing is certain, you are sure to make vivid memories and new friends on the train tours – perhaps you'll even catch a ride with Santa!
Sea
Famously romantic, viewing the lights from the Matanzas River has been a long-time favorite of St. Augustinian's and tourists alike. The gentle Winter breeze, calm rocking of the ship, and informative guide is the perfect equation for an intimate Florida experience. Schooner Freedom Charters and Florida Water Tours, offer sailing on Kick-Off night, and each night following until the end of Nights of Lights.
Air
For the adventurous soul – there is even a way for you to experience Nights of Lights! Old City Helicopters has been showcasing St. Augustine's skyline of lights since the very first Nights of Lights. A flight over St. Augustine is exactly the kind of thing you would see on one's Bucket List, and is well worth the journey! But be sure to make your reservation ahead of time!
Nights of Lights Trolley Entertainment Schedule
During the Nights of Lights Celebration, enjoy listening to holiday entertainment from St. Johns County school groups and local musical acts while waiting for the famous Nights of Lights Trolley at the Visitor Information Center located at the corner of W. Castillo Dr. and San Marco Ave. This is the 5th year that Old Town Trolley has partnered with the performers to provide "music while you wait" or if to stop and listen to if you happen to be passing by. Performances are on select nights usually from 6:00pm to 8:00pm.
November 19 – St. Augustine High School Guitar Group
November 24 – Florida Brass Quintet
November 25 – Florida Brass Quintet
December 1 – Landrum Middle School Jazz Band
December 2 – Nease High School Chorus
December 8 – Anastasia Baptist Church
December 9 – Fruit Cove Middle School Jazz Ensemble
December 14 – Gamble Rogers Middle School
December 15 – Nease Advanced Chorus
December 16 – St. Augustine High School Band
December 17 – Pedro Menendez High School Band
December 18 – St. Augustine High School Chamber – Mixed Chorus
December 19 – Sebastian Middle School String Orchestra and Guitar Ensemble
December 20 – Skin & Bonz
December 21 – Ancient City Brass Band
December 22 – St. Augustine Community Band
December 23 – Ancient City Brass Band
December 26 – Ancient City Brass Band
December 27 – Ancient City Brass Band
Schedule of Events during Nights of Lights 2017-2018