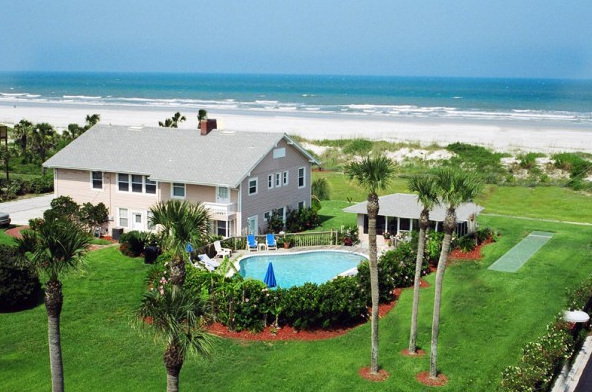 Enjoy a delicious three-course breakfast and a view of the Atlantic Ocean each morning on your next vacation. Established with lovers in mind, adults-only Beachfront Bed and Breakfast makes vacationing in St. Augustine heavenly. The plush bedding and luxurious design of each room will beckon you to stay inside all day. But, once you've glanced at the sweet sunshine peeking over the Atlantic Ocean, your chances of staying homebound are few to none.
Beachfront Bed and Breakfast
Catering to couples 21 and older, Beachfront Bed and Breakfast emphasizes romantic lodging, allowing you to escape reality and enjoy paradise. Located directly on the ocean, the Beach House features five well-appointed rooms, some with direct ocean views. The 2nd floor great room and oceanfront Verandah offer comfortable seating, cookies, coffee, and amazing ocean views. The detached Cottage House has 3 casually elegant rooms decorated in a coastal style. A heated pool and jacuzzi also await you. Each room is extravagant in its own way and while some have ocean views and Hemingway-style canopy-beds, other rooms are just as intimate featuring private entrances and romantic-fire places. Enjoy a short stroll through the gardens and across the boardwalk to the beach.
The staff at the Beachfront Bed and Breakfast are kind, knowledgeable, and a delightful bunch to wake up to each morning. In fact, the staff will even help you plan your vacation via their customized package deals. These packages include options like chilled champagne, Godiva chocolates, 3-day trolley tickets, and passes to the Alligator Farm.
Of course, St. Augustine attractions continue beyond the beach and into the charming Historic district, which is only ten minutes away. After a busy day of exploring four-centuries of history, escape to this sanctuary which is peaceful, tranquil, and features a continuous soundtrack of gentle ocean waves washing up on the sandy shore.
More Information
Set aside time for your romantic lodging getaway today! Call Beachfront Bed & Breakfast today at 800-370-6036.
Are you planning a family vacation to St. Augustine or plan on visiting the ancient city with a large group? Check out these accommodations; La Fiesta Ocean Inn is perfect for a kid-friendly vacation and private Beach Vacation Homes Rentals can accommodate up to 11 vacationers.
---
Disclaimer: Every effort is made to ensure the accuracy of information on the City Blog.
Sharing and re-posting this blog is encouraged. Please credit OldCity.com when sharing.
Photo credits: Beachfront Bed and Breakfast. Sponsored by Beachfront Bed and Breakfast.