4th of July 2024 Fireworks in St. Augustine
The Annual July 4th Fireworks Celebration in St. Augustine, Florida is on July 4, 2024.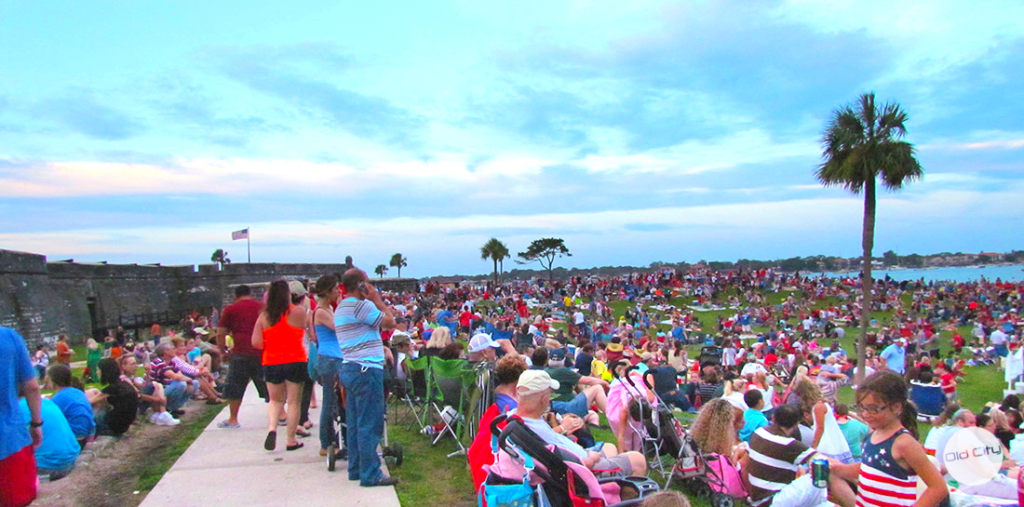 Last updated on July 5, 2023. 
Fireworks over the Matanzas for 2024
Information listed below is for the 4th of July 2023.  We will update the information as soon as we receive it.
Visitors and viewers of our annual fireworks will be arriving all day to find that perfect spot to watch the spectacular display.  Our city is expecting a large amount of people downtown, so please plan on staying for a bit after the fireworks to avoid being caught in traffic.  Some local businesses will be open after the fireworks to help ease the congestion.
Please be patient and respectful of others so everyone gets home safely.
What Time: 9:30pm
Where: Barge in the Matanzas Bay
Duration: Approximately 20 minutes
The 4th of July in St. Augustine, Florida signals a time to come together and enjoy patriotic fun with family, friends, and the local community. Celebrate America's birthday with family-friendly events and the endless attractions that the City of St. Augustine offers!
St. Augustine has one of the largest firework displays on the East Coast.
Enjoy the reflection of the fireworks in the water as they are set off from a barge in the Matanzas Bay. The spectacular 20-minute display is choreographed to a rousing soundtrack of popular and patriotic music delivered over an extensive sound system transforming the entire Bayfront between the Castillo de San Marcos National Monument and the Bridge of Lions.
Medical Services
Personnel from the St. Augustine Fire Department and the St. Johns County Emergency Medical Services will patrol downtown St. Augustine throughout the evening, staging out of an area at the corner of S. Castillo Dr. and Cuna St.
Important safety rules that are strictly enforced:
Alcohol is prohibited on public property including parks, streets, and sidewalks.
Possession of fireworks that explode or leave the ground is illegal and penalized with the confiscation of the fireworks and a $100.00 citation.
Sparklers are not allowed on the grounds of the Castillo de San Marcos.
Arrive early and spend the day in St. Augustine.
Spend the day enjoying local attractions, restaurants, and many other things to do. You can stroll along St. George Street browsing the shops, grab a cold treat, or enjoy a slice of crisp watermelon along the seawall.
The 4th of July concert is from 6 pm to 8 pm
4th of July festivities in St. Augustine 'officially' begin at 6 pm with patriotic big band music under the Gazebo in the Plaza de la Constitución. Performed by the All Star Orchestra, the concert is free to attend and lasts approximately two hours, ending around 8 pm.
Afterward, walk the short distance to the Bayfront for a prime viewing spot for Fireworks Over the Matanzas starting at 9:30pm. The best and most popular areas for viewing are the grounds surrounding the Castillo de San Marcos, the sidewalk along Bayfront, or the Bridge of Lions. Note: Another popular viewing spot is at Vilano Beach.
Free park and ride shuttle service begins at 6 pm
From 6 pm to 12 am, the City of St. Augustine provides free shuttle service and parking on a first-come-first-serve basis. The City is partnering with Old Town Trolley Tours and Ripley's Red Train Tours by providing the shuttle service. Riders of the free shuttle are dropped off on the east side of the Bridge of Lions.  When riders are ready to head back to their car, they can be picked up at the same location.
Use the shuttle and park for free at the following locations:
Note: The St. Augustine Alligator Farm is a parking-only location. If you park here, you can gain access to the shuttle at R.B. Hunt Elementary School. Use the lighted crosswalk at Anastasia Blvd. just east of the attraction and law enforcement will assist you to cross the road safely.
Parking Information
Parking in city-owned lots and on-street is free on July 4th, as it is on all national holidays.  Just make sure prior to parking that the lot is city-owned and not a private one.  Additionally, the Historic Downtown Parking Facility located adjacent to the Visitors Information Center is a good place to park as it can fit 1,200 vehicles. The rate is $15 per car per entry or $3 with a ParkNow Card.
Parking in the lot at the Castillo de San Marcos National Monument is not free and is enforced from 8 am to 5 pm, seven days a week, including federal holidays. Note: There is no access to or from the Castillo's parking lot from 6 pm to 11 pm on Independence Day.
If arriving by car…
Parking is prohibited all day on the following streets:
Parking will be prohibited after 2 pm:
If arriving by bicycle…
St. Augustine is proud to be a bicycle-friendly city. Click here for a comprehensive list of bicycle racks in downtown St. Augustine. Below are some of the City's most popular bicycle rack locations:
If arriving by water…
The Bridge of Lions is closed to marine traffic from 8 pm to 11 pm. Vessels are prohibited in an area north of the Bridge of Lions to a point approximately in line with Castillo de San Marcos National Monument.  Please Note:  water-based law enforcement will patrol Matanzas Bay and notify vessels that are in violation of the prohibited area. Check out the No Boat Zone map to view the prohibited area.
If you want to avoid downtown…
Consider viewing the 4th of July Fireworks from Porpoise Point. That's if you have a four-wheel-drive vehicle. Beach driving passes are required and all vehicles must leave the beach at the end of the fireworks show.  Keep in mind, it is anticipated that Porpoise Point will reach its maximum capacity throughout the Fourth of July weekend.
Beach driving conditions can be found by downloading the Reach the Beach mobile app or by checking out SJC Beaches SJC Beaches Facebook and Twitter.
Traffic rerouting and road closures begin at 8 pm; continues until 11 pm.
In order to make room for every visitor and local who wants to watch the fireworks display from a prime viewing location, some roads are closed to vehicular traffic.
Parking suggestions: Those arriving from South of St. Augustine, find parking south of King Street and walk or bike in.  Those arriving from the North of St. Augustine, find parking North of West Castillo Dr and walk or bike in.
Street/Road Closures
Traffic Exit Routes
Bridge of Lions will not open to vehicles until 11:00 pm
King Street:  1-lane eastbound, 2-lanes westbound to U.S. 1 – west of MLK Blvd. (8:00pm – 11:30pm)
King Street:  1-lane eastbound, 1-lane westbound east of MLK up to Avenida Menendez
W. Castillo Dr., two lanes westbound to U.S. 1
I-95 Northbound traffic should use U.S. 1 North to International Golf Pkwy to avoid S.R. 16 traffic
Avoid traffic after the fireworks
After the fireworks, stick around. Take advantage of the businesses that have extended hours; stroll through the gift shops, find live music to listen to, grab a drink or bite to eat at the many restaurants or one of St. Augustine's night life establishments.
Happy 4th of July!