4th of July 2017 in St. Augustine
Join us in celebrating our nation's independence in the nation's oldest city. Find everything that you need to know for parking, entertainment, and starting time of our spectacular fireworks display! Make an entire day of it, a holiday your family will remember.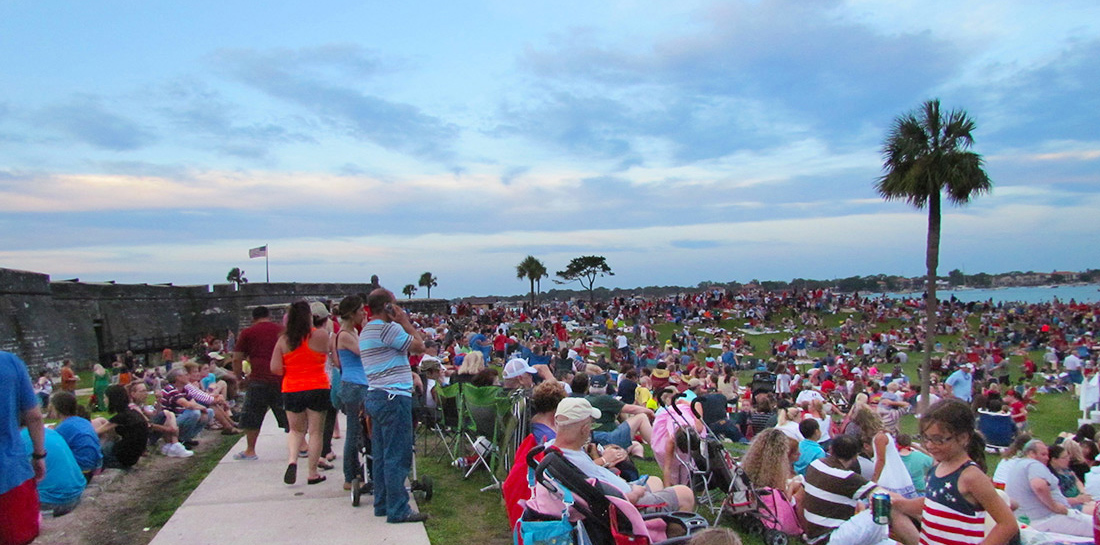 Fireworks over the Matanzas begins at 9:30pm
Starting Time: 9:30pm
Where: Barge in the Matanzas Bay
Duration: Approximately 20 minutes
The 4th of July holiday in St. Augustine signals a time to come together and enjoy patriotic fun with the entire family.  Celebrate America's birthday with family-friendly events and the endless attractions the City of St. Augustine offers! Is Independence Day in the Oldest City on your bucket list? If not, then now is the time to add it!  Make St. Augustine your destination for 4th of July "Fireworks Over the Matanzas".
The Nation's Oldest City has one of the largest fireworks displays on the East Coast. Enjoy the reflection of the fireworks as they are set off from a barge in the Matanzas Bay. The spectacular 20-minute display is choreographed to a rousing soundtrack of great popular and patriotic music delivered over an extensive sound system. The entire Bayfront between the Castillo de San Marcos National Monument and the Bridge of Lions is transformed into one of the best places to watch the fireworks. Remember your lawn chair or blanket!
Medical Services
Personnel from the St. Augustine Fire Department and the St. Johns County Emergency Medical Services will patrol the downtown throughout the evening, staging out of an area at the corner of S. Castillo Dr. and Cuna St. That same area will also be equipped with a "cool zone trailer," a facility allowing those feeling overwhelmed by the heat to rest for a few minutes, often a good way to avoid heat exhaustion.
Two important safety rules that will be strictly enforced:
• Alcohol is prohibited on public property, including parks, streets and sidewalks; and
• Possession of fireworks that explode or leave the ground is illegal and those found with such fireworks will have prohibited fireworks confiscated and be subject to $100 citation or arrest.
Arrive early - there is plenty to do
Walk down St. George Street, browse in the many shops, grab some ice cream, have cool and crisp watermelon on a Bayfront or fort greens picnic, listen to some patriotic big band music, and top-it-off with clear night skies filled with over 5,000 shells of twinkling fireworks of every shade and hue over the Matanzas Bay.
Starting at 6:00pm on the Plaza de la Constitución, enjoy the big band sound of the All Star Orchestra as they perform from the Gazebo.  Bring your lounge chair or mingle with the crowd to hear swing, big band, and patriotic songs.  The concert is free and runs from 6:00pm until 8:00pm.  Then grab your chair/blanket and head over to the Bayfront to get a prime viewing spot for the fireworks display.  Choose from the grounds outside of the Castillo, the Bayfront, or Bridge of Lions.  The beach at Vilano is also good for viewing.
For more things to do
Road closures and traffic rerouting will begin at 8:30pm
There will be no traffic on the Bridge of Lions, Avenida Menendez, and South Castillo Drive. This will make more room for the large crowds wanting to observe the fireworks event from these prime locations.
• The Bridge of Lions is closed to all vehicular and boat traffic until 11:00pm
• S. Castillo Dr. and Avenida Menendez north of the Bridge of Lions
• Cathedral Pl. from Avenida Menendez to St. George St.
• Orange St. from S. Castillo Dr. to Ponce de Leon Blvd. (U.S.1) EMERGENCY TRAFFIC ONLY
If arriving by water
For those arriving by water, the Bridge of Lions will not open for marine traffic from 8:00pm until 10:30pm. Vessels will be prohibited in an area north of the Bridge of Lions to a point approximately in line with Castillo de San Marcos National Monument. Water based law enforcement will patrol Matanzas Bay and will notify vessels of the prohibited area.
Parking & Shuttle Information
The Historic Downtown Parking Facility located at the Visitors Information center is a good place to start your adventure as a parking location. The rate is $12 per car per entry or $3 with a Park Now Card.  NOTE: Francis Field will not be available for parking.
Parking in city owned lots and on-street is free on July 4th, as it is on all national holidays, with the largest concentration of surface parking located on Granada Street behind the Lightner Building.
Parking in the lot at the Castillo de San Marcos National Monument is not free and is enforced by the National Park Service from 8:00am - 5:00pm, seven days a week, including federal holidays. There will be no access to or from the Castillo's parking lot on July 4 from 6:00pm until approximately 11:00pm.
Bicycle - a great way to get around
Bicycle may be the best way to get around and parking locations are located throughout the downtown making it easy to secure and keep your bike safe.  For your convenience, here are the Bike Rack Locations.
Free Park & Ride Shuttle available along Anastasia Blvd.
A free Park & Ride Shuttle will be available on July 4th from 6:00pm until midnight from four parking locations along Anastasia Blvd. including Anastasia Baptist Church (1650 A1A South), St. Augustine Amphitheatre (1340-C A1A South), R.B. Hunt Elementary School (125 Magnolia Dr.) and the St. Augustine Alligator Farm Zoological Park (999 Anastasia Blvd.). The shuttle will drop passengers at the east end of the Bridge of Lions and pick-up from that location for the return trip following the fireworks. Old Town Trolley Tours and Ripley's Red Train Tours are providing a dozen buses for the shuttle.
Parking restrictions
Parking will be prohibited all day on:
• Avenida Menendez north of the Bridge of Lions
• Cathedral Pl., south side of the street
Parking will be prohibited after 5:00pm:
• King Street
• Cathedral Pl., north side of the street
Avoid traffic after the fireworks
After the fireworks, stick around. Take advantage of the businesses that have extended hours; stroll through the gift shops, find live music to listen to, grab a drink or bite to eat at the many restaurants or one of St. Augustine's night life establishments.
Traffic Exit Routes
•Bridge of Lions will not open to vehicles until 11:00pm
•King St., 1-lane eastbound, 2-lanes westbound to U.S. 1
•W. Castillo Dr., two lanes westbound to U.S. 1
•I-95 northbound traffic should use U.S. 1 North to International Golf Pkwy to avoid S.R. 16 traffic
Happy 4th of July!