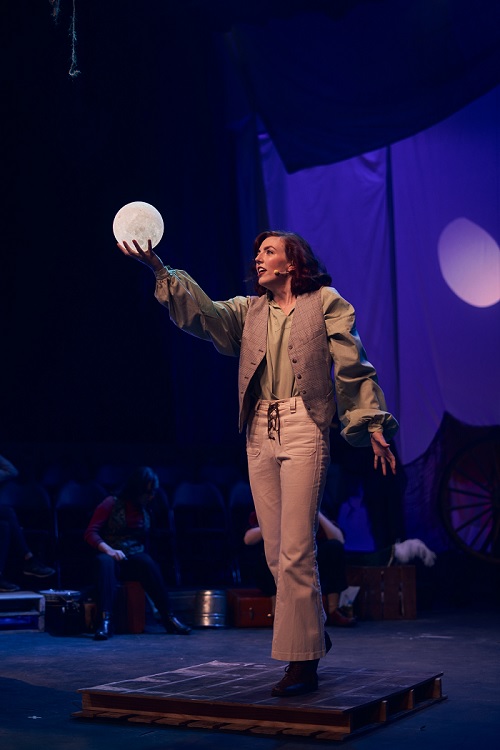 Produced by Flagler Theatre Arts
During The Old Man and the Old Moon, the main character has the mundane task of refilling the moon each night with liquid light. Unhappy with their current state of monotony, the old man's wife sails away seeking adventure which beckons the old man to follow. In his quest to find her, the old man wanders about in the sea, to a war, and even finds his way in the belly of a giant fish. Filled with theatrics, fairy tales, animals and oddities, in many ways this production speaks to the child in all of us.
So, what was the takeaway from Flagler College's production of The Old Man and the Old Moon? Our opinion is that unlike the titled moon, Flagler's theatre department is having no problems shining brighter than ever.
During this production, actors practiced showcasing an array of skills typically carried out by seasoned actors. Their ability to juggle several necessary facets made this showing not only a good production but a fantastic one. By balancing puppetry, song, accents, and bouncing between characters, students presented PigPen Theatre's famed production that won't be soon forgotten – and we can't wait to see what comes next.
Flagler's 2019-2020 Performance Schedule
Don't worry if you missed the showing of The Old Man and the Old Moon, Flagler Theatre Arts has more in store for their 2019-2020 season. Check out their performance schedule below.
THE TEMPEST
by William Shakespeare
Dates: Oct. 30-Nov. 2 at 7:30 pm; Nov. 3 at 2 pm
Location: Lewis auditorium
THE OLD MAN AND THE OLD MOON
Book, music, and lyrics by PigPen Theatre Co.
Dates: Nov. 14, 16, 22 at 7:30 pm;  Nov. 17, 23, 24 at 2 pm
Location: Lewis Auditorium
SENIOR CAPSTONE
Fall Student-Directed projects
Dates: December 4-5 at 7 PM
Location: Lewis Auditorium
THE WOMEN
by Clare Booth Luce, presented by special arrangement with Dramatists Play Service
Dates: Mar. 4-7 at 7:30 pm and Mar. 8 at 2 pm
Location: Lewis Auditorium
EURYDICE
by Sarah Ruhl "presented by special arrangement with Samuel French, Inc., a Concord Theatricals Company"
Dates: April 1-4 at 7:30 pm and April 5 at 2 pm
Location: Lewis Auditorium
Flagler Theatre Tickets
Tickets for the 2019-2020 season are available at flagler.universitytickets.com. You can also purchase tickets at the box office during the week of performances from Monday through Friday, 12 pm to 5 pm. For more information about the box office, call 904-826-8600.
---
Disclaimer: Every effort is made to ensure the accuracy of the information in this article. Please credit OldCity.com when sharing and re-posting.