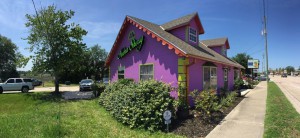 St. Augustine Just Got Even More Beautiful: Heal Your Mind, Body & Soul at Norma Sherry Salon & Spa
In 1987, Norma Sherry moved from New York City to St. Augustine, Florida. She couldn't find the kind of full-service European facials that kept her skin smooth and glowing, nor the styling she desired. She'd become used to the kind of healing and well-being that comes from the inside out and the outside in that she'd enjoyed in New York. She'd even fly up to get her facials and massage and hair styling done there.
Not because she's a diva; but because feeling good—both being pampered and gently cared-for by incredible professionals had become a way of therapy for her mind, body, and spirit. Not only did she feel better about how she looked—she felt better about herself, and the time she took and the money she invested was as healing as therapy, exercise, love, laughter, all of it.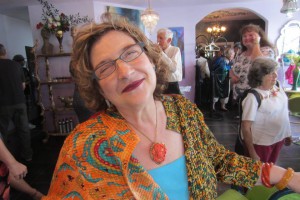 Bringing Healing Spa Services All Back Home to St. Augustine
She wanted to bring that gift to her new hometown, and soon, she opened her own business here in beautiful St. Augustine, specializing in divine, 90-minute heavenly facials that brought glowing health to her client's skin and to their hearts and spirits and stress levels as well. Her skin services not only catered to personalized skin care for fairly normal skin.
Norma Sherry also specialized in repairing troubled skin: helping young people with acne and teaching them how to care for it themselves, giving them confidence and self-reliance. These were lessons, due to testimony, that lasted a lifetime for many. Her care not only involves the deep cleansing and healing of the skin—her touch; her voice; her advice and listening heart proved to be as cleansing to the mind and body and spirit as it was to the skin.
"It was the first place of its kind here," says Norma. "I had 12 clients when I opened my doors, and I had about 1,500 clients after 12 months. People came from all over—from Fernandina Beach to Gainesville to Starke—just to see me!"
Beyond the Famous Norma Sherry Facial: A Full-Dimension Spa
A St. Augustine household name, Norma Sherry has touched and deeply affected thousands of Northeast Florida residents. This again is not conjecture. Many returning clients are living proof and more than happy to let you know. Now she's back and better than ever with a full staff of talented professionals to provide you with every pampering treatment you can imagine.
From the famed spa facials to soon-to-be famed massage therapies that include ninety-minute relaxation massages to deep-tissue and hot stone massage, this spa has everything you've been looking for.
"Of course, I do faces, but I also have a wonderful staff who do facials. We do manicures and pedicures. We do laser treatment. We do skin resurfacing. We get rid of pigmentation changes. We can tighten those pores and tighten the tissue. We can also do permanent makeup, eyelashes, eyebrows, lips," Norma says. "We can do things it used to take a surgeon to do."
Norma has glorious, glowing, radiant skin. It appears to have improved through the ages. Genetics? Not necessarily. "I take very good care of my skin," Norma says. "I've been using my own products exclusively since 1988. I have a brilliant chemist who makes all of my products and he's the most amazing chemist I've ever known. You could not do better even if you went to a doctor." The array of serums, creams, cleansers and makeup are all displayed beautifully for your perusal and are available at very reasonable rates right at the spa.
The Talented Team at St. Augustine's Newest Full-Service Spa
When speaking with Norma in her vibrant, eclectic and soothing spa and salon, which also includes fine art, jewelry and apparel crafted by local fine artists, she couldn't speak more highly of the group of incredibly talented team of professional artists she was fortunate enough to bring together at her salon and spa.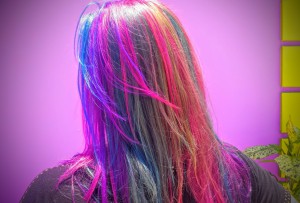 Hairstyling, Massage, Pedicures and More in St. Augustine
"I searched high and low to recreate the stellar staff here," Norma says. Hair services include everything from the standard roster of cuts and color treatments for women, men and children to include two-hour keratin treatments and a long line of creative coloring services, including freestyle painting and your choice of every color in the rainbow. "There's nothing, it seems, that Diane cannot do."
My massage therapist, Wayne, is from New York," Norma says, "He the best massage therapist I have ever experienced. She says she's never been privy to a better massage in her life. And she's not alone "I had a massage therapist in here last week who could not talk when he left. Later, he called me and said, 'That is the best massage I have ever had in my life.' We have to peel people off the chair," she says.
A Win-Win Luxury Spa Experience in St. Augustine
"All of us who do this love making people feel good," Norma says. "It's a yin and yang. The more you make other people feel good, the more you feel good." "I give a facial to someone and I'm uplifted and my massage therapist comes out of his room after a session and he feels like he's flying…because he's just delivered the best he can but he's also giving to himself."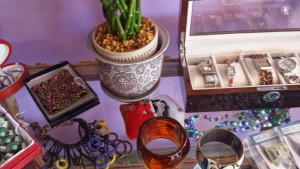 More Than Just a Spa: Fine Art, Jewelry, Divine Paintings, Apparel, Accessories Await You, Too.
Inside this eclectic, soothing, vibrant space full of uplifting and soothing energy, you'll also find a line of professional, handmade jewelry—an incredible and large selection.
On the walls are fine artist paintings for sale as well as a handbags, apparel, and accessories that are indeed a work of art. Everything here is original and bright. You'll come in happy and leave transformed. Take a tip from one who's tried (this girl, for one).
We're So Glad You've Come Back, Norma Sherry!
Norma is well-loved in this town. Her grand-opening brought 500 guests. "It was like sardines!" Norma said, adding, "People kept coming up to me and telling me how happy they were that I was back so it was very rewarding." Her twinkling eyes shone with happy tears. Which is just what awaits you when you decide your health and well-being is not just an indulgence, but a necessity for your appearance, your self-worth, and truly, your spirit.
Insider Tip: Get a facial. Get a massage. Get a pedicure. Whatever you do, book ahead of time, but please know that the staff will do ANYTHING to fit you in! The spa is located at 1103 N Ponce De Leon Road St. Augustine, FL 32084.
Call 904.436.5883 for an appointment. Check out their list of services and learn more about the amazing staff on the website, NormaSherry.com and please visit Norma Sherry & Co. on Facebook to learn about great deals, read reviews from thrilled patrons, and check out the great results of this talented team of professionals' work.
Disclaimer: Every effort is made to ensure the accuracy of information on City Blog, but please verify important information directly with the tips and resources mentioned in this blog. Sharing and reposting this blog is encouraged. Please credit OldCity.com when sharing.
Photo Credits: Norma Sherry Spa & Co, Ama Reynolds