Are you worried you'll exhaust your many tour options for Nights of Lights, and will still want more? Don't worry, it happens to the best of us. Luckily, we've created an awesome Nights of Lights Self-Guided Tour that is efficient and highlights the prettiest parts of the historic district. Our Nights of Lights tour provides Google-linked locations so you can easily navigate the historic district!
Start your walking adventure at the Mission of Nombre de Dios. Not only are the pristine grounds of the Christian church both elegant and breathtaking, but have you seen the famous St. Augustine cross that stands proudly in the background? That is a rhetorical question – the cross is a whopping 208 feet tall, and weighs roughly 70 tons. Of course you have caught a glimpse!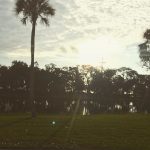 Next stroll Uptown San Marco Avenue. Fortunately, you don't have much of a choice. To get to historic downtown from the giant cross you must walk a few blocks which are better known as, the beginning of Nights of Lights. Consider yourself lucky because San Marco Ave holds some of St. Augustine's most wonderful boutiques and galleries that are cheerfully competitive with their decorations.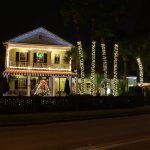 Travel a few blocks to arrive at the Old City Gates, located at the crossroads of San Marco Ave and Orange Street. You will find yourself across from Castillo De San Marcos.
Now is when the real fun begins! Although Castillo will tempt you, walk on the same side as the shops. This way you have an up-close viewing of each shop's unique holiday twist on Nights of Lights! Be sure to check out the Casablanca Inn, which has won the Light Up the Night Contest for four consecutive years!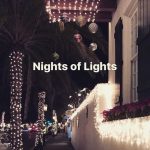 Travel down San Marco Ave. until you are across from the Bridge of Lions. Are you overwhelmed with holiday spirit and Christmas sparkle? You still have a lot to see. Your next step is to cross the road.
The best view of Nights of Lights can be found just a few steps onto the Bridge of Lions. Here the St. Augustine bayfront glows with twinkling glory, as more than 3 million holiday bulbs light up the skyline.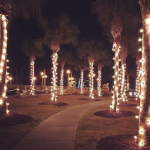 Finish your Self-Guided Tour…
Walk the few blocks from the Bridge of Lions to two of the most iconic buildings in St. Augustine. Flagler College and the Lightner Museum sit parallel from one another on King Street and bask in glamorous Nights of Lights apparel each year. Flagler's pristine courtyard is brilliantly strung with lights and makes for great Instagram opportunities. However, don't miss out on the Lightner's majestic lawn – which is just as Instagram worthy!
After checking out the top five best views of the St. Augustine Nights of Lights, stop at Cafe Alcazar in the Lightner Museum for a hot chocolate. Hang in the cafe, or step outside to people watch. But, be sure to regain your energy because there are still many wonderfully decorated businesses to visit! Head out on your own and explore the inner streets of the historic district, you will not be disappointed!