Updated
Easter Weekend in St. Augustine
Easter weekend is almost here and there are a lot of ways to celebrate in St. Augustine! The weather this month has been great, mild temperatures with lots of sunshine. Perfect to get outside and enjoy what St. Augustine has to offer.  Below are some events that you might want to take advantage of this Easter Weekend in St. Augustine.
When: Saturday April 20, 2019, 3 pm
This tradition began in St. Augustine in 1956. Held on Easter Sunday each year, the Parada delos Caballos y Coches (Parade of Horses and Carriages) is a family-friendly parade that features St. Augustine's Royal Family, the Easter Bunny, clowns, marching bands, drill teams, and community floats. The parade begins at 27 Ocean Avenue, just north of the Mission of Nombre de Dios, heads south along San Marco Avenue and ends near the bayfront.
This year's Grand Marshall is Loretta Swit. Two-time Emmy winner is best known for her role on M.A.S.H.
If you are available earlier in the day, Easter Sunday events also include a Promenade at 12 pm at the Plaza de la Constitucion off King Street. The St. Augustine Royal Family will be dressed in historic garb and visitors are encouraged to wear their Sunday best. This event includes contests for the entire family, including Best Dressed Couple, Largest Family, Most Creative Hat, and Best Dressed Pet. Each child receives a small gift at the Promenade.
Stick around downtown and enjoy the Fromajada Serenade at 7 pm at Isabella Gardens on the corner of Hypolita and St. George Streets.
When: Thursday, March 24 11 am
This event is Free for St. Johns County Residents. Children under 8 years old are able to participate in this Easter Egg Hunt. Be sure to bring a basket to collect treats and bring your camera for pictures with the Easter Bunny starting at 10:30 am and again after the hunt.
Multiple locations throughout St. Johns County
Veterans Park  1332 Veterans Parkway, St. Johns, FL
Palencia Park  405 Palencia Dr, St Augustine, FL
Treaty Park  1595 Wildwood Dr, St Augustine, FL
Al Wilke Park  6150 South Main St, Hastings, FL
Religious Celebrations
Sunrise service on Crescent Beach 7 am
Crescent Beach Baptist Church
45 Cubbedge Rd St. Augustine, FL
Sunrise service on Vilano Beach 7:15 am
Hosted by The Church at Vilano, Christian Communion of St. Augustine/Vilano and Anastasia Baptist Church
Vilano Beach Ramp
Bring chairs, blankets, or towels to sit on as these services are on the beach.
Brunch Spots
After the sunrise services, you may want to enjoy brunch with your family and friends. Here are a few spots for Sunday Brunch in St. Augustine.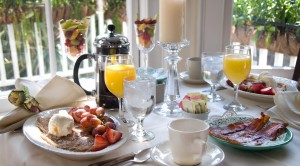 Fish Tales
121 Yacht Club Dr
904.824.0900
Les Petits Pleasures (2 locations)
35 San Marco Ave, 125 A1A Beach Blvd
904.679.3411
The Gourmet Hut
17 Cuna St
904.824.7477
The Blue Hen Café
117 MLK Ave
904.217.3777
Café Eleven
501 A1A Beach Blvd
904.460.9311
No matter how you want to spend your Easter Weekend, St. Augustine has something for everyone.  View the Events Calendar at OldCity.com for more events.
Disclaimer: Every effort is made to ensure the accuracy of the information in this article. Please credit OldCity.com when sharing or reposting.