Are you often away from your St. Augustine property, or just leaving town for a week or two? Have you wasted time trying to coordinate things from afar, or worried about what's happening at your home while you're not there? Or maybe you live out of state and are building or remodeling in the area and wish you had someone to check on things to make sure your investment is being completed to specs and on schedule. Regardless of the circumstances, when you need a pair of eyes on the ground Coast Home Watch of St. Augustine owned and operated by Kurt Monson, is your go-to.
 Services
In fact, Coast Home Watch of St. Augustine can solve every concern you have as an absentee homeowner – or in managing your senior parent's home long distance. Specializing in home-watch, key holder, and custom concierge services, along with vendor and contractor coordination or supervision, they will care for your property when you aren't able to. Whether you're a Florida snowbird or hosting a vacation property, they're here to help – regular monitoring for problems and keeping things in running order, start and idle stored vehicles, pre-arrival or post-departure services, alarm notification agent, accepting large deliveries, key service or guest needs, the list is endless – whatever you need done, count on them. And, when storm conditions threaten our area, they will thoroughly check your home and property to determine what actions are needed before and after the storm.
Benefits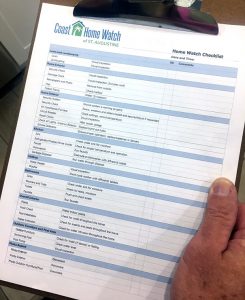 Coast Home Watch of St. Augustine provides solutions and peace of mind to absentee homeowners and go above and beyond to guarantee your satisfaction. Consider them a second set of hands; they'll verify your property is secure, covering a variety of points that include checking for leaks/damage/mold/mildew, run faucets, checking A/C units and humidity levels, monitoring for insect infestation, and much more. They follow up each visit with a report to you, and upon discovering abnormalities, they contact you immediately. In fact, they'll even send photos and live Facetime chat with you, to provide you firsthand reassurance that all is well with your home. They don't just provide peace of mind – they can also save you thousands of dollars by helping to avoid unattended damage that could get worse in your absence.
More information
They are an invaluable, yet affordable solution for absentee homeowners, your partner in home-care and management – your eyes on the ground. Allow them to watch over your investment while you're away. For a full list of services check out their website. You'll be able to relax knowing that your home is properly maintained and protected. Their services are customized to fit your needs – call or text them to discuss how they can help. (904) 484-8309
Sponsored by Coast Home Watch
---
Disclaimer: Every effort is made to ensure the accuracy of information on the City Blog.
Sharing and re-posting this blog is encouraged. Please credit OldCity.com when sharing.
Photo credits: OldCity.com