Enjoy Sun, History, Fun, and more when you spend Spring Break in St. Augustine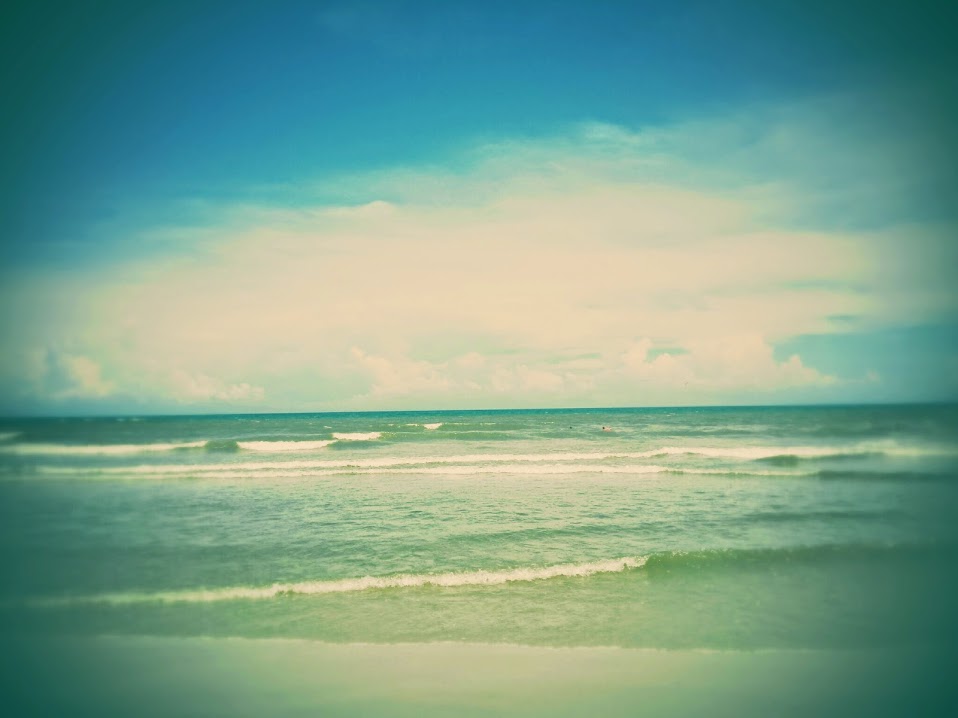 Even if the sky is still grey where you are, come to the nation's oldest city and find a sunlit escape perfectly suited for your kind of fun.  You will not run out of things to do if you spend your spring break in St. Augustine.
Whether you prefer spending time in nature and on the water, catching rays on our beautiful beaches, golfing on our famed courses, shopping it up at our one-of-a-kind boutiques and spas, taking in the famed history of our ancient city, or enjoying our fun-filled attractions, filling up on a foodie adventure, or taking a bit of a "dip" into a little bit of all of it, St. Augustine is the perfect Spring Break spot for families and couples alike.
A Guide to Our Beautiful Beaches
Spend time in the sun and surf. We've got all the inside tips for making the most of your trip to our coastal community right on the shores Atlantic ocean. Camp at Anastasia State Park, enjoy fine beachside resort accommodations like Castillo Real, condos and resorts, or even your own beach rentals. Swim, bodyboard, bodyboard, or body surf. Loll in the sunshine and splash in the waves at one of our many beaches. Just be sure to wear your sunscreen!
Ecotours for Nature Lovers
In addition to our gorgeous beaches, our marshlands and quiet bays offer up a ton of fun for the nature lover. Get on a kayak, motorboat or sailboat and check out dolphins, beautiful birds and more through St. Augustine Eco Tours or Ripple Effect Adventure Outfitters. Learn about the beautiful native sea life and even swim with the dolphins at Marineland. Discover the lifestyle of Florida's native birds, alligators and crocodiles at the St. Augustine Alligator Farm and Zoological Park. A number of stunning preserves and parks offer fishing, boating, camping, wildlife viewing. Sites and parks include Guana River State Park, Pellicer Creek Aquatic Reserve, Faver-Dykes State Park, Washington Oaks Gardens State Park, Moses Park Conservation Area and the River to Sea Preserve at Marineland.
A Foodie's Delight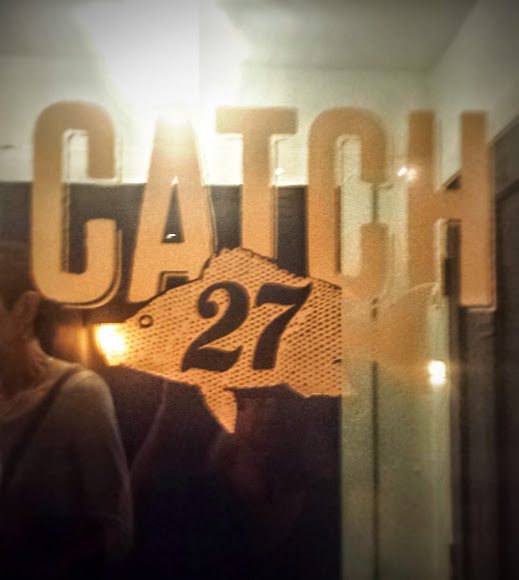 St. Augustine is home to a wide variety of independent restaurants, coffee shops, wineries and dessert spots. Let us fill you in. The city even offers tours just for foodies and wine, beer and spirit lovers.
City Favorite's
Collage: an "artful global dining" restaurant in downtown St. Augustine, was recently named one of the best restaurants in the country, by OpenTable, so be sure to make your reservation right away. The farm-to-table movement has become big in St. Augustine and being a coastal city, this also means sea-to-table. Catch 27 is a delightful seafood spot serving only the freshest catches found right off our coast.
The Floridian: serves up local ingredients transformed into devastatingly delicious modern twists on Southern dishes–and was even featured on The Cooking Channel's  "Emeril's Florida: Farm-to-Table" series.
Fine dining spots like Raintree, Le Pavillon, the Oak Room, and Purple Olive are always a great treat. Local casual spots like Mojo Old City Barbecue and Cantina Louie are a definite hit for everyone in your party.
An eclectic array of international cuisines include Casa Maya, La Herencia Cafe, and Bistro de Leon always satisfy.  If you're looking for coffee and desserts, check out Dos Coffee and Wine Bar, Hot Shots Bakery, Kookaburra, and Whetstone Chocolates!
Oh, and be sure to take a carriage-ride tasting tour courtesy of The Tasting Tours St. Augustine. You'll enjoy every bite! Among their myriad carriage and walking tours, they're even offering Family Friendly Tasting Adventures for Spring Break!
A Haven for Savvy Shoppers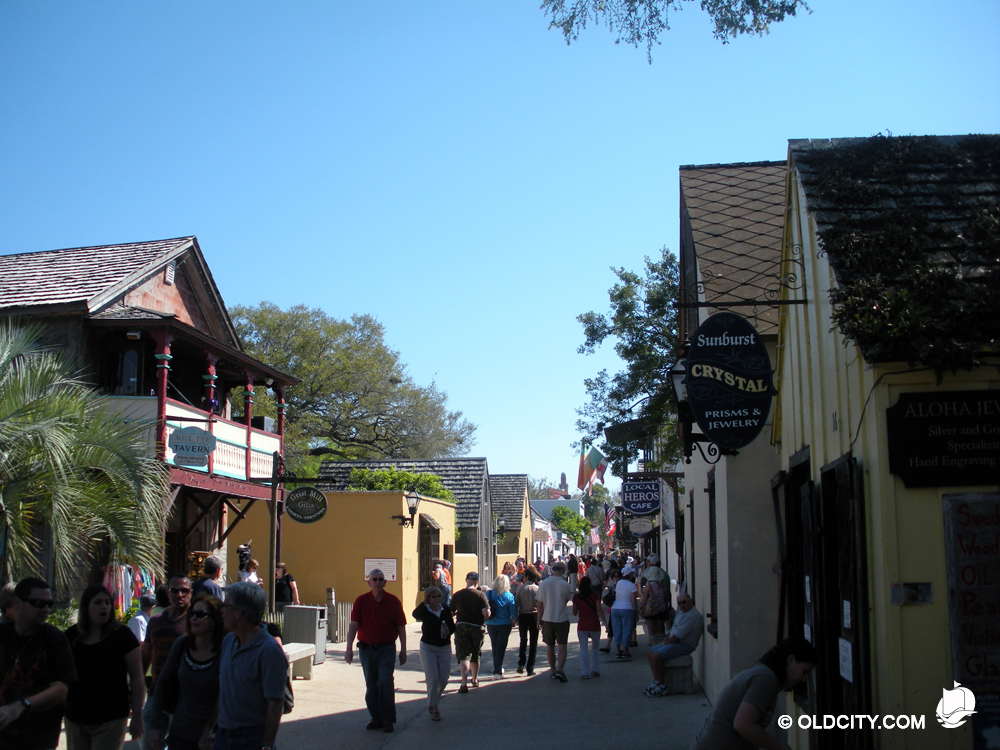 While of course, you'll find all kinds of locally owned shops dedicated to giving you the best souvenirs around, our city is also home to one-of-a-kind boutiques and galleries where you can pick up unique treasures to remember and love forever.
St. George Street, North San Marco, and King Street are among the most rewarding shopping destinations in town.
St. George Street
St. George Street favorites include Materialistic at 125 St. George Street, Red Pineapple,  Panama Hat Company, St. Augustine Art Glass & Craft Gallery, Dragonflies, the Spice & Tea Exchange, and Earthbound Trading Company.
King Street
On King Street, you'll discover whimsical finds at Artsy Abode by Pandora, Kessler Art Gallery, Rembrandtz Local Arts & Gifts, Anastasia Books, and ToneVendor Records, just to name a few.
Uptown St. Augustine
The Uptown St. Augustine district has transformed itself from antique shop row to an eclectic selection of boutiques, including Hello B, Goldfinch, 360 Boutique, Coastal Traders, and Cool & Collected, just to name a few.
Attractions for History Buffs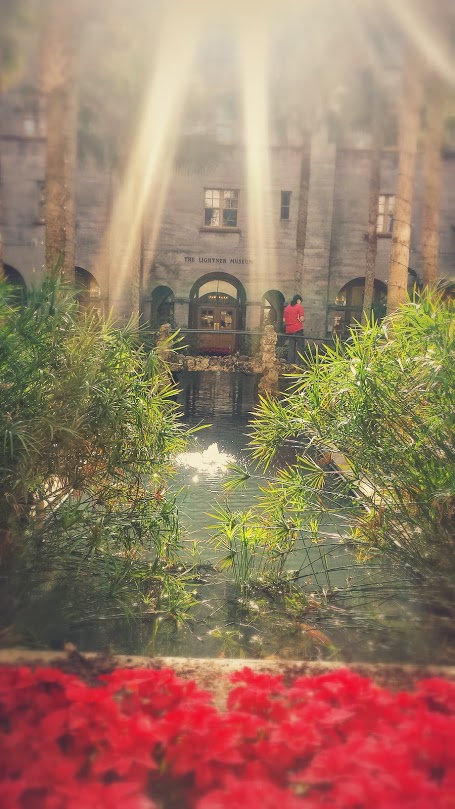 This is a given. St. Augustine is the oldest city in the United States, dating back to 1565,  is home to historic landmarks and museums covering a whole lot of this city's rich history and culture, including guided tours by trolley or by foot.
Here's a quick rundown of but a few among many, many, MANY historical sites in St. Augustine, like the Fort Mose State Park, Castillo de San Marcos, Oldest Wooden Schoolhouse, Lightner Museum,  Flagler College, and the Fort Matanzas National Monument just to name a few.
Those listed above are a big part of our historical attractions but by no means do they make a full list. Make your historical tours a little easier by contacting Old Town Trolley Tours, Ripley's Sightseeing Trains, or Tour St. Augustine.
Romance in the Ancient City
With quiet, winding cobblestone streets, cozy B&Bs, candlelit restaurants and carriage rides for two, St. Augustine is a treasure trove for lovers. So, book a B&B. Stroll the secluded streets. Visit the beaches. Dine at a fine restaurant, take a night-time carriage ride from our city's many carriage tour companies, including the Lover's Tour from Tasting Tours or romantic rides from Country Carriage.  Get out on the water with a romantic sunset sail courtesy of Schooner Freedom. Romance is always in the air in St. Augustine. And, of course, check out all of the above recommendations to spice things up. If you plan on really living it up, make a reservation at Casa Monica, a luxury hotel in the heart of historic St. Augustine for a romantic getaway you'll never forget.
Live in a Golfer's Paradise
World Golf Village and The Player's Club feature world-famous greens and delightful accommodations just minutes from the incredible courses. Stride the grounds upon which the most revered golfers in the world have won numerous cups. Enjoy the sunshine. Shop at the nearby Outlet Malls near World Golf Village or head to Ponte Vedra Beach near The Player's Club (TPC) at Sawgrass. With sun, history, romance and a gorgeous ocean right at your fingertips, St. Augustine is the ideal spot for Spring Break.  Start planning your trip today!
Disclaimer: Every effort is made to ensure the accuracy of information on City Blog.
Sharing and re-posting this blog is encouraged. Please credit oldcity.com when sharing.
Photo Credits: Ama Reynolds, St. Augustine EcoTours, OldCity.com