Make Your Reservation At Oak Room Restaurant
Oak Room Restaurant & Lounge:
Classic, Modern, and Right-On-Trend
Located in the lobby of the brand new DoubleTree by Hilton St. Augustine Historic District at 116 San Marco Avenue in the heart of St. Augustine, the Oak Room Restaurant & Lounge has everything you're looking for in a casual fine dining restaurant.
Featuring upscale American cuisine in a beautiful casual setting, the Oak Restaurant & Lounge also offers an amazing vista view of St. Augustine and a breathtaking fireplace centerpiece and is open daily for both hotel guests and the public—serving an eclectic selection of dishes for breakfast, lunch and
dinnerWhether you're into health food, snacks, or gourmet food all the way, the Oak Room's got something for everyone, including vegetarian selections. Enjoy a full meal
in the beautiful dining room—or unwind in the Oak Room Lounge with one-of-a-kind handcrafted cocktails, as well as top-shelf beer and wine. Food & Beverage Manager Keith and Executive Chef Baker have worked side-by-side at a number of restaurants, moving as a team to Oak Room Restaurant and Lounge. The two created the dining menu and the special events menus together and created a diverse, flavorful, and distinctive selection filled with delicious dishes for everyone in your party.
The Oak Room Restaurant: A Complete Dining Experience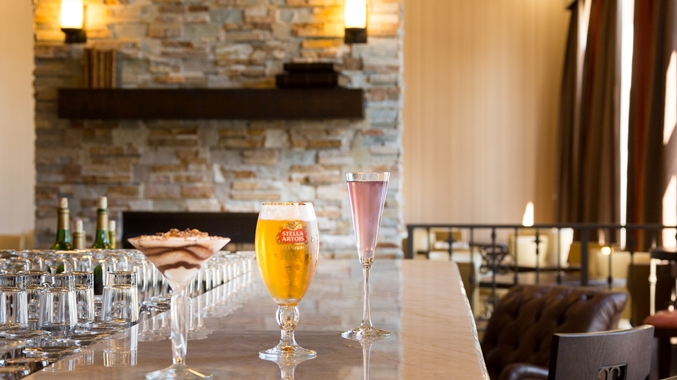 The Oak Room Restaurant & Lounge makes dining a complete experience, the kind where you get to leave the world behind for a little while and revel in great company, transcendent flavors, and a warm, modern atmosphere—complete with beautiful sunlight or nighttime city lights pouring in from the tall, arched windows dressed up with luxurious, iridescent drapes, facing the beautiful and historic Mission Nombre De Dios.
This is a St. Augustine restaurant through and through. And a high-quality, friendly, casual fine-dining restaurant through-and-through. With service so personalized and smooth, you're certain that no requests or questions will remain unmet—and indeed they're not.
Soon to be a very favorite fine dining spot for locals and visitors alike, the Oak Room Restaurant & Lounge belies any idea of what you think a hotel restaurant is like—even some of the best in town—for it infuses its divine and diverse menu with the spirit of St. Augustine itself, offering appetizers like Gator Bites, for instance; fine handcrafted cocktails created with top-shelf spirits courtesy of St. Augustine Distillery; select wines from St. Augustine's San Sebastian Winery and wherever and whenever possible, the restaurant's dishes feature local seafood and fresh area fruits and vegetables on a daily basis.
Dinner Doesn't Get Much Better: A Night at St. Augustine's Oak Room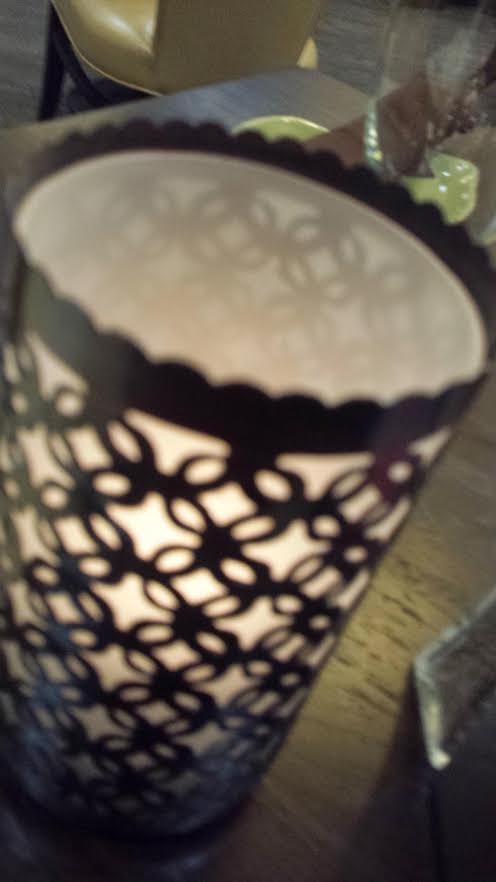 Spare, warm, and modern, The Oak Room Restaurant offers up the kinds of creature comforts you feel you don't quite deserve: plush dining chairs, low-hanging lamps imparting a soothing and smooth light, candle-lit tables ensconced in Moroccan-style lanterns, simple green succulent centerpieces, and a decidedly contemporary dual-sided stone fireplace.
Upon arrival, you're greeted warmly by Food & Beverage Manager Keith Claybrook,you're ushered instantly to the best table possible, and as you're seated, you feel like the most important person in the room. He welcomes you as he would an old friend, and pays close attention to your needs while leaving the rest of your delicious dining experience up to
your professional, patient and extraordinarily attentive-yet-absolutely-unobtrusive server.
Pro Tip:
All servers are thoroughly knowledgeable about every drink and dish they serve.
Each attends a full training and tasting of every menu item, every dessert,
every wine, and every cocktail. So you can rest assured that your questions
about the nuances of a dish or what a server recommends come from a completely
educated opinion. This isn't quite the case at most restaurants.
My fine dining companion and I enjoyed hearty and tasty breads baked at the restaurant, which certainly whet our appetite. And I'd arrived without
one. Our crostini appetizer was almost eaten before I could capture its refined plating on camera. Many restaurants all over the world serve this fine appetizer, but this combination of flavors made it the best
I've had in St. Augustine.
We each ordered fish dishes. Mine? I couldn't resist. The Honey Maple Walnut Salmon, a heady and filling filet of local Atlantic salmon baked with a juuust right balance of sweetness, a honey walnut maple glaze, which complemented the salmon in a wayI'd never before had the privilege to enjoy.
A completely original and satisfying myriad of flavors I savored with pure delight.
My dining companion's Macadamia Encrusted Grouper, a crisply clean filet of fish rolled in macadamia nut crumbs pan seared with hazelnut buttercream, an unexpected combination of ingredient and method resulting in an earthly medley that was decidedly out of this world. Both dishes were served on the kind of risotto
that makes you say to yourself, "So this is how a risotto is supposed to taste." And as any novice cook knows it takes a supremely talented and skilled
chef to create the perfect risotto.  Add to that some divinely prepared asparagus and your balance of flavors equals a warm, crisp, creamy, and fresh
balance of flavors most chefs work a lifetime to perfect.
A Divinely Diverse Selection of Dishes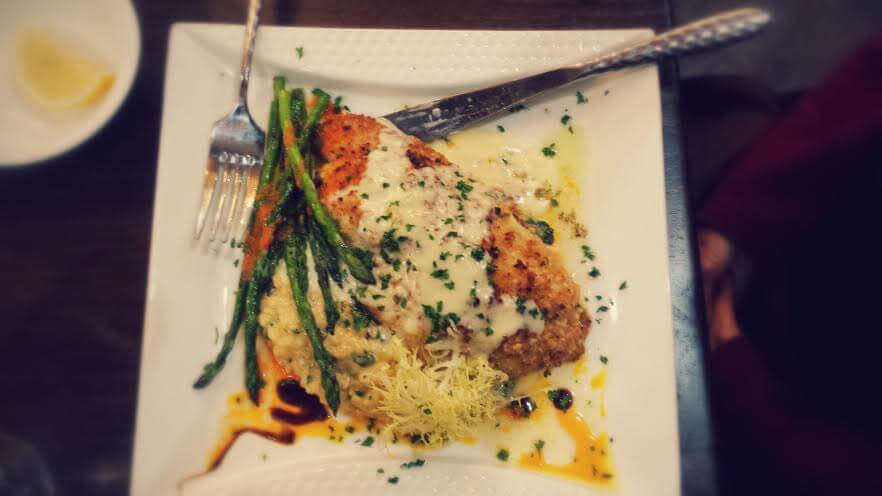 You may not really note it, but it takes great talent to make the perfect menu, one that offers just the right amount of options and tastes. It's an art. And it's been mastered here. Another testament to a skilled vision and well-planned menu? Its variety and originality. Who wants to eat the same sort of dish you can find anywhere else? Not many.
Who wants to find a menu that serves up a balanced selection of entrees, appetizers, and desserts sure to satisfy everyone in your dining party? All of us. This menu achieved both. There is indeed something for everyone. In addition to original veggie and pasta dishes as well the seafood selection—two entrees of which are noted above.
A Healthy Sampling of the Oak Room Menu
ENTREES

Entree Salads: The Oak Room's Caprese Salad—one of several salad entrees—features mixed spring greens, fresh mozzarella, Roma tomatoes topped with a house-made fresh pesto, and balsamic vinaigrette.
Steak:The Black and Blue Rib Eye—one among a selection of the most popular steak varieties, this entree features a 10-ounce Rib Eye steak, blackened with a Blue Cheese gratin and served with Merlot jus.
Burgers: DoubleTree Burger, a double burger complemented with thinly sliced ham, deli mustard and provolone, and a single onion on a Brioche bun.
Chicken & Duck: One option includes this decadent dish: Port Wine Cherry Lacquered Duck—boneless breast of duck with port wine and cherry reduction.
DESSERTS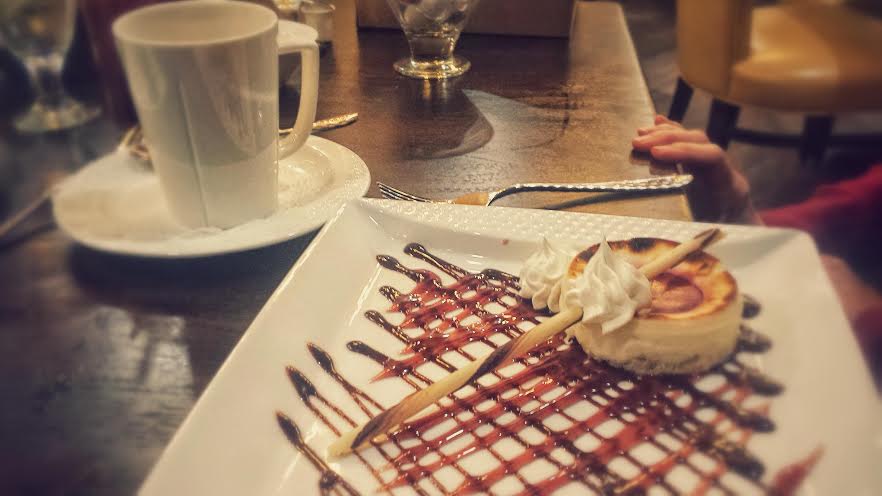 Flourless Chocolate Cake
Made with a blend of four chocolates finished with a Ganache topping.
Salted Caramel Cheesecake
Caramel is blended into a graham-crumb crust, folded into a layer of cheesecake batter then salted and dolloped on top the whole thing. Bruleed with a caramelized edge.
Blackberry Cabernet Cheesecake
Cheesecake topped with the star of the show–vine-ripened blackberries blended with a fruity, floral Cabernet.
WINE, BEER, AND SPIRITS
Wines: Order an impressive bottle or half bottle of high-end varietals by the glass or the bottle. House wines include Chardonnay, Pinot Grigio, Pinot Noir, Sauvignon Blanc, White Zinfandel, Merlot, and Cabernet Sauvignon. Recommended reds: St. Francis Zinfandel, Sonoma and Cline Cashmere, Sonoma—a blend of Mourvedre, Syrah, and Grenache. Recommended Whites—St. Supery Sauvignon Blanc, Napa, and Banfill San Angelo Pinot Grigio, Italy.
SIGNATURE COCKTAILS
DoubleTree Cookies & Milk Martini: Ice cream, vodka, butterscotch schnapps, creme de cocoa; served straight up in chocolate swirl glass with DoubleTree cookie crumb topped with DoubleTree walnut cookie crumbs.
Oak Leaf: St. Augustine gin, fresh basil, lime, and sugar—on the rocks.
Get Into the Oak Room Restaurant & Lounge at
DoubleTree St. Augustine While The Getting's Good.
Its warm ambiance, divine service, and incomparable dishes will soon give the Oak Room Restaurant & Lounge the recognition it deserves. Especially as a casual fine-dining restaurant with reasonable prices and a supreme historic district location. Make your reservations now…this so-far-St.Augustine-secret is soon to be one of the most popular in town. That's my educated opinion, anyway. And from what I hear, I know I'm not alone.
Insider Tip: 
Book a table right away by calling 825-1923. The restaurant offers free parking across the street as well as in-room dining for all hotel guests. Reservations are accepted. Seasonal hours may vary.
Disclaimer: 
Every effort is made to ensure the accuracy of information on City Blog, but please verify hours, prices and important information before embarking on your Old City adventure. Sharing and re-posting this blog is encouraged.  Please credit 
OldCity.com
 when sharing.
Photo Credits: 
Ama Reynolds and DoubleTree by Hilton Hotel St. Augustine Historic District.