What's a girl to do but get as warm in the heart as though she were falling in love? There are no troubles in here. Gold light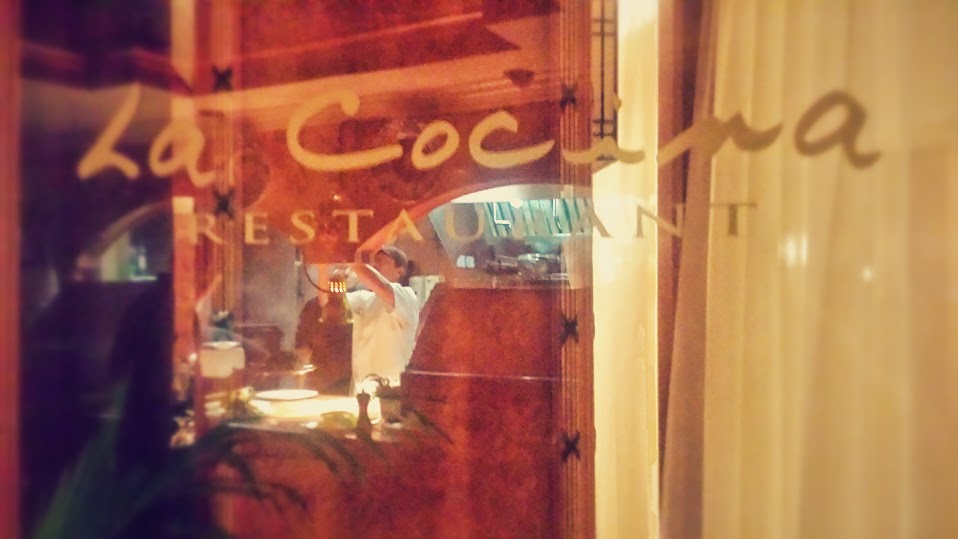 and wrought iron. Thoughtful, tasteful, and passionate art–unobtrusive but finely curated, just enough of a fire-heart vitality to offer not comfort necessarily, but an ease and a stirred spirit. Deep wood doors offset glittering crystal–your wine glass, your water glass glistening in the firelight.
While we are here for the full fine dining dinner experience, La Cocina serves breakfast and lunch, too. Castillo Real guests are really in for a treat, here. This is no run-of-the-mill hotel restaurant. Not by a long shot. In fact, it's a local beach favorite. Sit down breakfast features eggs benedict, buttermilk pancakes, fresh fruit, amazing coffee, and true to the kitchen crew's roots, breakfast burritos, and breakfast quesadillas.
The lunch menu is rather similar to the dinner menu and will light shining in through the ocean-facing windows and a view of the shimmering blue of the impressive hotel's pool beyond.
Castillo Real itself is a gorgeous oceanfront boutique hotel, offering fine accommodations and beautiful views with one of the best restaurants in St. Augustine as its best amenity–next to the ocean location, of course.
Small modern chandelier lamps, brightening the low-lit dining room to a warm, golden and soothing hue, bring a sense of home, again unobtrusive–a beauty you know is there, putting that golden glow in your heart, almost unnoticed.
International Dining with Latin Flair
at Resort Hotel Castillo Real on St. Augustine Beach
Remember Downton Abbey? How you wanted to live in that cozy candle-lit atmosphere during drawing room parties,  playing piano, singing silly songs, secrets, and troubles everywhere, but all dissolved on the screen into a fantasy of luxury, one you're in no hurry to leave–not when you're watching this art-directed fiction on television.
Here, though around us, we know not the monologues of lone diners, the hidden worries covered up by prattling small talk. My father and I noticed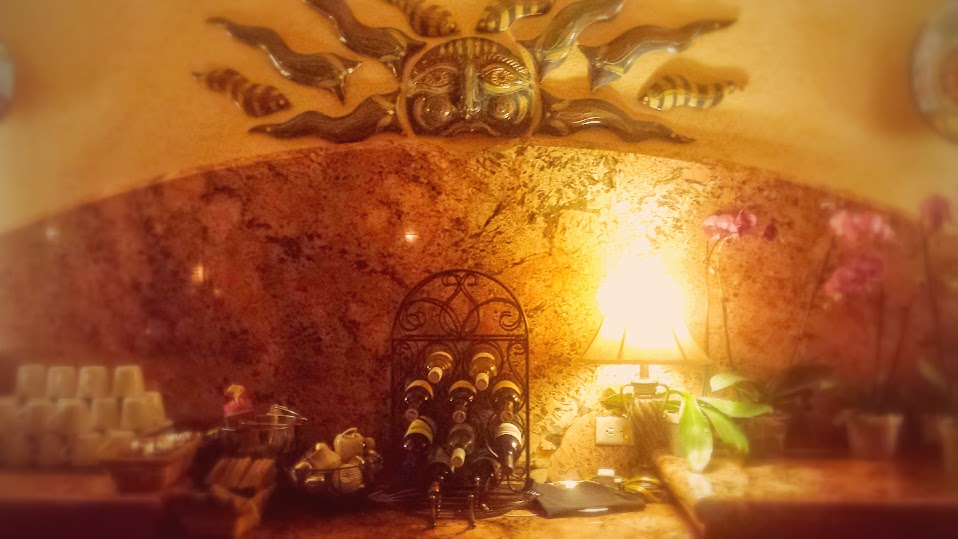 none of that. Just the fine thick menu, the starched white table cloth, the to-the-tee place-setting, and each other, father and daughter.
I couldn't have chosen a more perfect dining companion. It is a joy to eat with someone who loves food, has traveled the world, who calls back his memory to those times–or rather, the lobster and mussels call him back; the ceviche, the melted brie and guava, the springtime clarity of a crisp and fine Pinot Grigio.
This is what dinner at La Cocina is. Warmth, intelligence creativity, vitality and excellence in all aspects–the truly international food, the intelligent and attentive service, the calm and vibrant atmosphere. A place to get away from it all for an hour or two.
We're seated in a perfect corner, near the back door, a wall partition of iron and crystal closing us in, a perfect view of the elevated country club atmosphere. Warmth and contentment and star treatment and the sense that you are very, very special, indeed. We all need that from time, don't we?
Located inside the luxury St. Augustine beach hotel Castillo Real, La Cocina offers authentic international cuisine– adventurous–with an oft-changing menu to mix it up and keep the many local regulars pleased and surprised.
So, what can be found to treat the senses in this fine dining restaurant, besides the beguiling atmosphere and impeccable service? Well, the food and the wine, of course.
Among the Finest of Fine Dining in St. Augustine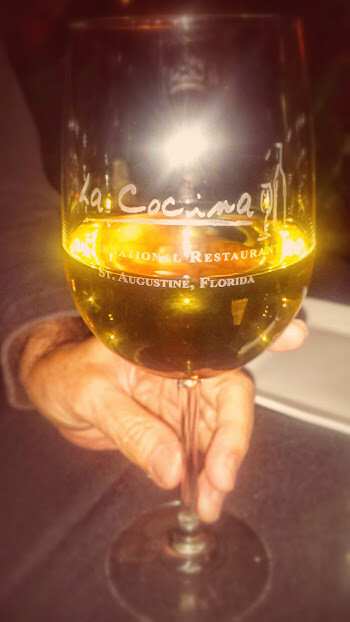 Let us begin.
We ordered sparkling water for me, with lemon, a bottle of my own, imperceptively replaced as it empties, poured into a fine crystal wine glass. My father chooses carefully from the impressive wine list, gathering advice at every turn from our handsome and articulate waiter, from Poland, Peter. He suggests the Pinot Grigio and my father says that it sings on his tongue. Moods and aspects change in certain spaces, and this fine treat of a dining experience is one of them
We discuss nothing but the experience, the play by play of the flavors dancing in our mouths, the lessons from our waiter, and from one of the restaurant's owners, who comes to greet us and chat a little about his passion, this place, the people who make it what it is, and the family of fine chefs and cooks and servers who make a magical place like La Cocina happen.
A St. Augustine International Restaurant:
Where Family Collaboration Equals Incredible Food
Midway through our meal, we are greeted by the owner and General Manager–Columbian-born Norbeto Jaramillo, a chef who would rather be in the kitchen than anywhere else and who has been with the restaurant, first as a server, since 2005.
The passionate and talented Chefs of La Cocina include Chef Marcel Vizcarra of Lima, Peru, who heads the Haute Line at La Cocina, has been at La Cocina since 2012, and whose favorite menu item is the Seafood Paella;  Chef Julio Flores-Banda of Port Veracruz, Mexico, who has been with La Cocina since 2005 and whose favorite menu item is the New York Strip.
Staff members are truly from all over the world–Mexico, Colombia, Peru, Poland, Chile, and El Salvador.  Everyone collaborates on the menu, making it a thrilling blend of cuisine inspired by all corners of the globe.
Experience Authentic International St. Augustine Cuisine
For an appetizer, we enjoy mini crab cakes served with corn relish and chipotle aioli as well as baked brie, served in a light-as-air puff pastry, melted

to perfection, served with fresh strawberries and guava. This honestly international menu's appetizer's also included sashimi, antipasta, escargot, and Sinaloa Style Shrimp Ceviche–tequila and lime cured shrimp with red onions, cucumber, noodles and cilantro garnished with avocado.
Next up in our very reasonably priced fine dining experience?
Garden Angel Hair Pasta for me– a delicious layering of flavors featuring capers, garlic, mushrooms, carrots, spinach, Kalamata olives in a plum tomato sauce topped with the perfect balance of Pecorino cheese. I ate it with relish and cleaned my plate, completely sated.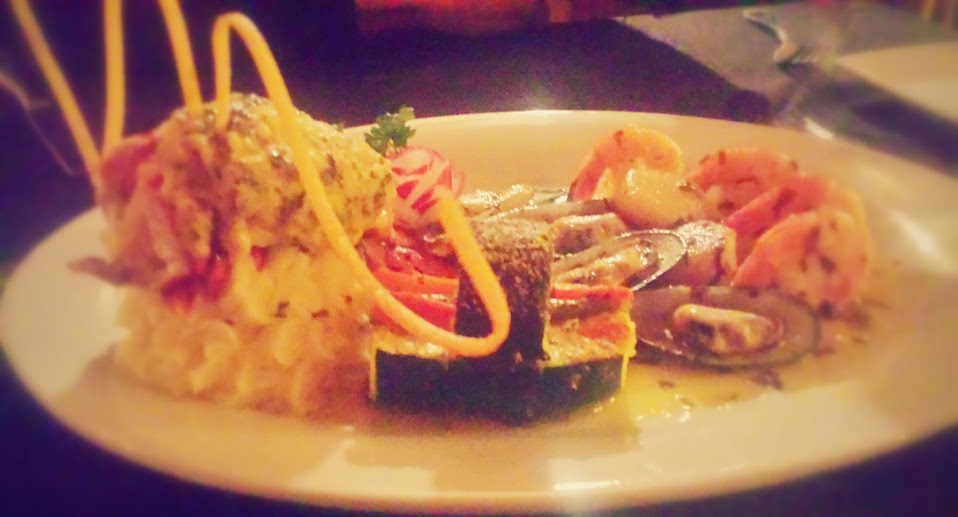 My companion did the classic, "I'll have what she's having," order, which ended up being a grand dish called Frutus del Mar, featuring it all: crab, crusted six-ounce Maine lobster tail, shrimp and scallops and  mussels flambe with tequila simmered in a delightful cilantro garlic butter sauce, served with mashed potatoes and vegetables. He couldn't finish it all, as much as he wanted to.
Sated with warmth and satisfaction, we left La Cocina feeling fully pleased with life's generosity, and the generosity of the chefs and servers and head host, the richness and the liveliness of our dinners, and the luxury treatment from a restaurant that truly offers a fine dining experience perfect for special occasions.
Restaurants are like theater in so many ways. Every night a new show produced with heart and passion and performance and unpredictability. La Cocina's cast, producers, directors, and managers pull this evening off without a hitch, offering us a brava performance from start to finish.
Disclaimer: Every effort is made to ensure the accuracy of information on City Blog, but please verify hours, prices and important information before embarking on your Old City adventure. Sharing and re-posting this blog is encouraged.  Please credit OldCity.com when sharing. Photo Credits:Ama Reynolds