Spooky St. Augustine Ghost Tours Shine A Light on the Dark Side of the Ancient City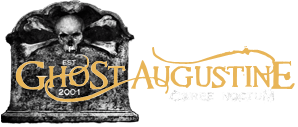 When you've been around as long as the Old City has, chances are you're likely to have more than a few skeletons in your closet. And while ghosts and spirits and the supernatural can become an almost controversial subject of conversation, no one doubts the thrill and chill of a good-old-fashioned ghost story.
The best ghost storytellers around–mean teenage babysitters are excluded, of course–seem time and again to be walking, lanterns (or ghost tracking devices) in hand, through the dark and twisted back streets of the nation's oldest city, St. Augustine.
Whether by foot, trolley, shuttle, Hearse and even ship–in St. Augustine, there are as many ways to see a ghost as there are shells in the street's coquina.
So this local decided she'd haunt the tours herself, and is happy to bear witness to the chills, thrills, and history that accompany St. Augustine's wide variety of ghost tours. We hope you'll find one or two to your liking.
Ghost Tours St. Augustine
Ghost Tours of St. Augustine has been offering well-researched and historically accurate ghost tours for more than 20 years. You can even buy your own book of these ghost stories–along with all kinds of fun and spooky ghost paraphernalia–yourself when you purchase your tickets at Tour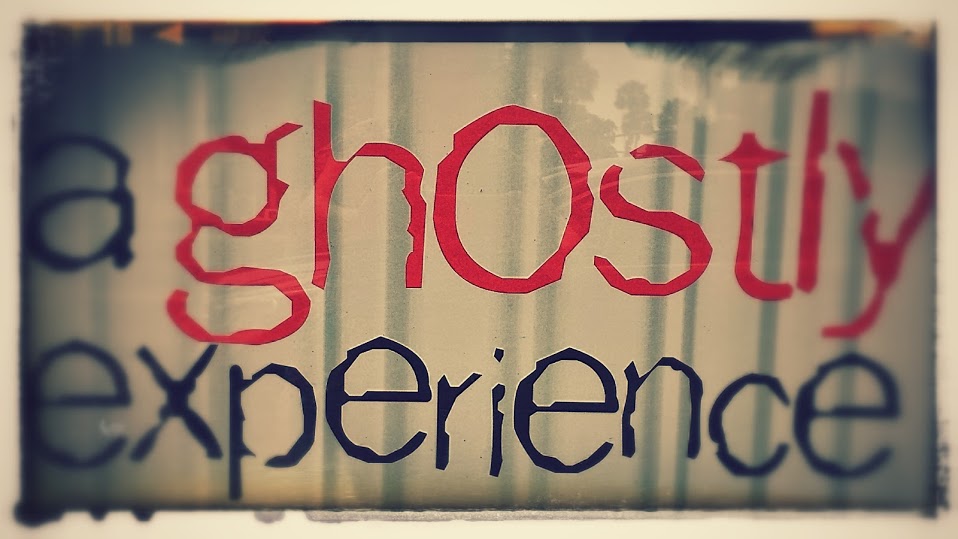 St. Augustine on Granada Street.
Current tours include: Ghost Tours of St. Augustine: A Ghostly Experience Walking Tour; Creepy Crawl Haunted Pub Tour & Paranormal Investigation; Old Town Trolley's Ghosts & Gravestone's Trolley of the Doomed; and the Maritime Haunts & Legends Ship Tour. To book your tours and get more information about them, click on St. Augustine Ghost Tours Booking.
GhoSt Augustine Paranormal Ghost Tours
Want to ride around town in a hearse? Was Six Feet Under one of your favorite television shows? How about Ghost Hunters? Are you looking for a ghost tour in the Oldest City that's relaxed and intimate but pulls no punches when it comes to telling tales of ghosts and murder?  Since 2001, Ghost Augustine has been offering chilling tours to locals and visitors alike, complete with state-of-the-art ghost tracking equipment.
Tours use K-II EMF meters for ghost hunting, Ovilus III, P-SB7, Full Spectrum camera, and more. The Haunted St. Augustine tour is set up under professor Harry Stafford, Ph.D., internationally famous within the paranormal and metaphysical community.
To book tours and learn more, visit the GhoStAugustine site or stop by Hammerheads Beer Gear Store on St. George Street.
Dead Walk Paranormal Ghost Tour
Follow your tour guide through dark and shadowy St. Augustine back streets, streets so old and narrow no cars can pass through. You'll hear rarely told ghost stories in very creepy locations–after dark, of course, as your guide leads you through past homes and current haunts of the long, and quite, dead. Ghost tracking devices are available for your use during these tours.
A Ghostly Experience Walking Tour
Gather at the lantern held high in the dark, open your mind, and grab hold of your loved one's hand. Spooky experts will guide you through St. Augustine and tell you all about what lurks inside those cemeteries you glanced past during your day's adventures. Look closely and you might see a shadow passing behind them as they weave their tales of beheaded Indian chiefs, Bishop's corpses, and hanging rites too torturous for murderers.
GhoStAugustine Haunted Pub Tour or Hearse Ride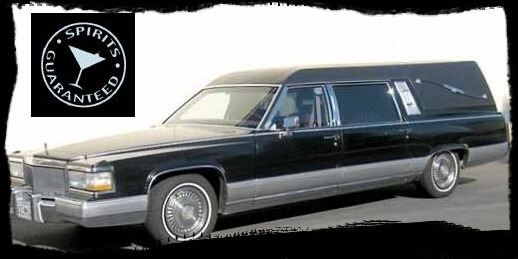 You might be feeling a little more brave once you have a drink or two, but that won't make the twisted tales any less scary. Some of St. Augustine's most popular watering holes are in some of the oldest buildings in town. Allow our knowledgeable guide to lead you through their ghostly side, allowing for long stop-offs at four very paranormally busy taverns. The tours are available by foot or by Hearse, spirits–and "spirits"– are guaranteed.
Creepy Crawl Haunted Pub Tour & Paranormal Investigation
Your other-worldly guide will lead you through the more haunted buildings in town and let you stop for a spell at the city's more haunted drinking locales. Maybe you need a little liquid courage to face the more frightening haunts? Here's your chance to enjoy some "spirits" with your spirits. You'll get to use the same tools real ghost investigators use when searching for paranormal activity.
GhoSt Augustine & The Original Hearse Ride Tour
Ride in the alarmingly comfortable GhostAugustine hearse–or our Everdark Shadow Shuttle–for an intimate guided tour of both well and lesser-known parts of haunted St. Augustine, featuring visits to haunted buildings and other famously haunted spots in town, including: the Fort (Castillo de San Marco); St. Augustine Lighthouse; the National Cemetery, the "murder house"; and St. Francis Inn. Ghost hunting equipment is provided.
Ghosts and Gravestones Trolley of the Doomed
Your guide may seem quite corporeal, your driver just ready to go home…but don't let their human appearances fool you. These ghastly guides are
 very good at what they do. So keep your eyes peeled and your limbs inside the trolley at all times. Missing heads, hanging limbs, orbs of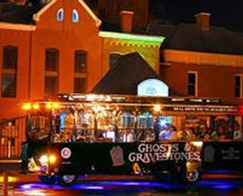 night-swallowed light, shifting shadows, a hangman's noose, a pirate or two, thoughtless children, upended graves and very disrespected corpses–all come to light on this chilling tour.
Hold tight to your seat as the Trolley careens across the Bridge of Lions toward St. Augustine's Lighthouse, famous in the ghost world as one of the most haunted sites in the United States. Spend some time INSIDE the most haunted building in town–the "Old Jail," where your tour guide might bid you adieu for a moment or two, leaving you and your fellow ghost tour companions alone in the dark.
Maritime Haunts & Legends Ship Tour
When the beautiful El Galeon ship is in port, you'd do well to book a seat on this historic ship as it tours the city's surrounding waters. Your host will let you in on the ancient sailor's "ghost ship" folklore and the maritime haunts particular to St. Augustine.
Happy Haunting (and Hunting)!
Accurate, passionate, and more than a little alarming, these tales and their tellers are the perfect way to get a little fright and insight into the oldest city's unseemly and unsettling past, especially during the witching season of Halloween.
Insider Tip:  Book your tickets as soon as possible, especially during Halloween season. You can book online or by phone. Just click on the links above for the tours of your choice.
Disclaimer: Every effort is made to ensure the accuracy of information on City Blog, but please verify hours, prices and important information before embarking on your Old City adventure. Sharing and re-posting this blog is encouraged. Please credit OldCity.com when sharing. Photo Credits: GhoStAugustine, Ghost Tours of St. Augustine, and Ama Reynolds