Serenity by the Sea: Vilano Beach, Florida

Ask locals and visitors what makes Vilano Beach, Florida a special place and the reply is universal: "It's so peaceful out here. It's an island getaway that's close to St. Augustine."
Crossing the Usina Bridge from mainland St. Augustine, you're rewarded with a vast view of the Atlantic Ocean and the small village of Vilano. It's a laid-back land wedged between the ocean and Intracoastal, where flip flops are never frowned upon and bathing suits replace business suits. It retains a relatively slow pace of life, even in the face of St. Augustine's growing popularity.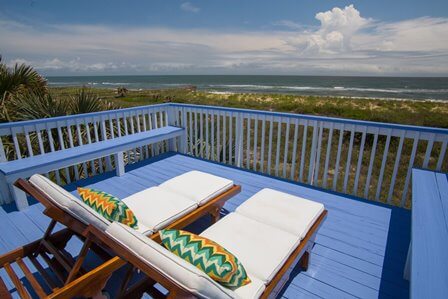 Vilano's golden sand beaches are prime hunting grounds for prehistoric shark's teeth. Walking the Vilano Beach peninsula from the ocean to St. Augustine Inlet along Porpoise Point, you get some of the area's most unique waterfront perspectives.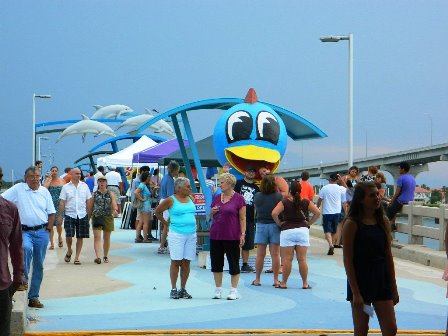 The 600-foot Vilano Pier is a favorite destination for fishermen and folks who want a view of St. Augustine across the Intracoastal. Prominently stationed at the entrance of the pier is the Bluebird of Happiness. Vilano's mascot is a nostalgic icon of an early tourist era and a great spot for photographs. The pier is free and open to the public.
Rain or shine, the first Saturday of each month, Vilano hosts a Sunset Celebration at the pier with entertainment, talent shows, cook-off competitions and food and craft vendors. It's held from 4 p.m. to dusk during summer months; 3 p.m. to dusk during the winter.
Tucked away under Usina Bridge, a boardwalk spans the marsh and connects the north and south ends of Vilano. There's free parking at the north and south ends of the boardwalk and colorful mosaic murals on both sides. Part of the boardwalk mosaic is a tactile design created by students from the Florida School for the Deaf and Blind.
With the addition of a Publix shopping center, Vilano's town center is slowly but surely picking up steam. The Old Florida feel remains, thanks to vintage hotel buildings and pedestrian-friendly design. Visitors who stay on Vilano can bike or walk to local cafés and restaurants. Beaches at Vilano is a favorite, thanks to its Caribbean feel, outdoor, waterfront seating and live music on weekends.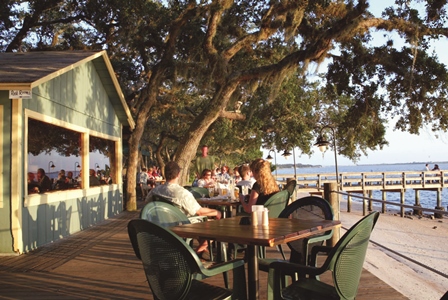 To the north, Cap's on the Water is one of the area's most memorable dining experiences. The former fish camp nestled in a neighborhood along the water is known for its high-end seafood and relaxing ambience. Sitting under live oaks on the deck overlooking the water is an experience that's not to be missed.
If you're up for a hike, visit Guana Tolomato Matanzas National Estuarine Research Reserve. It has nine miles of wooded trails and five miles of undeveloped beaches. You can follow a trail past marshes and under oak trees to the water. The Reserve is also known for archaeological sites such as shell middens and an Indian burial ground. The Environmental Education Center at 505 Guana River Road, is technically considered Ponte Vedra Beach, but it's just a bit north of Vilano and worth a visit, especially for families.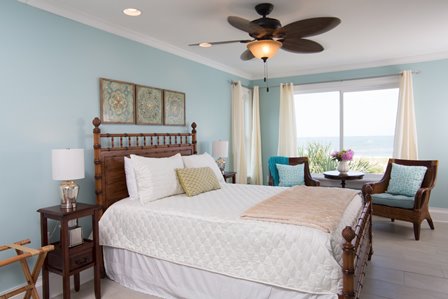 The very thing that makes Vilano special – a peaceful pace and natural beauty – makes it a great destination for locals seeking a staycation or visitors needing a vacation. The Beachcomber Cottages feel as though you're staying at the home of a friend who's fortunate enough to live by the beach. Each of the five cottages has its own personality, but all are renovated and decorated in a contemporary coastal style. Outside, the look is beachy, with Caribbean gingerbread architecture and pastel colors. Inside, these comfortable, stylish seaside retreats make you want to be an islander for life.
Tucked away just behind the dunes, the cottage compound is like living in a beachside neighborhood. Owners Mike and Sandy Wieber include all of the components for a relaxing beach vacation: private patios, outdoor showers, bikes, a grill, beach chairs and umbrellas. Two new cottages (scheduled opening: October 1, 2014) will each have a private pool.
Beachcomber guests even get free parking and complimentary breakfasts and happy hour drinks and snacks at the Wiebers' other property, the Bayfront Marin House, an award-winning bed and breakfast inn. The B&B is 2.2 miles from the cottages, in the heart of St. Augustine's historic downtown.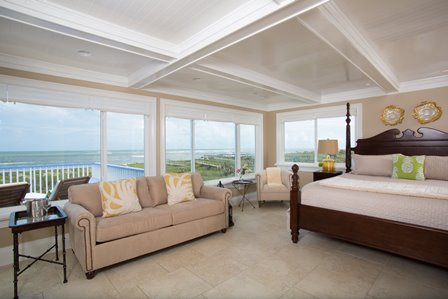 As if the cottages weren't sufficiently indulgent, the Wiebers can arrange an in-room massage therapist for people who want to completely unwind. The Wiebers' wedding concierge, based at the Bayfront Marin, can handle all of the arrangements for a beach wedding and honeymoon at the Beachcomber Cottages.
Regardless of your reasons – romance or relaxation – a stay at the Beachcomber Cottages will make you feel one with the village of Vilano.
Disclaimer: Every effort is made to ensure the accuracy of information on City Blog, but please verify hours, prices and important information before embarking on your Old City adventure.
Sharing and re-posting this blog is encouraged. Please credit OldCity.com when sharing.
Photo credits: Beachcomber Cottages and deck: Sandy Wieber; Pier scene: Sallie O'Hara; Caps on the Water: St. Augustine, Ponte Vedra & The Beaches Visitors & Convention Bureau.