Renewal on Riberia
American Ingenuity Shines at St. Augustine Distillery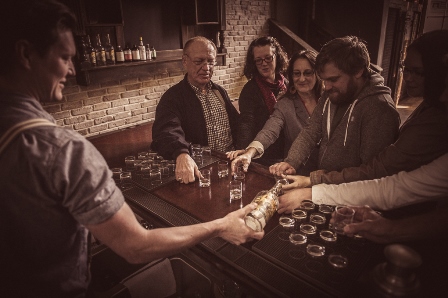 A city that's nearly 450 years old can't help but have character. Year after year, St. Augustine beguiles visitors with its history and sense of place.  St. Augustine Distillery , a newcomer on the Old City scene, radiates a depth of character that usually takes generations to acquire. The evocative ambiance is what Ryan Dettra and Philip McDaniel envisioned for their craft
distillery. Craft distilling was catching on everywhere else, why not Florida? After three years of planning, research and working with distillery experts and community investors, their vision took shape.
Repurposing Florida's Oldest Ice Plant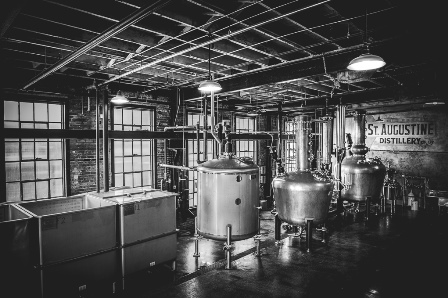 After much negotiation, the partners secured their distillery dream location: the former St. Augustine Ice Plant and Florida Power and Light Building. Located at 112 Riberia Street in historic Lincolnville, it was built between 1905 and 1907 and renovated in the 1920s. Remaining true to the era, Dettra and McDaniel renovated and reused as much of the original building as possible. When that wasn't practical, they salvaged period materials from other buildings. More than four million in painstaking renovations later, the men have infused the industrial building with new purpose. Florida's oldest ice plant is now a more elegant version of its former self. In 2014, they received a Florida Historic Preservation Award for their efforts. 
Local Libations
A building that cranked out 52,096 tons of ice per year is once again producing a cool product. Head Distiller Brendan Wheatley oversees the production of the made-from-scratch spirits using fresh, locally-farmed ingredients. Distilling small-batch spirits in copper pots create flavors that are fuller and purer.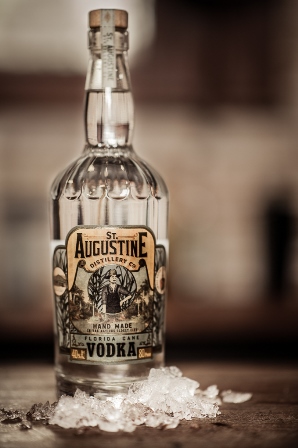 The Distillery's vodka is made from sugar cane. "We separate the heads, hearts, and tails of the cane during distillation and only use the hearts," Dettra said. Rum and gin will soon follow. Whiskey drinkers will be pleased to know the Distillery plans to release its first batch in 2015-2016. The whiskey is created from locally-grown heritage corn and winter wheat. "We're trying to capture the flavors of our region, what's known as 'terroir'. We're in a prime location for brewing quality whiskey," Dettra said. Florida humidity makes humans wilt but works to the whiskey distiller's advantage.
For now, visitors can wet their whistles on Distillery vodka in the Ice Plant Bar upstairs and at more than 140 Florida restaurants and bars. They can also purchase bottled vodka in the Distillery Gift Shop. (Gift Shop purchases are limited to two liters per year by Florida law. Distillery vodka is also sold in regional liquor stores.)
Tours and Tastings
Like a custom cocktail, the Distillery is an experience that should be savored. Start in the attractively curated museum. It tells a concise, compelling story of the building and Florida's distilling history.
A short video highlights the Distillery's innovative partnerships with farmers who produce the ingredients.  Like other 21st century entrepreneurs, Dettra and McDaniel try to keep dollars in the local economy. "It's more expensive to make a product by hand and to buy American-grown ingredients, but it's the neighborly thing to do," Dettra said. They also follow sustainable business practices such as water recycling and redirecting spent distillery grains to farmers for animal feed.
After the video, a gregarious guide walks you through the distilling operations, followed by a vodka tasting. Like many St.
Augustine attractions, you exit through the gift shop, but this one is worth your time. In addition to vodka, it sells an upscale collection of culinary and cocktail accessories and books.
The St. Augustine Distillery brings a new buzz to Lincolnville, a neighborhood that has experienced ups and downs. Judging from the  weekend crowds, this old building with a new twist is the toast of the town.
Insider Tip: The St. Augustine Distillery offers free tours and tastings, 7 days a week, 10 a.m. – 6 p.m.
Disclaimer: Every effort is made to ensure the accuracy of information on City Blog, but please verify hours, prices and important information before embarking on your Old City adventure. Sharing and re-posting this blog is encouraged. Please credit OldCity.com when sharing. Photo credits: St. Augustine Distillery