Spend a Hassle Free Vacation in St. Augustine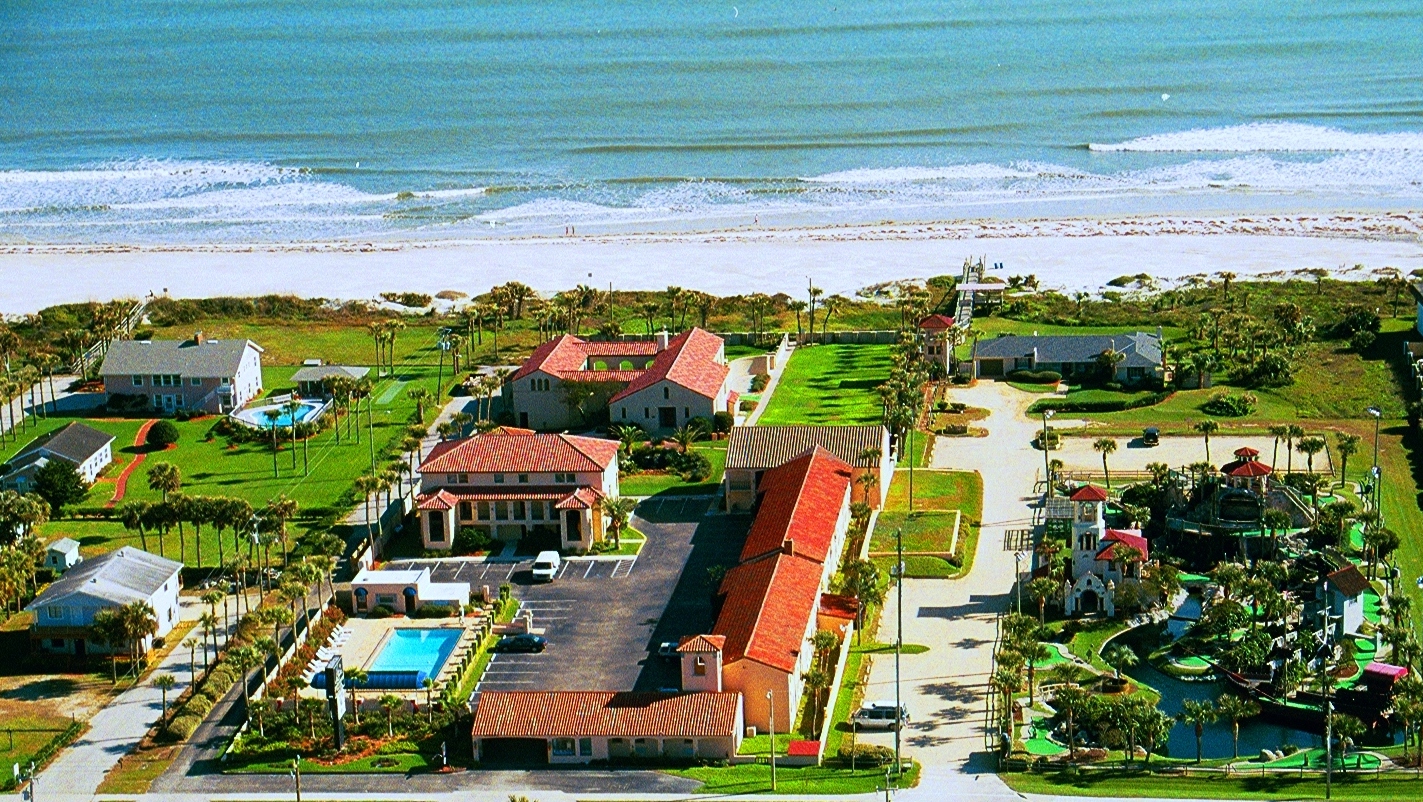 If you've always heard, "It's not the destination, it's the journey," you haven't stayed at La Fiesta Ocean Inn and Suites.
"People arrive here planning to see and do everything in St. Augustine. Then they check in and they don't want to leave Anastasia Island," said Rich O'Brien, owner of La Fiesta. Stroll around the property and you'll understand. Who could ignore the siren song of the beach, a short walk from the Inn? There's also a sparkling, solar-heated pool and 2.5 lushly landscaped acres to relax in.
Even the Inn's A1A location lends itself to a hassle-free holiday. Shops, restaurants, and Wednesday night summer concerts are within walking or biking distance. During the day, the Old Town Trolley beach shuttle stops every hour on the hour in front of the Inn. Tickets (sold at La Fiesta) get you unlimited transportation for three consecutive days, from the beach to downtown and back, sparing you the trouble and expense of finding a place to park.
Nostalgic Nuances
Built in 1960, La Fiesta's 45 rooms retain the intimate, nostalgic feel of the mom and pop motel era. Fully renovated, they also provide 21st-century essentials: free Wi-Fi, flat-screen TVs, Serta beds, microwaves, coffee makers, mini-fridges and contemporary furnishings. Four oceanside suites, ideal for families or couples, offer sleeper sofas, a wet bar, and private patios or balconies.
If easing into your day rather than racing off to work is your favorite part of a vacation, you'll have another reason to appreciate La Fiesta. As part of your stay, breakfast is delivered to your room every morning.
Adjacent to the Inn in a quiet neighborhood is La Fiesta's Beachfront B&B. Built in the 1930s, the property has been carefully restored to maintain its vintage vibe. Decorated in a casual coastal style, each room has a private bath and thoughtful touches like a bedside flashlight, DVD player, and decanter of cognac. The living room, with its vaulted ceiling and floors of beautifully aged wood, is an inviting retreat on a hot or rainy afternoon. Eating breakfast on the indoor porch, you can plan your day within sight of the ocean.
Additional amenities include indoor and outdoor sitting areas, an outdoor shower and a seven-person hot tub. Like the Inn's pool, the B&B pool is a private enclave surrounded by flowering shrubbery and tropical plants. Vacationers who prefer to avoid the pitter patter of little feet will enjoy this grown-ups only property.
Innovating Innkeepers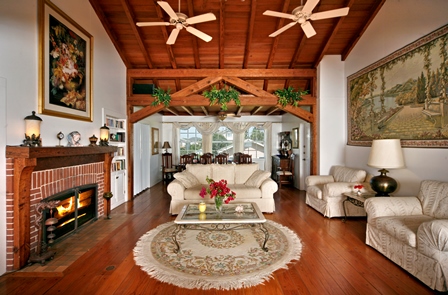 Rich O'Brien and his wife Lauren Ringhaver strike a pleasing balance between preserving the vintage ambiance of their Inn while adopting contemporary concepts. La Fiesta has received the "Green Lodging" designation from the Florida Department of Environmental Protection. This effort shows up in small things – CFL bulbs, recycling bins, and solar deck lights – and in big things – a beach restoration project. "We planted 1,100 sea oats along the dunes," Rich explained.
Other innovations focus on improving the guest experience. The Inn uses keyless electronic entry devices rather than key cards that contain personal information. And instead of using the polyester comforters of dubious cleanliness that are found in most hotels, La Fiesta beds are topped with a coverlet that's washed after each guest checks out.
Rich and Lauren put thought and effort into these small, but meaningful touches. "Because we're independent, versus a chain with national brand recognition, we have to prove ourselves. We may not achieve perfection, but we strive for it every day," Rich said.
Parental Perks
Parents prepared to be elated. Besides the beach, pool and breakfast delivered to your room, vacationing with children is easier at La Fiesta because of its onsite 18-hole miniature golf course. Created by championship designer Bill Waters, Fiesta Falls has water features, a Spanish ship replica and an ocean view from the "mountaintop" gazebo. After the game, you can relax on a shaded deck with an ice cream cone purchased from the ticket window. Fiesta Falls is open daily, 10 a.m. – 10 p.m. and is open to the public.
Insider's Tip:  La Fiesta guests get a discount at Fiesta Falls.
So, let's recap the La Fiesta formula: Check-in. Park car. Change into a bathing suit. Place drink in hand, toes in the sand. Watch the waves, not the news. Forget to worry. Remember to nap. Achieve beach bliss.
Disclaimer: Every effort is made to ensure the accuracy of information on City Blog, but please verify hours, prices and important information before embarking on your Old City adventure. Sharing and re-posting this blog is encouraged. Please credit OldCity.com when sharing. Photo credits: La Fiesta Ocean Inn and Suites