Some Enchanted Evening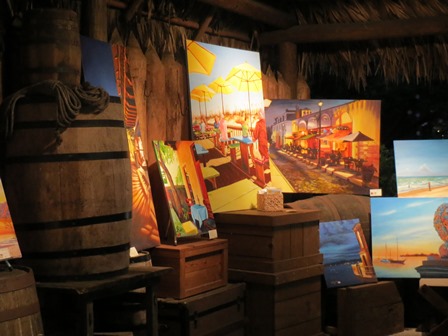 Colonial Quarter Conjures Cultural Magic with Downtown Bazaar
It's the last Saturday night of the month and what are your options? You could lower your IQ watching reality TV. Or, if you're in St. Augustine, Florida, you could experience the cultural magic at the Downtown Bazaar in the Colonial Quarter.
Located in the center of St. Augustine's historic district at 33 St. George Street, the Colonial Quarter was revamped in 2012 by Pat Croce, who also created the St. Augustine Pirate & Treasure Museum. Mr. Croce, who attended the Bazaar's opening night on April 27, 2014,  said his vision for the Colonial Quarter was to give visitors an experience unlike any other on St. George Street. The University of Florida owns the Quarter, but Mr. Croce invested millions of his own money to revitalize the facility.
Stepping inside, it's apparent he accomplished his goal. The difference is tangible from the first moment. It's always a bit cooler in this leafy green oasis of sheltering trees and native landscaping. The second difference is the intimate ambiance. The attraction covers three centuries of St. Augustine history in an
up close and personal style, through reenactors and curving pathways leading to interactive exhibits.
During Downtown Bazaar, the Colonial Quarter transforms into a friendly cultural gathering where artists display paintings, photography, sculpture, jewelry and other expressions of creativity tucked amid trees and Colonial-style buildings. Live music emanates from the Colonial Quarter stage and at nightfall, the setting sparkles with hundreds of white lights, creating a magical atmosphere. It's hard to believe you are steps away from bustling St. George Street.
Photographer and graphic designer Stacey Sather said the Bazaar began as a way to showcase local talent. "It can be difficult to get into a gallery. The Downtown Bazaar provides regional artists with access to a public display space. It also gives visitors and residents an opportunity to see how much talent exists here in North Florida."
Ms. Sather credits Event Director Nico Recore of St. Augustine Art Glass with spearheading Downtown Bazaar. Her gallery is one of several local businesses supporting the event.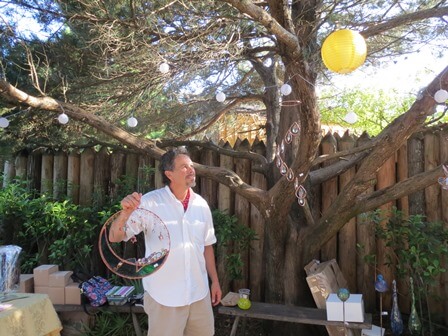 Downtown Bazaar happens the last Saturday of each month, April-November, from 6 – 10 p.m.
Insider Tips:
Arrive early if you want to dine in the Quarter's Spanish Taberna del Caballo or British Bull and Crown Publick House. Both restaurants fill quickly on Saturday nights.
The Colonial Quarter and its restaurants are pet-friendly, provided that your dog is leashed and well-behaved.
Disclaimer: Every effort is made to ensure the accuracy of information on City Blog, but please verify hours, prices and important information before embarking on your Old City adventure. Sharing and re-posting this blog is encouraged. Please credit OldCity.com when sharing. Photo credits: Nancy Moreland