Tasty Trysts
Romance is on the Menu in St. Augustine


By Nancy Moreland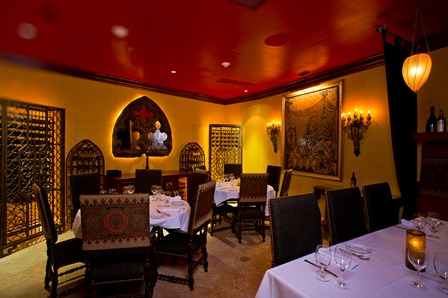 Drive through the heart of St. Augustine, Florida, on any given day or night and you'll see them: smiling, starry-eyed men and women, strolling along streets, even stepping into traffic at times. They're beguiled and bewitched and St. Augustine is to blame. They have fallen in love with the Old City, a place so beautiful, it inspires a feeling of romance every day, not just on February 14th.
Fortunately for foodies, romance is on the menu in St. Augustine, which has a generous selection of excellent eateries. As of this writing, there were a few tables available for Valentine's Day at three of St. Augustine's most romantic restaurants. However, you may find the night before or after the big day more relaxing. Whether for Valentine's or another date night, the ambience and cuisine of these establishments makes every meal a special occasion.
95 Cordova
Located inside the exquisitely restored Casa Monica, a boutique hotel in St. Augustine's historic district, 95 Cordova has all the elements of a romantic evening: candlelight, fine food, wine, intimate atmosphere. The main dining room is lovely, but two other dining areas are especially inviting. With fewer than six tables and a gated entry, the cozy Wine Room epitomizes romance. According to staff, it's a popular spot to pop the question. Another option is the Sultan's Room, which seats up to 25 people – two of whom could easily be Bogart and Bergman, so Casablanca-esque is the setting.
Chef Aaron Chavarria, formerly of Sarasota's Hyatt Regency, presents a deliciously diverse array of dishes, influenced by his Nicaraguan roots and time spent living in Europe. The menu is as luxurious as the surroundings, featuring selections like Bahamian lobster tail and pan seared duck breast, with suggested wine pairings.
If 95 Cordova's location makes it a memorable dining destination, it also presents a problem – one night may not be enough to fully savor the experience. Food and Beverage Director Scott Melton has a solution. "Casa Monica, especially with our revamped Sunday brunch, is a great place to stay for a romantic weekend," he says. The brunch features free champagne, a chef-attended omelet station, salads, seafood and other culinary delights.
Insider's Tip: Diners receive a discounted valet parking rate of $5.00
at the Casa Monica parking garage. Ask to have your ticket validated. Or, park in public lots near the hotel, for $1.50/hour; free after 5 p.m., on Sundays and holidays.
The Tasting Room
The vivid stylish flair of The Tasting Room's interior and exterior dining areas make beautiful backdrops for cuisine reflecting St. Augustine's Spanish heritage. Located on Cuna Street, it feels more like a private home than popular restaurant. Chef Michael Lugo's new spring menu is just in time for Valentine's Day. The restaurant is well known for tapas and Mediterranean touches such as sun dried tomatoes, Spanish-cured meats and manchego cheese. Chef Lugo also offers innovative dishes like Moorish quinoa paella, a vegetarian version of a classic dish, with pine nuts, raisins, eggplant, tomatoes and kale. Lugo's appreciation of Spanish cuisine includes a wine list with more than 150 Spanish wines.

Like many St. Augustine chefs, he uses locally-sourced, seasonal food whenever possible, including bread baked at the restaurant.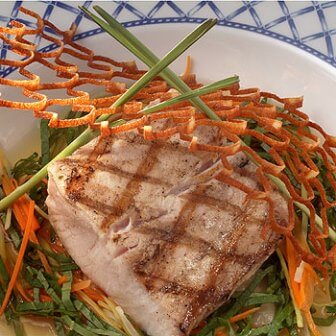 Café Atlantico
St. Augustine may be a small town, but it has a way of delighting visitors (and residents) with pleasant surprises. Café Atlantico on Anastasia Island is one such example. The 1950s architecture and beach location might fool you into thinking it's another island restaurant serving fried seafood to folks in flip flops. Appearances are deceiving. Stepping inside, you could be in a chic Manhattan bistro. This is exactly what Chef Paolo Pece envisioned when he opened Café Atlantico in 1999. Pece teamed with architect Paul Robinson and artist Peter Leventhal to create a restaurant resembling those he remembered from his native Italy and Manhattan, where he worked as a sous chef. Pece earned his master chef degree from the Italian Culinary Institute in Naples, Italy, and worked as an executive chef at Il Ristorante in Chambersburg, Pennsylvania.
Seated in Pece's 10-table upscale café, diners enjoy artwork on the walls and on their plates, feeling as though they've been let in on a special secret.
Like his small café, Pece's culinary focus follows a "less is more" approach. Unlike the current trend toward complicated food, he artfully employs a few simple ingredients to highlight the flavors of fresh local seafood, meat and produce. A new scallop dish, for example, uses just four ingredients, all of which complement each other. His wine list is likewise carefully curated, featuring around 40 Italian and Californian wines. Café Atlantico's menu reflects all regions of Italy, but you won't find what Pece terms "Italian-American" lasagna or spaghetti and meat balls. "Those dishes don't exist in Italy," he explains. Pece's seasonal approach to cooking requires frequent menu changes, which feeds his creativity. "I love to cook. When you're happy, it's reflected in your work," he says.
Pece's quality versus quantity approach earned him a Snail of Approval from Slow Food First Coast. According to the nonprofit organization's website, it was founded to "counteract the effects of fast food and fast life." Though Pece's kitchen is fast paced, the thought he invests into each meal is not. All the small moments – whether he's picking fresh herbs from his garden or visiting local butchers for the freshest cuts – add up to a presentation that leaves diners smitten and pining for more.
Both Café Atlantico and The Tasting Room are members of St. Augustine Independent Restaurant Association.
Questions? Comments? Please email nmoreland@OldCity.com.
Disclaimer: Every
effort is made to ensure the accuracy of information on City Blog. Change is
inevitable, however, so before embarking on your Old City adventure, verify
hours, fees, etc. with the contact information provided above.
Sharing and re-posting this blog is encouraged. When sharing, please credit OldCity.com.
Photo credits: Top: 95 Cordova; Center: Paolo Pece.