Exploring the West King Street Shopping District
Spend an Afternoon on the Eclectic Side of St. Augustine

Some people recognize a great neighborhood long before it becomes popular. (Think of the Beat Generation artists and writers in San Francisco's North Beach area.) In a picturesque town like St. Augustine, Florida, West King Street might be considered more gritty than pretty. The neighborhood hasn't really shared the spotlight with other Old City historic districts. Not yet, anyway. If you haven't visited West King Street lately, you owe it to yourself to explore the area. The neighborhood's small, but growing contingent of entrepreneurial
urban pioneers are transforming the street, one business at a time. West King has an artistic, eclectic vibe and a refreshing authenticity.

Art with an Edge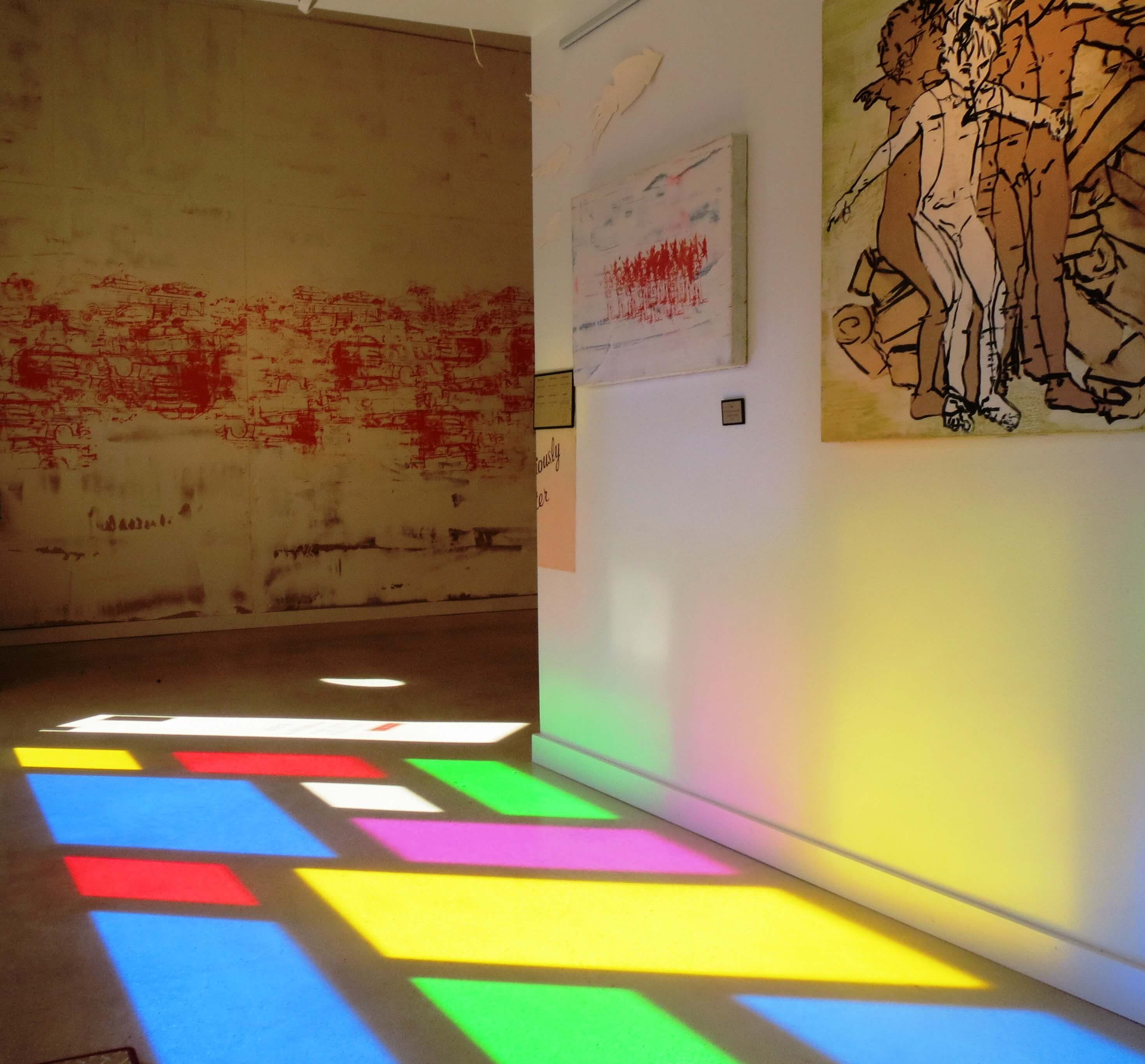 It's best to explore West King is on foot. Parking isn't a problem, thanks to three free parking lots. For an an eye-opening first stop, visit the gallery at 228 West King, known as Space Eight.
Plenty of St. Augustine galleries peddle pastel beachscapes and quaint
street scenes. How many feature contemporary artists working in Pop
Surrealism, Underground or Street Art styles?
Space Eight doesn't shy away from the edgy or controversial. The gallery is a window into a larger national and international art scene. Owner Rob DePiazza works with an extensive network of artists who share his aesthetic vision. For more information: 904-829-2838.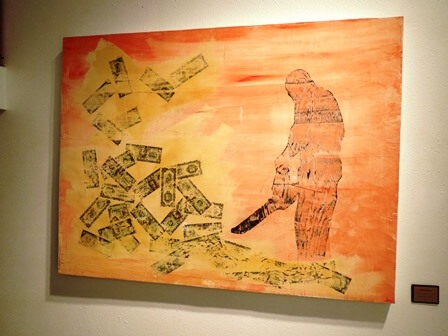 Insider Tip: Space Eight is not open on weekends, except during First Friday Art Walk.
Fun and Funky
Just up the street, on the corner of Pellicer and King, is Furniture Effexx.
The store sells a mix of mid-century modern, industrial and vintage furniture that could dazzle the dullest living room. Owner
Nathan Toothman has assembled a whimsical collection of quirky,
stylish pieces.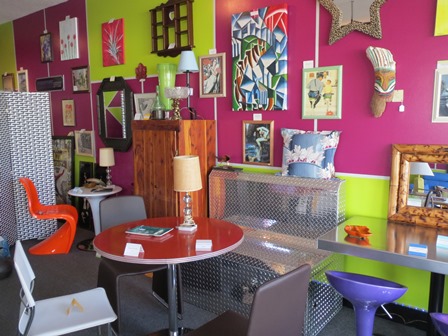 Toothman's flair for furniture began as an outlet to balance the demands of a job working with autistic children. As he began refurbishing vintage furniture, his design talents emerged. After falling in love with St. Augustine, he went full-time with his hobby, opening his shop at 233 West King. He's optimistic about the neighborhood, citing the spirit of "cooperation versus competition" among businesses. "We're bringing the street up, one shop at a time," he says. For more information: 904-819-5450.
Vintage Values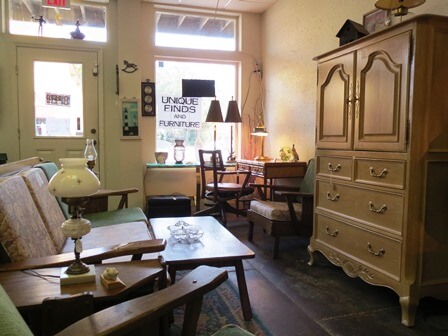 With prices low enough to incite envy in other antique dealers, Unique
Finds & Furniture at 215 W. King, Suite 2, is a boon for bargain
hunters who enjoy the hunt as much as the discovery. You
never know what you'll find, but there's an honest simplicity in the shop's vintage accents and functional furniture. For more
information: 904-679-2081.
A Cup of Jayells Joe
The only thing more comforting than coffee brewed from Jayells Coffee Company beans is the warmth of Lynda Fisher's smile. The owner of Jayells, Fisher is a Nebraska native who exudes down-to-earth Midwestern charm. When it comes to coffee beans, however, she's as sophisticated as a sommelier. Fisher began roasting coffee beans a decade ago, but her love affair with java dates to childhood. "Drinking coffee with my dad is one of my fondest memories," she says.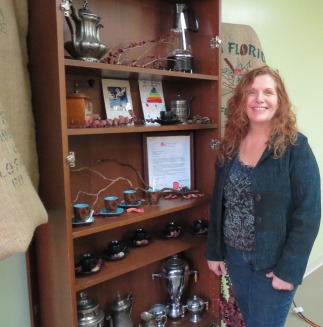 Fisher can custom-roast her organic, fair trade coffee beans to suite your palate – whether your taste runs to mellow, spicy or full-bodied. A caffeine connoisseur's dream, Jayells isn't a coffee shop, but you can sip samples and purchase fresh, whole beans by the pound to brew at home. Her shop is located at 215 W. King, Suite 3. For information: 904-729-6771.
Savvy Salvage
When you spend more than 20 years restoring historic properties, you
amass a treasure trove of architectural salvage. That was the
impetus for Elaine H. Darnold, Inc., Architectural Salvage.
Darnold and her husband Kenneth have worked on some prestigious St. Augustine properties, including the Casa Monica Hotel and Ponce
de Leon Hotel, now Flagler College's Ponce Hall. Her salvage collection
includes antique heart pine timbers, antique doors, windows and
hardware.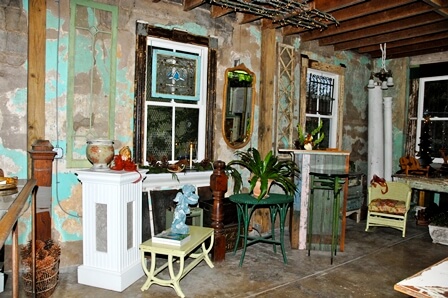 "We repair, restore and reuse materials in their original locations when feasible, but we also find new purposes for items that cannot be reused in our restoration or new construction projects," Darnold says. This is Darnold's way of honoring "the spirit of the original craftsmen who contributed to our City's architectural history." The store also features artwork and furnishings created by Kenneth Darnold. Located at 9 Leonardi Street, the store is housed in a 1920s-era building with ironwork balconies that would be right at home in New Orleans. For more information: 904-829-0790.
Local Eats
You don't need to leave West King Street to fuel your explorations. Nathan Toothman recommends King's Bistro at 6 Mackey Lane for lunch or dinner. Like other West King businesses, the Bistro holds pleasant surprises for those willing to scratch the surface. Located in a small, unassuming house, it's run by Chef Michael, who cooked for three different U.S. Presidents. "People return to my shop to thank me for sending them there," Toothman says.
Cabo Taco fans will be happy to hear that the restaurant is no longer MIA. In February, Cabo Taco will begin serving breakfast and lunch at Jackson's Garage Bar at 223 West King. Evenings, Jackson's will convert back to a bar.
Present Moment Café at 224 West King holds a special place in the hearts and stomachs of many locals. The kitchen staff transform healthy ingredients into beautifully delicious vegetarian dishes that delight the eye and taste buds. You'll have no trouble being in the moment with their Pad Thai, a delicate blend of tastes and textures. Funky artwork and friendly servers give this neighborhood café a mellow 1970s ambience. For more information: 904-827-4499.
Insider's Tip: Many West King businesses keep unorthodox hours, so it's wise to call ahead.
Every effort is made to verify hours
and important information. Please confirm hours and other pertinent information
before embarking on your Old City adventure.
Comments? Questions? Email
nmoreland@oldcity.com.
Sharing and re-posting this blog is
encouraged. Please credit OldCity.com when sharing.
Photo credits: Architectural Salvage: Elaine Darnold; All others: Nancy Moreland.