Sometimes it's just not a family vacation unless the whole family comes along–Fido included! Lately more and more people are taking their pets with them on vacations. It beats the high cost of boarding plus you'll enjoy your trip more knowing that Fido is part of the family fun! But how do you begin planning a pet-friendly trip to an unfamiliar area? Where can you stay and what can you do with your pet while you're visiting?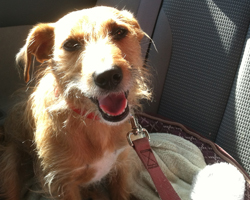 St. Augustine is a very pet-friendly town with plenty to do and see with Fido in tow. We've put together some suggestions for you that should help with planning your next Fido-friendly adventure.
1. Where to Stay
Whether you prefer hotels, condos or bed & breakfasts, there are plenty of pet-friendly accommodations in St. Augustine. The LaQuinta Inn & Suites located near the St. Augustine Outlet Mall accepts pets, as does the Super 8 and Ramada in the same area. Closer in to the historic district, the Ramada Historic and Days Inn are pet-friendly as well. Bed and breakfasts The St. Francis Inn and At Journey's End also have pet-friendly rooms within a short walking distance of St. Augustine's downtown attractions.
If you prefer a place near the beach (and with nearly year-round seasonable conditions, who wouldn't?), St. Augustine Beach House (Vilano Beach), Super 8 (St. Augustine Beach), Comfort Inn (St. Augustine Beach) and Beacher's Lodge Condominiums (Crescent Beach) also allow pets. Most of the area's campgrounds and RV parks (including Anastasia State Park, Faver Dykes State Park, Ocean Grove and Stage Coach) accept pets too.
Some fees may apply to a few of these lodgings so it's always best to call ahead for more information and reservations.
2. What to Do
Once you're settled into your accommodations, it's time to see the sites of the Nation's Oldest City! Take Fido along to the Fountain of Youth or on a stroll through the cobblestone streets. A picnic on the lawn at the Castillo de San Marcos is a must or you can eat outside with your pets at several of St. Augustine's best restaurants with sidewalk or patio seating. Some of the carriage companies will allow pets along for rides as do a few of the city's nightly walking ghost tours. The St. Augustine Scenic Cruises allow pets on board as well for some unique St. Augustine sight-SEA-ing.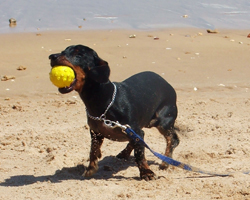 Of course the beaches are also open to pets (provided that they are on leashes).
Walking, splashing and lounging in the sunshine are all favorite activities for humans and dogs alike
. Park at one of the public beach ramps or you can drive your vehicle right out in the sand (not recommended if you don't have four wheel drive!). The St. Augustine Lighthouse also allows pets on the grounds, as does the Fort Matanzas National Monument south of town.
All of the local and state parks in the St. Augustine area — Anastasia, Faver-Dykes, Ron Parker and Treaty Park — also allow pets. Ron Parker Park on the corner of old A1A and Pope Road (about a block south of SR312 bridge) also has a dog park where your pet can run around and interact with other dogs in a fenced, grassy area.
3. The Community
If you need veterinary services while visiting St. Augustine, the area has several qualified vets and a few emergency hospitals including Animal Emergency Hospital (on Old Moultrie Rd. near the Ponce de Leon Mall) and Jackson Veterinary Hospital (on the corner of SR312 and A1A). Grooming, boarding and even daily day care services are also available through local vets and places like Pet Paradise.
We hope that you and your pet will come and see St. Augustine soon.
You'll both be drooling over everything our city has to offer!
– OldCity.com