Prepare for endless summer weekends of beach driving.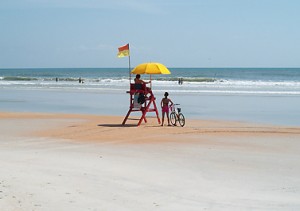 St. Augustine's 42 miles of pristine beaches officially opened on May 1. That means lifeguards and tollbooths at all the main ramps along the beach will be in full operation from now until Labor Day. St. Augustine is one of the few places left in Florida where you can actually drive right onto the beach. But before you roll the family van out onto the sand, here are a few quick tips to keep in mind:
Tips for a safe beach driving experience:
Watch the tides!
Over the course of 12 hours, the water line will shift dramatically as the tides change. Unless you happen to have an amphibious vehicle, it's advisable to park closer up to the sand dunes.
Beware of soft sand!
When the tide is all the way out, the sand closest to the water's edge is nice and firm, well suited for driving. But the sand further up the shore that doesn't get wet is very soft, leaving vehicles without four-wheel drive susceptible to getting stuck. If you do find your vehicle stuck in the sand, the worst thing you can do is to keep spinning your wheels in the sand. Ask a lifeguard to help tow you out to firmer ground.
Err on the side of caution!
Beach driving is a favorite pastime locals and visitors of St. Augustine. But remember, driving on the beach is a luxury, which comes with great responsibility. The driving lanes are between where most cars park and the main part of the beach, so people (children especially) often dart through the traffic to get down to the water line. Posted speed limit signs are strictly enforced, as well as seat belt laws.
Disclaimer: Every effort is made to ensure the accuracy of information on City Blog. Change is inevitable, so please verify hours, prices and important information before embarking on your Old City adventure. Sharing and re-posting this blog is encouraged.