Don't be afraid to stray off the beaten path in St. Augustine.
While it's true that no visit to St. Augustine is complete without a stroll down St. George Street, you also shouldn't miss out on some of the great shops and galleries on St. Augustine's lesser-known avenues. We've put together a quick guide to some of the other shopping hot spots you don't want to miss in the historic district:
– Charlotte Street: Just a block to the east of St. George, Charlotte Street offers a selection of unique clothing boutiques like vintage store The Way We Were on the corner of Charlotte and Treasury. Closer to the north end of the road by the Castillo de San Marcos, you can enjoy live entertainment and a relaxing atmosphere at Stogies Cigar Bar, grab a cup of joe at Crucial Coffee or browse handmade candles at Southern Lights.
– Spanish Street: One block west of St. George Street (head down Hypolita in the direction of the infamous Scarlett O'Hara's) Spanish Street offers excitement for all the senses. Your taste buds will drive you into the Art of BBQ, home to barbecue accessories of all shapes and sizes, while your nose will lead you inside Bath Junkies where you can create your own unique bath oils, soaps and sprays. Your eyes will draw you across the road to Metalartz and its sister store (located behind it) with lots of special gifts for the kids in your life. A little further down Spanish you'll find Cosmic Pizza, one of St. Augustine's best kept kitchen secrets.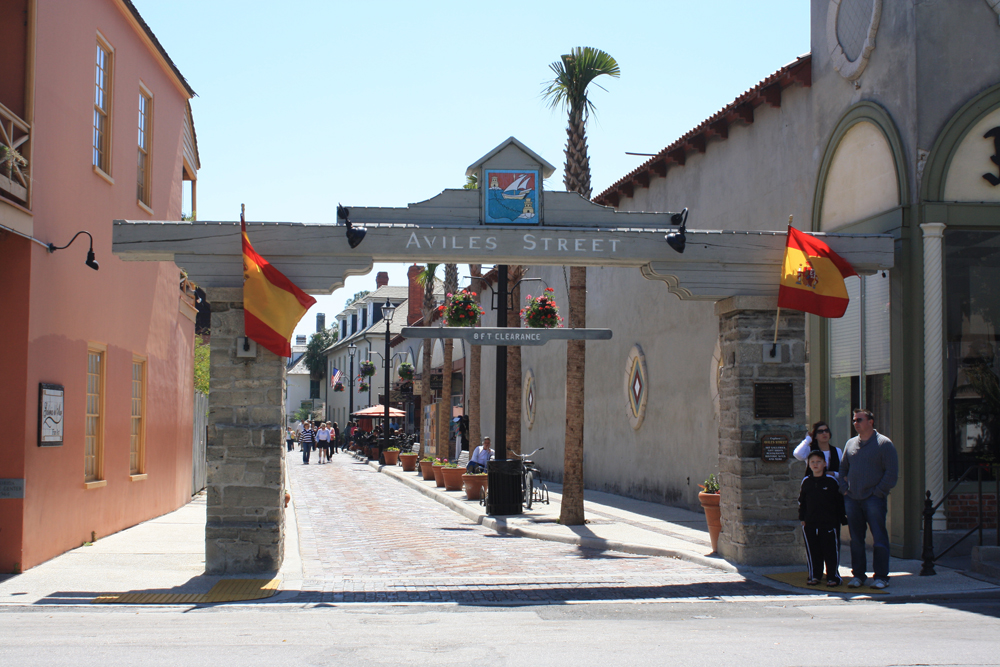 – Aviles Street: The oldest street in the nation is located off the southeast corner of the downtown plaza. Recently revitalized, this charming street will have you thinking you've slipped across the pond into a quiet European village. Sidewalk cafes like Madres and unique boutiques will draw you in, but you'll stay for some of the best art galleries in the city including AMIRO, a co-op near the end of the first block. Our extra special tip? Don't miss the vintage shop on the east side of the road about a block in, it's like stumbling into your grandmother's basement–if your grandma had an excellent record collection.
– San Marco Avenue: Tucked in between the historic district and North City, San Marco Avenue has seen a recent boom in excellent shops and restaurants. Go north from the Visitor's Center and you'll find a host of interesting spots including vintage book and ephemera retailer Wolf's Head Books, collectibles galore at Big Bill's Die Cast, a handful of antique shops , a stationery store and a second location for the Art of BBQ. Whatever you do, don't miss out on Luli's Cupcakes located on the west side of the street about three blocks north of Ripley's Museum. Seriously. You will not regret it. The last Saturday of each month all the businesses on North San Marco stay open late for Uptown Saturday Night, which makes for a great time to visit!
You don't have to be Ponce de Leon to explore all the best that St. Augustine has to offer! Take a little trek off the beaten path and you might just stumble into something exciting.