This Saturday marks the continuation of one of St. Augustine's best traditions–the annual Christmas Parade. Each year, representatives of local civic organizations, school marching groups, community clubs and (of course) a few festive pirates march through the streets of St. Augustine to announce Santa's arrival in the Nation's Oldest City.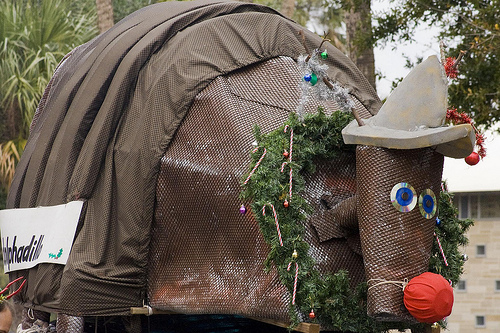 The parade begins at 10:00 a.m. on Saturday morning and lasts for about an hour to an hour and a half. Arrive by 9:00 a.m. if you want a front row seat along the parade route, which begins at the Mission of Nombre de Dios on San Marco Ave., runs up S. Castillo Drive and Avenida Menendez (in front of the fort and along the bayfront) before turning west on Cathedral Place in front of the plaza. From there, the parade turns up Cordova Street to finish off at the Visitor's Information Center on Orange Street.
This fantastic holiday tradition is fun for the whole family! Dads will enjoy the convoy of old cars, Moms will appreciate the beautifully decorated floats, kids will love the fire truck that carries Santa into the city and the whole family will get a kick out of Rudolphadillo (it's a Florida thing).
Later on Saturday night, another of St. Augustine's best holiday traditions will take place along St. George Street. British Nightwatch's Grand Illumination is something you have to experience in the Nation's Oldest City. You'll feel like you've been transported back in time to the city's earliest days when British soldiers marched to the city gates by candlelight to secure the town for the night. On special occasions and holidays, other community members were invited to join the parade. Authentically attired participants will camp out all weekend on the lawn of the Castillo de San Marcos where the public is welcome to stop by and see how the soldiers lived in the 16th century.
The Grand Illumination parade begins at 8:00 p.m. in front of the government house on the west end of the plaza. The contingent of soldiers will fire their muskets before embarking on their journey to the city gates. After circling the plaza, the parade will move down St. George Street, make a left on Hypolita, a right on Spanish Street and a right on Orange Street where they will arrive at the city gates before returning to the plaza. The public is invited to join the parade and encouraged to bring candles or lanterns of their own.
These two spectacular events will make your day in St. Augustine a magical experience! Come join us downtown on Saturday and spend the day between the two events exploring everything else our beautiful city has to offer.
– OldCity.com