The narrative is that all boat tours are the same.
The stereotypical tourist-trap that cruise along at 10 mph, long mundane tour scripts, and crowded decks. But, this isn't an accurate description for Bluewater Adventure's sightseeing and sunset cruises! At a speed of 35 mph, these sporty boat tours allow passengers to get an unparalleled view of historical sites while getting semi-close to dolphins, manatees, sea birds, and other vegetation and wildlife – without the risks of a jet ski or the boundaries of a boat!
Vacation or staycation, catamarans are the new jet skis.
1. The guides know their stuff.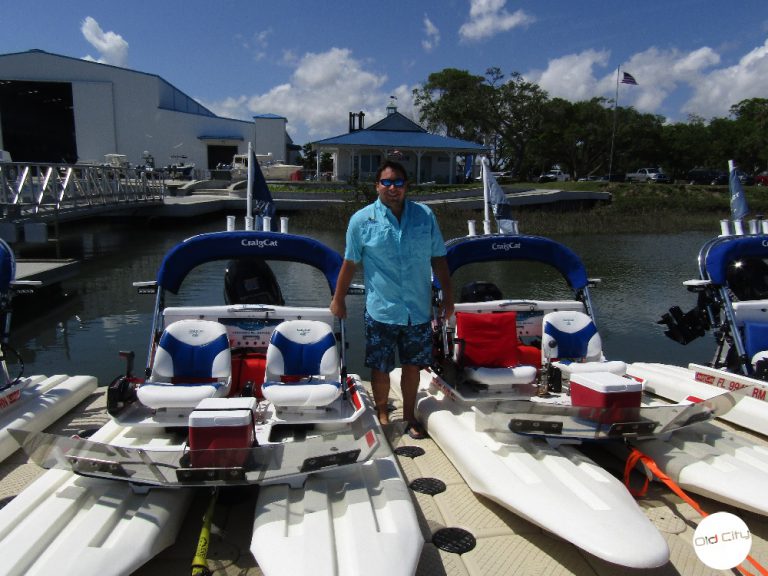 As a local, it's pretty difficult to dazzle me with facts about St. Augustine – I've heard it all. I'm aware that the Great Cross is 208 feet tall and weighs in at a whopping 70 tons; I'm familiar with the fact that after 23 years of hard labor, the Castillo de San Marcos was finally finished in 1672; St. Augustine is home to the Nation's Oldest Port (the St. Augustine Lighthouse) which sits 165 feet above sea level and has 219 steps to climb.
Well, these guides are not only in the catamaran-tours business – they are also in the bizarre St. Augustine and wildlife facts business. The unique and interesting material they shared was just as refreshing as the occasional splash from the Matanzas River and the complimentary cold bottle of water.
2. Yep, you can drive the catamaran.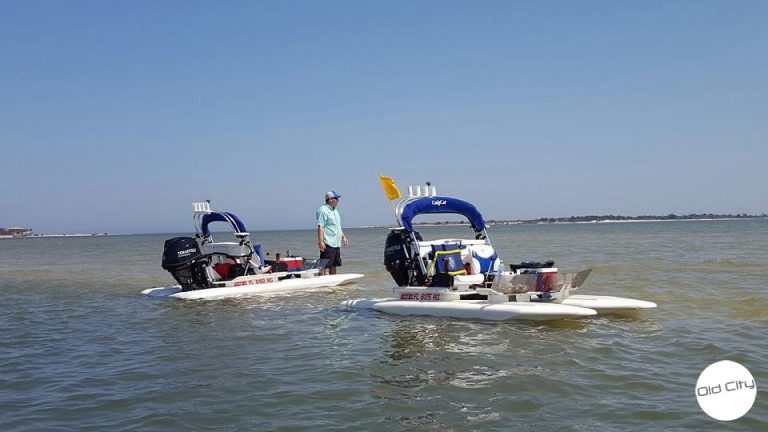 One of the unique parts of this tour versus other boat tours is the ability to drive your own boat. This is a definite advantage for those who really enjoy a more hands-on experience. Their CraigCat® patented horizontal catamaran boats have a small boat design which offers great responsiveness, stability, and sporty handling like a big boat. These boats are easy to get the hang of driving-wise and pack a big punch for such a compact design.
3. You are one with Matanzas River.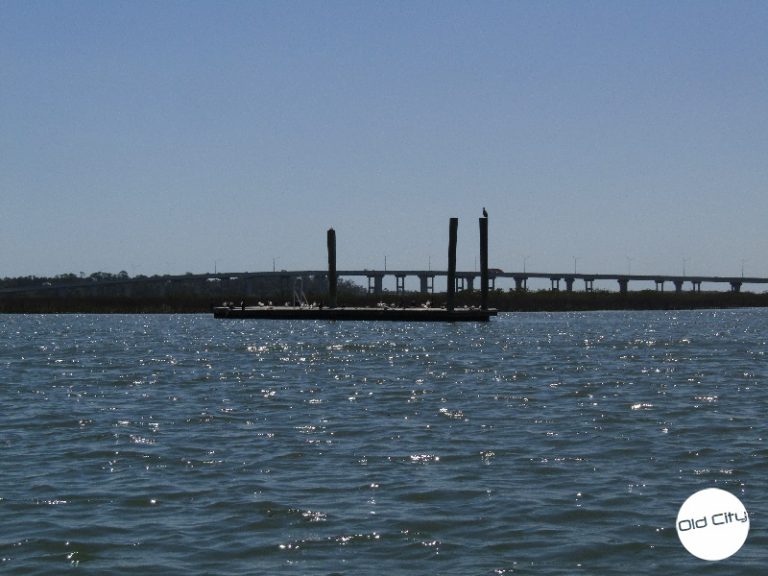 As corny as this heading is, it's entirely factual. Catamarans are sporty, sleek and quiet – kind of like a shark – giving them a huge competitive edge against loud water vehicles like boats, pontoons, and jet skis. During the sightseeing tour I went on, we were able to sneak up on a pod of dolphins (prompting interesting facts about dolphins); cruised aside a bird in flight; the guides even know where the manatees hang!
4. The best boat tour for sightseeing.
Bluewater Adventure St. Augustine offers two types of tours: sightseeing and sunset. Once you depart from the marina, you have so many options of places to explore. These tours go throughout the Intracoastal Waterway, past the Castillo de San Marcos, The Great Cross, and the St. Augustine Lighthouse. Whether it's your first time visiting St. Augustine or you've lived here for years, Bluewater Adventure allows you to take in the city in a truly unique way.
5. Each tour is customized.
Staycation or vacation, when you're looking for a boat tour for your family or friend group, your needs are going to be different than those of other tour groups. Not every tour is for every group, which is why Bluewater Adventure allows you to explore at your own pace. Of course, each tour has structure. However, the guides allow you to explore what you're interested in. For example, if younger children are riding along, the tour guides will pack shovels and bring the group to a sandbar (weather-bearing) so that the kids can play, pick up seashells, or have a picnic if they'd like! The guides even offer free time for you to explore on your own while they sit off to the side to watch for safety!
Rated the Best Outdoor Activity, out of 87 activities, by TripAdvisor, during their first year in business.