If you've been to downtown St. Augustine lately, you've probably seen the electric blue Explore Tour eco-friendly open-air vehicles and pedicabs driving through the streets. What is Explore Tours, you ask? This tour company was founded by St. Augustine locals Blaise Morrell and Calli Zavodney. With their combined knowledge and love for The Ancient City, starting a tour business was a no-brainer for the duo.
Explore Tours has created quite a buzz around the Nation's Oldest City, so we decided to take a tour to see what makes them unique.
Here are our top 5 reasons to use Explore Tours & Pickups:
The tour guides are informative and entertaining
When we arrived at the Explore Tour office, we were greeted with a warm smile from our tour guide, Blaise. As we drove through the streets of St. Augustine, Blaise shared the history of St. Augustine, telling us many fun facts about the Nation's Oldest City. Blaise also made a big effort to make the tour conversational. We got to talk and ask questions which made our tour super interactive and enjoyable.
They are affordable and reliable
If you're looking for a tour for a great price, look no further than Explore Tours & Pickups. They offer 45 minute-1 hour historical tours for $20 per person and 20-30 minute city night tours for $10 per person. Of if you're downtown and just looking for a ride, they offer safe and reliable pickups anywhere in the historic district for just $3 per person. So, if you're bar/restaurant hopping, don't hesitate to call Explore Tours for a safe ride around town.
Tours are customized to your interests
The guides at Explore Tours are focused on making sure everyone gets the most out of their time on tour. Unlike structured tours, Explore keeps their schedule flexible which allows for a unique one-of-a-kind tour each time. If you want to see all the popular sights, then a traditional historical tour might be up your alley. The tour guides are totally open. They get requests for Lincolnville tours, chauffeuring people around town, leading guests around town for a unique bar hopping experience, and much more. Having your wedding and reception downtown? Have Explore pick up your wedding party and arrive at your reception quickly. The options are truly endless with Explore!
Fido can come along
St. Augustine prides itself on being a pet-friendly city. Explore Tours is no exception to this. In fact, they love it when you bring your furry friends for a ride. So, instead of leaving Fido at home, let them enjoy seeing the sites of the city. Not sure which establishments are pet-friendly? Not to worry! The Explore Tour crew has you covered. They have up-to-date information on pet-friendly restaurants, bars, and established throughout the city.
Smaller groups allow for a more personal setting
Wanting to take a tour around town with just your close friends and family? Explore Tours are great for small groups! Each vehicle seats 10 guests, and a maximum of 20 people can be accommodated between their two vehicles. Smaller tours allow for more interaction with the tour guides, allowing you to ask questions and have questions without having to speak out over a crowd.
Book your Explore Tour & Pickup today!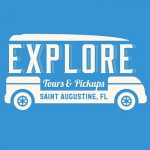 Phone number: (904) 853-1500
Address: 1260 Ponce De Leon Blvd, St. Augustine, FL 32084
Website: exploretoursandpickups.com
Facebook: facebook.com/exploretoursandpickups/