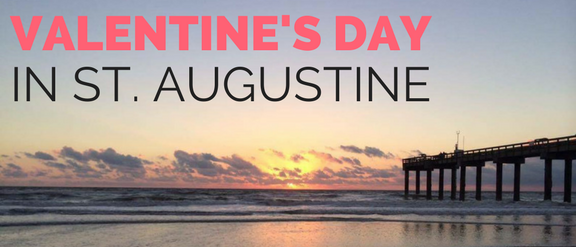 Valentine's Day will be here before you know it. Coming up right after the busy holiday season, it's easy to forget about planning for February 14 until the week of. Whether you're in a relationship, celebrating years of marriage, or single and want to get together with friends, Valentine's Day is a time to celebrate with those you care about.
Before you panic about not having plans, read our top tips for putting together an easy, yet memorable Valentine's Day in St. Augustine.
Watch the sunrise
Start your Valentine's Day off on the right foot. What better way to start the day than watching the sun rise over one of the most beautiful cities? Sure, you might have to wake up a little bit earlier than usual, but the view will be worth it.
Enjoy a coffee or breakfast date
Take time out of your morning routine to slow down and enjoy conversation, coffee, and pastries at one of St. Augustine's many coffee shops and breakfast restaurants. This way, you get to enjoy the city in the quiet of the morning before the hustle and bustle of the day really gets started.
Go on a picnic
Depending on the weather, St. Augustine has some fantastic picnic spots. Whether it be on the beach, on the grass in front of the Castillo de San Marcos National Monument, in the middle of the Plaza de la Constitucion, or on the grass in front of the Lightner Museum, a picnic is a great, affordable way to skip the Valentine's Day lines and enjoy a beautiful view all at once. If you don't want to cook, you can pick up some delicious meals from food trucks and cafes around town. A few of our suggestions include Crave Food Truck, Uptown Scratch Kitchen, Flavors Eatery, and Stir It Up.
Go out for dinner
St. Augustine is full of award-winning restaurants and bars. St. Augustine has everything from lively pubs to intimate dinner spots to uniquely themed bars. No matter the style of dining you're in search of, St. Augustine has it all. Due to the business of the Valentine's Day, it is always best to call well in advance to double check a restaurant's hours and see if they take reservations.
Enjoy a tour of the city
A tour is a great way to explore St. Augustine. Whether you want a romantic carriage ride through the city, a ghost tour to see the most haunted sites, a pub crawl for a laid back, fun time, or a beautiful scenic cruise on the water, St. Augustine has it all.
Treat yourself
Gather your friends and take a trip to a nearby spa. Get your girlfriends together for a peaceful and restorative yoga class. Grab a drink at one of the many unique bars around town. Find a restaurant or bar with live music and go dancing! There are plenty of ways to share the love with friends on this special day!
Suggested events:
Tips:
Always call ahead to see how long the wait will be.
Prepare a backup plan in preparation for long lines or weather changes.
Go with the flow and have fun!
Disclaimer: Every effort is made to ensure the accuracy of information on City Blog. Change is inevitable, so please verify hours, prices and important information before embarking on your Old City adventure.
Sharing and reposting this blog is encouraged. Please credit OldCity.com when sharing.