Updated on May 8, 2018.
Summer will be here before you know it, and if you have kids, it's time to start planning summer activities. There are plenty of activities going on throughout the summer to keep your kids entertained, educated, and occupied! Whether your kids are interested in learning about archeology, becoming a junior lifeguard, or learning all there is to know about pirates, there's something for everyone.

When: Dates from June to July.
Where: St. Augustine Alligator Farm Zoological Park
About: This summer, send your kids to one of the several weeklong wildlife camps at the Alligator Farm! The theme of each camp varies, but each child will spend their days viewing animal presentations, shows, taking zoo tours, chatting with the zookeepers, playing games, arts and crafts, and much more! The camp themes this year include Its' a Zoo in here, Where the Wild Things Live, Stayin' Alive, Zoo-rassic Park, Head of the Class, Rainforest Romp, JR Zookeeper, iDig Dinosaurs, and Animal Outlaws. Each guide group is no larger than 12 students.
When: Monday, Tuesday, Wednesday, Thursday, and Friday. June 11 – 15; June 25 – 29; July 9 – 13; July 30 to August 3, from 9:00 am to 3:00 pm.
Where: Ancient City Pa Kua
About: Get your child out and about this summer in St. Augustine during Ancient City's Pa Kua Summer Camp. Children will stay active, make new friends, and broaden their horizons through experiences with various techniques. The camp focuses largely on martial arts, yoga, acrobatics, sword fighting, and archery.
Note: Ancient City Pa Kua Summer Camp is offering early drop-off and late pick-up for an additional $50.00 a week. The extended hours are from 8:30 am to 5:00 pm. Additionally, if you refer a friend or have several children attending the camp, you will receive 20% off your camp cost.

When: June 4 – 29, Monday – Friday, Morning Sessions: 9:00 am to 12:00 pm, Afternoon Sessions: 1:00 pm to 4:00 pm
Where: St. Augustine Art Association
About: The St. Augustine Art Association is hosting several week-long art camps during the month of June for grades 1-6 and an afternoon session, June 25 – 29, for ages 12 and up. During the camp, they'll explore painting, drawing, sculpture and mixed media projects inspired by master artists.  The sessions are taught by certified professional artist-instructors. Each week will have a different theme to be announced on the Art Associations Camp Page. The Summer Art Camp will conclude with a Children's Art Exhibit during First Friday Art Walk.
When: June 4th-8th, June 11th-15th, June 18th-22nd, June 25th-29th
Where: Sebastian Middle School
Includes: T-shirt and basketball.
About: Bo Clark, the former head coach of the Flagler College men's basketball program, is hosting four weeks of basketball day camp: the morning session is from 9 am to 12 pm, the afternoon session is 1 pm to 4 pm, and the all-day session is 9 am to 4 pm. This program is for boys and girls ages 5–17. Kids receive t-shirt and basketball.
When: July 2018, dates and times vary.
Where: Flagler College
About: Florida Film Academy is offering several summer programs this year for those interested in cinematography and photography! The pre-college program offers the chance for students, ages 7 to 14, to work with industry professionals as they learn the ins and outs of film-making. During these programs, students will work together, get hands-on, make films, learn about equipment and more!
Below is a list of summer camps offered at Florida Film Academy:
When: Fort Matanzas National Monument, June 4 – 8, 9:00 am to 1:00 pm
When: Castillo de San Marcos, June 18 – 22, and June 25 – 29, 9:00 am to 1:00 pm
About: Is your child interested in learning about the history and nature around them? Fort Matanzas and the Castillo de San Marcos are hosting Hands-on History & Nature Camps for ages 9-11 that will cover topics such as archaeology, Native Americans, nature, Spanish exploration, Colonial Florida, and Spanish military. The camps will also include interactive presentations, hands-on projects, games, and living history demonstrations.
To register, contact Alicia Day, Reservationist, at 904-829-6506 ext. 239 Mon.-Fri., between 9:00 am- 3:00 pm.
When: 9:00 am – 12:00 pm, June 4 – 6, June 18 – 20, June 25 – 27, July 9 – 11, July 23 – 25
Where: The Good Beginning Riding Centre
About: Linda Heath, instructor and owner of Good Beginning, is hosting a summer camp where children from ages 5 to 15 can learn how to ride a horse via beginner or advanced English Horse Riding Lessons. You can count on an attentive teacher and small classes of two to four riders.

When: June 4-8, 11-15, 18-22, 25-29
Where: Marine Rescue Office
About: The St. Johns County Junior Lifeguard Program is a co-ed program for ages 9 to 17 years. The staff is comprised of certified ocean rescue lifeguards. The program's focus is to provide water safety education, build teamwork, physical conditioning, and respect. It includes a uniform, First Aid lessons (including CPR certification), lifeguard rescue skills, bodyboarding and surfing, lifeguard competitions, special events, and a weekly cookout and awards celebration. Participants are required to pass a swim test prior to registration which includes a 100-yard continuous swim, 5-minute deep water tread, and 10-yard underwater swim.
Tryouts will be held at the Solomon Calhoun Center on Monday, March 26 from 9 to 11 am, Wednesday, March 28 from 9 to 11 am, Saturday, April 14 at 10 am, Saturday, April 28 at 10 am, Saturday, May 26 at 10 am, Saturday, May 26 at 10 am.
K – 4th Grade Summer Camp
When: Sessions last from May 29 – June 29, 9:00 am to 1:00 pm, Afternoon from 1:00 pm to 4:00 pm, Monday – Friday
Where: St. Augustine Lighthouse & Maritime Museum
About: With its own unique paint design by day and flash pattern at night, the St. Augustine Lighthouse tells sailors that they are approaching St. Augustine. Like our Lighthouse, Museum camps sail you into St. Augustine to experience the stories of those who have sailed into St. Augustine over the last 450+ years.
Middle School Summer Camp
When: July 9 – 13, 9:00 am to 3:00 pm
Where: St. Augustine Lighthouse & Maritime Museum
About: Get out on the water and in the coastal community of the Old City. Discover how people have lived and interacted with the marine environment from the early 1500's to the present. Practice boatbuilding, fish from shore and on the water, row and sail in locally made watercraft, visit archaeologists at a shipwreck site, go on an eco-tour by kayak and more! Activites weather permitting.
When: Various dates in June and July.
Where: Limelight Theatre
About: Is your child interested in theater? Limelight Theatre is hosting six different summer camps this year that will teach your children all about what goes into a musical. At the end of the camp, they will perform a musical of their own!
Guys & Dolls Jr. (60-minute musical)
Bring it On the Musical
Willy Wonka Kids (30-minute musical)
Oceans of Fun (20-minute musical)
Squirm (20-minute musical)
Go Fish! (20-minute musical)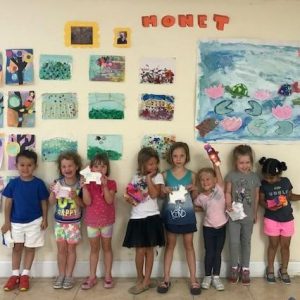 When: June 4 to August 3 (weekly), 9:30 am to 12:00 pm.
Where: The Cultural Center at Ponte Vedra Beach
About: Children will spend the day or the entire holiday break creating original artwork with talented instructors. Depending on your child's age group there are different offerings for each day, students are welcome to return multiple times during a break to enjoy a variety of different art projects. Camps available for children ages 4-16 years of age.
When: Various dates in June and July
Where: Ancient City Baptist Church
About: Does your child want to explore the world of musical theater? Summer Musical TheatreCamp gives students an overview of musical theater production including acting, music, and dance. Campers have the chance to perform a complete production in front of a live audience. Summer Musical TheatreCamp is hosting three different camps this year! All performances will be at the Lewis Auditorium at Flagler College
Les Miserables
Pinocchio
Seussical
When: May 29 – June 8; June 11 – June 22; June 25 – July 6; July 9 – July 20; July 23 – August 3, 6:30 am – 6:00 pm.
Where: The Village Academy  *Transportation from Village Academy North available.
About: The North Florida Teen Leadership Camp emphasizes learning leadership, organizational, and planning skills fused with career training and college preparation. A few activities under this curriculum include CPR certifications, guest speakers, babysitting certifications, field trips, and community service hours. Teenagers, ages 13 through 16, will also get firsthand experience in leadership roles by working with children ages 5 through 12.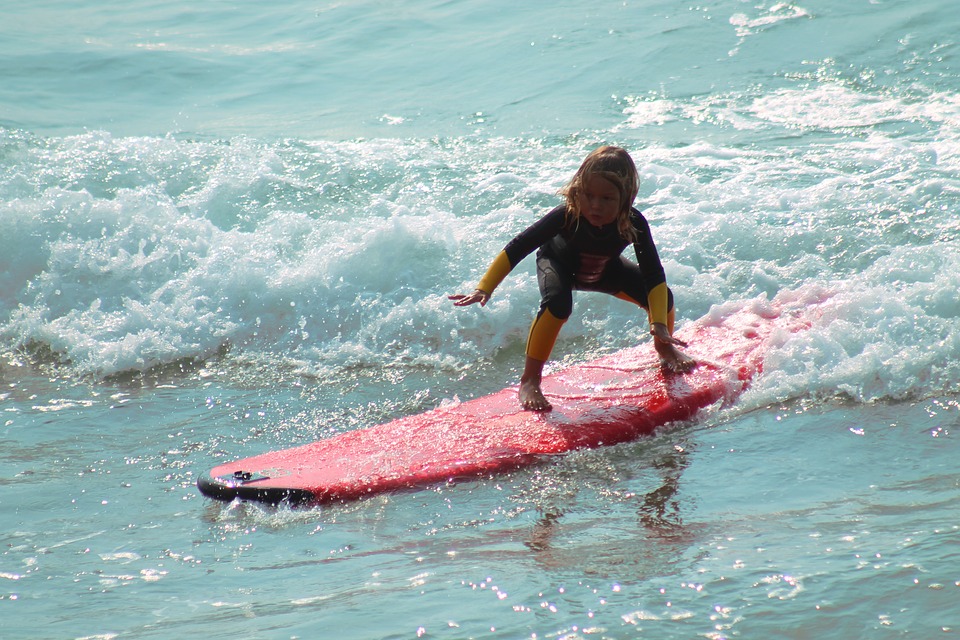 When: May 21 – August 16, Monday – Thursday, 9:00 am to 12:30 pm
Where: The Pit Surf Shop
About: The Pit Surf Shop is hosting a summer surf camp for boys and girls of all experience levels. Campers can learn from experienced, CPR-certified instructors in a safe and fun environment! Kids will learn about rides, waves, boards, surf etiquette and more, with a 4 to 1 student to instructor ratio. The camp provides surfboards, healthy snacks, drinks, a free bag of swag with items from different companies and of course a Pit Surf shirt!
Furthermore, once children have completed a week of surf camp, they can return, for a small fee, each Saturday for Surf Camp Alumni. Campers part of the Surf Camp Alumni reunite with campers and instructors during a self-guided surf day to practice their new set of skills!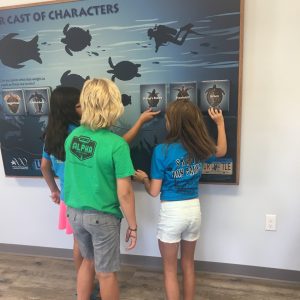 When: June 11-14, June 18-21, June 25-28. Monday – Thursday. From 9:00 am until 3:00 pm.
Where: Whitney Laboratory for Marine Bioscience
About: Sign your kids up for a week camp that is all about sea turtles and their conservation! This camp is designed for students entering 4the th and 5th grade in Fall 2018. They will partake in a sea turtle hospital tour, presentations, field and lab activities. Camp fee includes a Whitney Lab Sea Turtle Hospital t-shirt, daily snacks, and a reusable water bottle!
When: June
Where: Flagler Field
About: Shamrock Soccer Camps were started in 2000 by John Lynch, Head Men's Soccer Coach at Flagler College. This camp is geared towards younger kids and teaching them to maneuver a soccer ball and other skills that are important to have on the field. Kids receive a t-shirt and soccer ball. The camp is from 9 am – 2 pm Monday thru Thursday, and from 9 am to noon on Friday.
Session 1 Day Camp: June 25-29 / Ages 5-14
Session 2 Residential Camp: June 1 – 4 / Ages 8-18
Session 3 Residential Camp: June 8-11 / Ages 8-18
When: Ages 5-8; July 23 – 27, Ages 9-12; July 30 – August 3, 7:30 pm – 5:30 pm
Where: Ketterlinus Gym
About: Kids will enjoy a variety of activities during the SJC's Exploration Camp. They will explore the natural world around them, go on field trips where they will learn about local ecosystems, sustainability, and how to collect and analyze data with the same intentions as a scientist! Kids will embark on several trips to study wildlife and participate in hands-on activities. Registration is first-come, first-served basis.
Contact Kelly Ussia at 904-209-0335 or kussia@sjcfl.us to register.St. Johns County Freshwater Fish Camp
When: July 23 – 27, 7:30 am to 5:30 pm
Where: Trout Creek Community Center
About: The Freshwater Fish Camp is SJC's newest camp! Parks and Recreation have teamed up with Florida Wildlife Commision this year for a freshwater fish camp appealing to middle school students. Kids will learn a variety of skills like boat safety as well as freshwater fish and thei. Kids will also learn about freshwater fish and their habitat, which tackle to use in freshwater, and how to clean fish! Registration is on a first-come, first-served basis. For more details, contact AyoLane Halusky at 904-209-0348 or ahalusky@sjcfl.us.
When: June 4 to July 20 from 7:30 am to 5:30 pm.
Where: Multiple locations, check the website for more details.
Cost: $410.00 per child, $59.00 per week – reduced pricing available.
About: During this camp, campers will have the opportunity to explore the natural world, study the wildlife of St. Johns County, attend field trips and participate in hands-on activities. St. John's County uses a lottery-registration method to ensure each child has an equal opportunity to attend camp, register by March 26. For more information contact Brian James at (904) 209-0365 or bjames@sjcfl.us
More Info: Includes field trips, arts, and crafts, swimming days. The cost per child is $410.00, and $59.00 per week – reduced pricing available.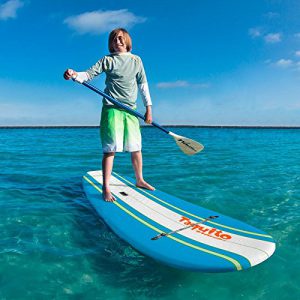 When: June 11 – 14, Monday, Tuesday, Wednesday, Thursday, from 8:00 am to 11:30 am.
Where: SUP Yoga Center
About: SUP Yoga Center is proud to offer a children's camp starting this summer! Come join our highly skilled and certified instructors for a fun week on the water, where your children will have fun, learn new skills, and gain a new appreciation and respect for our Florida waterways and ecosystem. During the camp, children will have daily paddleboard lessons, learn safety and rescue skills, spend time on beach cleanup, games, be photographed by a professional, get goodie bags, get a UV protective shirt, have free play time, have fitness time, snacks and water, scavenger hunt, and partake in a paddleboard race on the last day of camp!
When: May 28 – August 6, Monday – Thursday, 9:00 am – 12:30 pm.
Where: Mary Street Beach Ramp on St. Augustine Beach.
About: Are your kids interested in learning how to surf? St. Augustine Surf School is offering surf camp at St. Augustine Beach this summer. With a 3:1 student to teacher ratio, each child experiences personalized coaching. All camps are coed and open for ages 7 to 15 years. Camp runs Monday through Thursday, 9:00 am – 12:30 pm. Includes a t-shirt, use of a surfboard, healthy snacks, water, games/activities, prizes, surf contest.
When: June 21 – September 22, Monday – Friday, 6:30 am – 6:00 pm.
Where: The Village Academy  *Transportation from Village Academy North available.
About: Summer at The Village Academy provides a setting for summer learning and exploring. Children can enjoy a wide range of fun and innovative daily activities that are based on exciting weekly themes such as STEAM (Science, Technology, Engineering, Art, and Math) Activities & Experiments; Indoor & Outdoor Sports; Fun with Food Cooking Projects; Games; Arcade; Gardening; Swimming; Mega Jump Pad; Kidz TRACK; Project Based Arts & Crafts; Community Service Projects. Camp also includes weekly field trips, and a nutritious lunch and 2 snacks each day. Ages 5 through 12.
The Village Academy's 2018 List of Camp Themes
When: June 18 – 21, June 25 – 28, July 9 – 12, 9:00 am – 2:15 pm
Where: Anastasia Watersports at Anastasia State Park
About: Looking for a summer adventure for children who love the water and wildlife? Anastasia Watersports Summer Camp introduces campers to the basics of kayaking, stand-up paddleboarding and sailing with a variety of native fish, birds and mammals to discover above and below the water.  Hikes through the salt marsh and beach introduce campers to the amazing bio-diversity within Anastasia State Park, where Anastasia Watersports is based. There are crafts, scavenger hunts, fun-filled water games and a different aquatic activity every day. Here, campers will learn basic paddling skills, developing a strong foundation and confidence to navigate the Salt Run waterway, which is protected from the ocean by sand dunes. Children will also develop an appreciation for the complex ecology of our oceans, estuaries and tidal marshes.
---
Disclaimer: Every effort is made to ensure the accuracy of information on the City Blog.
Sharing and re-posting this blog is encouraged. Please credit OldCity.com when sharing.
Photo credits: OldCity.com, National Park Service, St. Augustine Art Association, The Cultural Center,  SUP Yoga Center, University of Florida.