Fall is right around the corner, and the fall and winter seasons always bring about some of our favorite festivals and events in St. Augustine! Here in The Ancient City, we pride ourselves on providing fantastic experiences for anyone and everyone who visits and lives in the city. Whether you are interested in listening to live music, partaking in delicious food and wine, taking a look back in history, or creating magical holiday memories, St. Augustine has something for you. We've put together a comprehensive list of major events and festivals happening for the rest of the year to add to your calendar!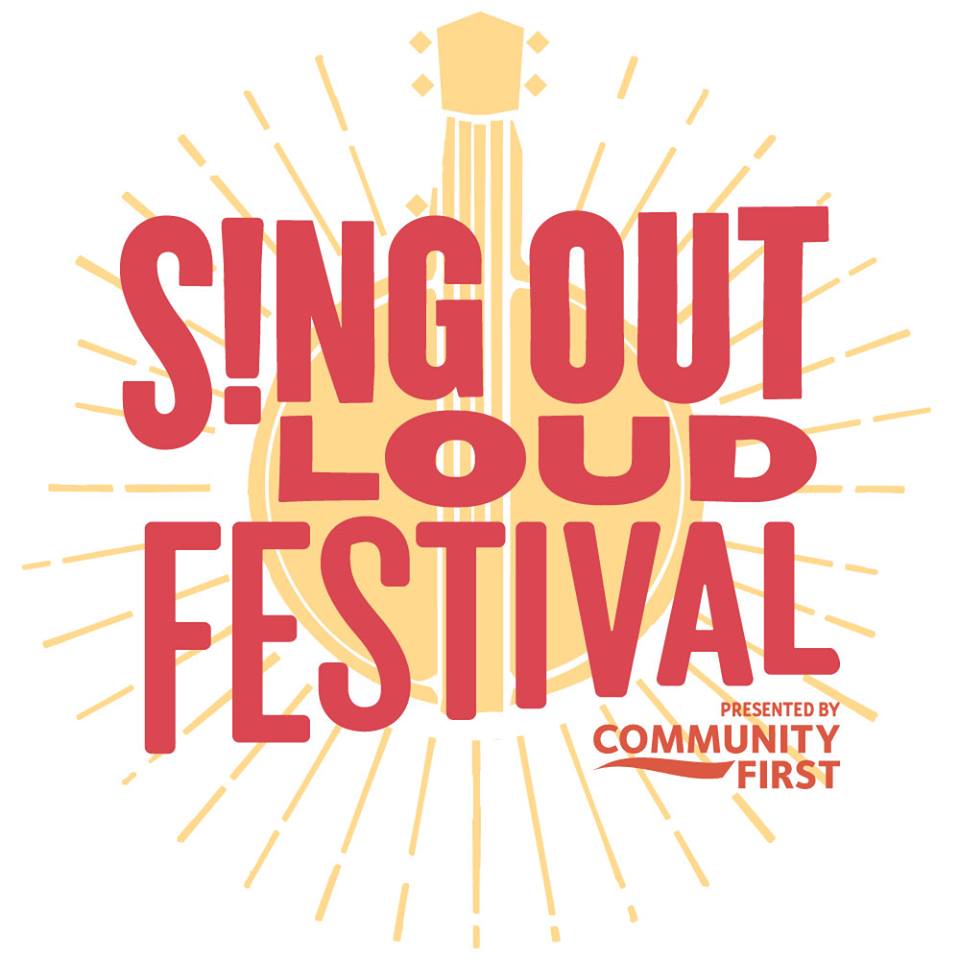 When: Sept. 8-10, 15-17, 22-24
Where: Various locations in St. Augustine
About: Due to its great success last year, the Sing Out Loud Festival returns! This festival's mission is to highlight the talent of more than 200 local, regional, and national singers, songwriters, and musicians.  The Sing Out Loud Festival will take place over the course of three weekends at various venues throughout the city including the St. Augustine Amphitheatre, Colonial Oak Music Park, Planet Sarbez, Hoptinger, Prohibition Kitchen, Limelight Theatre, and more!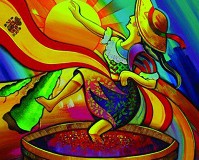 When: Sept. 8-10
Where: St. Augustine Shipyard
About: The 6th Annual St. Augustine Spanish Wine Festival will take place this year at the St. Augustine Shipyard. Enjoy some fantastic wines with a beautiful backdrop of the San Sebastian River and St. Augustine. The mission of the festival is to connect St. Augustine to our city's Spanish history through a series of special events that feature Spanish wine, cuisine, and culture. The festival serves to raise money for local charities, foster international economic development, and enrich the quality of life in our community.  Proceeds from this years' festival will benefit tag! Children's Museum of St. Augustine, The St. Augustine Record Empty Stocking Fund, and K-9s United. Events will include an opening reception, pig roast, wine fight, and wine tasting featuring more than 100 Spanish wines.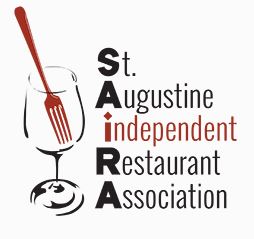 When: Oct. 1
Where: River House
About: The St. Augustine Independent Restaurant Association (SAiRA) presents the 8th Annual SAiRA Food & Wine Festival. Enjoy appetizers, main courses, salads, and desserts from local restaurants and sample more than 100 wines from different parts of the world, along with local craft beer and spirits from the St. Augustine Distillery. There will also be a silent auction featuring vintage wines, dining gift certificates, chef-prepared private dinners, and more. Tickets are $75, and proceeds will benefit the Boys & Girls Club of St. Augustine.
When: Oct. 4-Jan. 7
Where: Lightner Museum
About: St. Augustine's Lightner Museum is getting ready to host one of their biggest exhibitions to date: Dressing Downton, Changing Fashion for Changing Times. This exhibition will include 36 costumes and accessories from the popular Downton Abbey television series. The Lightner Museum will also be incorporating many of their museum pieces that have been in storage or restored, allowing them to be viewed for the first time. Tickets are required for this exhibit, and advanced purchase is recommended.
"The series Downton Abbey explores the lives of its aristocratic inhabitants and their servants – together with the latest fashion trends. The exhibition presents a costume history of the period surrounding World War I, a period that changed the social fabric of Great Britain. A fine selection from the series' wardrobe reflects on the changing times through fashion from 1912 to the mid-1920s." – Lightner Museum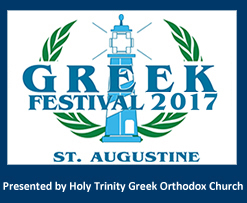 When: Oct. 13-15
Where: Francis Field
About: The annual Greek Festival is a much-anticipated event in the St. Augustine community. It's a fun time to learn about Greek culture and enjoy Greek food and pastries, traditional Greek dancing and music, kids activities, and more! Admission is $5.00 for adults and free for those 14 and under with paying adult. Active-duty military and first-responders receive free admission.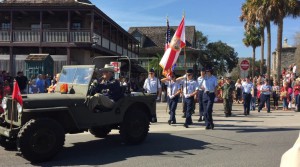 When: Nov. 11
Where: Downtown St. Augustine
About: Come to the Veterans Day Grand Parade in downtown St. Augustine and honor the military history of St. Augustine and those who have served and currently serve our country. This annual parade will consist of historic military vehicles, military units, military marching bands, high school bands, and more. It will start on Orange Street, continue south on South Castillo Drive/Avenida Menendez, west on Cathedral Pl., north on Cordova Street, returning to Orange Street near Francis Field.
After the parade, the vehicles and volunteers will make their way to the Castillo, where the vehicles will be on display in the visitor parking lot from approximately 1 p.m. to 3:30 p.m.   There will be free admission to the Castillo where you'll find volunteers of various time periods, displaying a timeline of the Castillo's military history, and living history encampments represented by park volunteers.
When: Nov. 17
Where: Pier
About: Join the festivities at Pier Park as St. Augustine Beach opens the door to the holiday season and thousands of tourists. Surf Illumination is their community holiday celebration that includes food vendors, music, refreshments, arts & crafts, and the Mayor throwing the switch to light the Holiday Christmas Tree.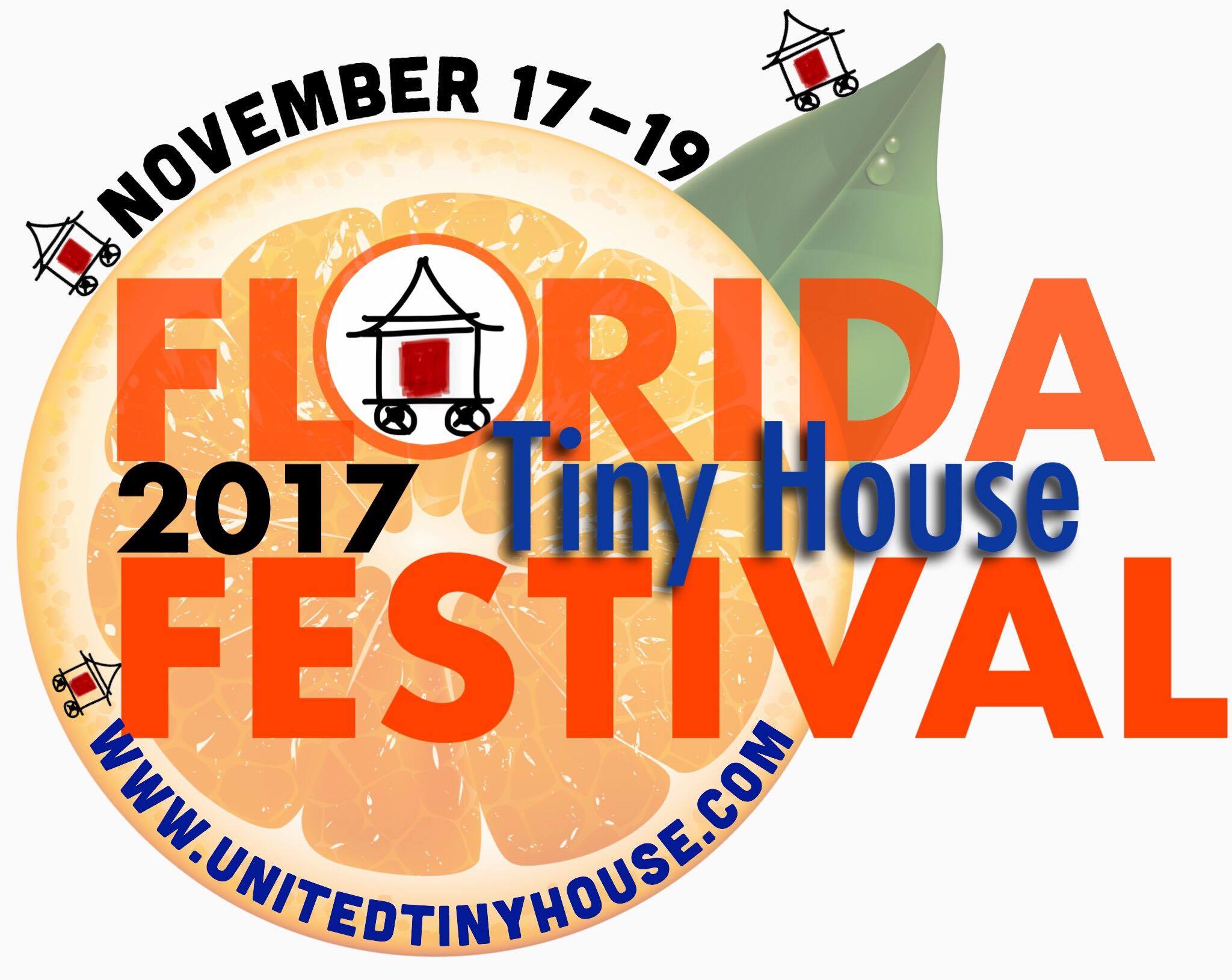 When: Nov. 17-19
Where: St. Johns County Fairgrounds
About: The Florida Tiny House Festival is coming back for its second year! If you thought last year's event was big, you haven't seen anything yet! There will be a large assortment of tiny houses and micro homes, work shops, presentations,  vendors, entertainment, and children's activities to enjoy.
Friday, November 17, 2017 — Free to Public — check out the tiny houses, visit with vendors & builders,  enjoy live music
Saturday, November 18, 2017 — Paid Admission to Ticket Holders Only — workshops, presentations, lectures, outdoor concert
Sunday, November 19, 2017 — Paid Admission to Ticket Holders Only — announcements, workshops, presentations, lectures, Tiny House Awards presentations, prize giveaways, closing announcements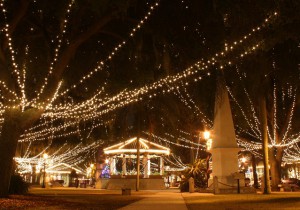 When: Nov. 18-Jan. 31
Where: Downtown St. Augustine
About: St. Augustine's Nights of Lights is known as one of the top lighting displays in the world and runs from November 18, 2017, through January 31, 2018. Locals and visitors gather round each year to watch the Nation's Oldest City light up with over 2.5 million lights. Whether you're interested in taking a romantic carriage ride around the city, exploring the lit up cobblestone streets, or scoping out the best local eateries, there is something for everyone in the crowd. The lighting ceremony for the Nights of Lights 2017-18 season, otherwise known as Light-Up Night, is November 18, so start planning your trip now.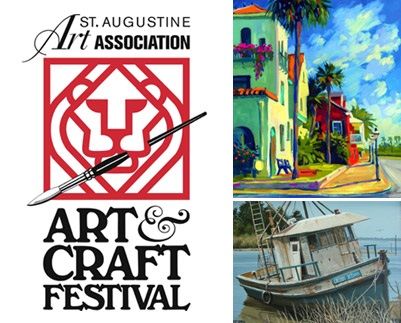 When: Nov. 25-26
Where: Francis Field
About: This year will be the 52nd year that the St. Augustine Art & Craft Festival will take place. This annual event is a beloved tradition during the holiday season here in The Ancient City. Thousands come from all over to view and buy paintings, pottery jewelry, sculpture, glassware, photography, and many other types of handmade items. Peruse the work of talented artists and makers while enjoying live music, a kids art zone, and a historic village featuring the Textile Arts Guild of St. Augustine
When: Dec. 2-3
Where: Armstrong Park
About: This year will be the 6th Annual SEA Rails to Trails Festival! This two-day festival celebrates the Gullah Geechee heritage. This festival features arts & crafts, Gullah and country cooking, a farmers market, biking and walking trails, ring shouters, live music, and more! Funds raised from this event will help SEA (Spuds/Elkton/Armstrong) Community Help Resource Center, Inc. develop a community center and programs to serve the needs of rural and at-risk children and families experiencing crisis. Overnight camping is available for tents and vehicles.
When: Dec. 3
Where: Downtown St. Augustine
About: This longstanding tradition features homes in the downtown historic district of St. Augustine. Join the Garden Club of St. Augustine as they present the 49th Annual Tour of Homes. This year will be "Christmas in the Flagler Era" themed! It will feature 6 homes in the downtown historic area and a tea and boutique at the River House. Tickets are priced at $30 and will be available for purchase on Oct. 1, 2017. You must purchase tickets before the event. Don't wait until the last minute – this event sells out quickly!
When: Dec. 9-13
Where: Downtown St. Augustine
About: Each year, the St. Augustine Historic Inns puts on a Bed & Breakfast Holiday Tour where each participating bed & breakfast is decorated according to that year's theme. This year's theme is "Coastal Christmas." This is a self-guided walking tour where you can start at whichever inn you like and go in the order you wish. Each inn will feature delicious food, treats, and beverages from restaurants in the area.
For the first time, they are offering multiple, three-day tour showcases. For tour schedules, pricing, and more information visit their website.
When: Dec. 9
Where: Downtown St. Augustine Bayfront
About: The St. Augustine Yacht Club presents the Holiday Regatta of Lights. Each year, visitors and locals alike line up along the bayfront just north of the Bridge of Lions to watch the sailboats, trawlers, shrimp boats, and other festively decorated vessels parade through the water. It's always recommended to arrive early to get a good spot to view the parade.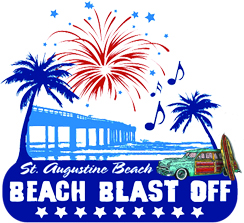 When: Dec. 31 from 4-10 p.m.
Where: Pier
About: What better way to ring in the new year than by celebrating at the beach with friends, food, and fireworks? This great family-friendly New Years Eve event is a beloved annual tradition by all in St. Augustine.