When we heard about St. Augustine's newest interactive boat tour, we had to check it out for ourselves. You may say that all boat tours are the same and ask what makes Bluewater Adventure St. Augustine different. This interactive and scenic tour offers you the chance to see The Ancient City like never before. So, if you're looking for something to add to your next vacation or staycation, this is the perfect tour for you.
Here are our top 5 reasons to take a tour with Bluewater Adventure St. Augustine:
The guides are friendly and knowledgeable
From the moment we arrived at the marina at St. Augustine Shipyard, we were welcomed with warm smiles from our guides. Their friendly, laid-back, and down-to-earth attitudes are perfect for a fun time out on the water. Once we were fitted for our life jackets, we got a lesson on the ins and outs of driving their catamaran boats. They made sure to answer any and all questions about the boats and the water before we got ready to depart. Once on the water, they made sure to point out wildlife and talk about the environment in a fun and interactive way.
One of the unique parts of this tour vs. other boat tours is the ability to drive your own boat. This is a definite advantage for those who really enjoy a more hands-on experience. Their CraigCat® patented horizontal catamaran boats have a small boat design which offers great responsiveness, stability, and sporty handling like a big boat. These boats are easy to get the hang of driving-wise and pack a big punch for such a compact design.
Get up close and personal with wildlife
One definite plus of this tour is the amount of wildlife you get to encounter. The boats are quite quiet and can go at a slow pace, allowing you to truly enjoy your surroundings. You never know what you're going to see. On our tour, we saw dolphins, sea turtles, and various species of birds. We were even able to stop and watch the dolphins swimming for 10 minutes!
Enjoy the scenic journey
Bluewater Adventure St. Augustine offers two types of tours: sightseeing and sunset. Once you depart from the marina, you have so many options of places to explore. These tours go throughout the Intracoastal Waterway, past the Castillo de San Marcos, The Great Cross, and the St. Augustine Lighthouse. Whether it's your first time visiting St. Augustine or you've lived here for years, Bluewater Adventure allows you to take in the city in a truly unique way.
Bluewater offers flexibility with their tours
Looking for a tour that allows you to explore as you go? Bluewater Adventure St. Augustine is right up your alley. While each tour has a structure, the guides are extremely open to allowing you explore what you're interested in. If you see dolphins or manatees, you can stop and watch them. If you want to stop at a sandbar and pick up seashells or have a picnic, that's an option as well. The possibilities are truly endless, making your tour unique and customized to you. The guides even offer free time for you to explore on your own while they sit off to the side to watch for safety.
Book your tour today!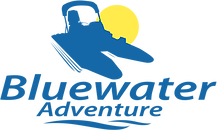 So, if you're looking for your next great excursion, contact the guides at Bluewater Adventure St. Augustine! 
Phone number: (904) 460-4004
Address: 117 Dockside Drive, St. Augustine, FL 32084
Website: bluewateradventurestaugustine.com